UPDATE: After 1 week, here are the results!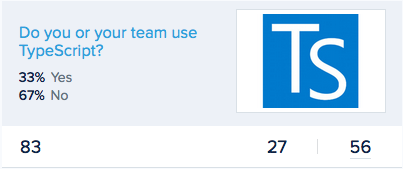 Last week we ran a poll on whether developers would migrate to AngularJS 2 soon after it's release. With all the initial controversy around its announcment and breaking changes, there was a lot of concern about whether Angular 2 would get much adoption. Based on the results of the poll, it seems like there still a significant amount of concern, or at least there's not enough trust that we'll all have an easy time migrating once it's released.
Many developers are begging Google for a comprehensive migration procedure with accompanying tools and docs. My guess is that Google will definitely have this by the time Angular 2 is GA, but according to this poll, people are either waiting for that procedure to appear first, or they just don't want to make the changes required for Angular 2 and are willing to use Angular 1.x until there's significant motivation to migrate.
The results were pretty even:
So now I want to get on to a new poll. Do you use TypeScript?
Earlier this month, TypeScript 1.5 was released. So how many of us are actually using this JS superset, built by the legendary Anders Hejlsberg? Lots of people prefer these supersets to the messy, sometimes hard-to-manage pure JS syntax.
Here's the poll:
If you have any questions you'd like to ask DZone, leave a comment and I can put it in a poll.