Productization Maturity Models
DZone's Guide to
Productization Maturity Models
Productization is easier said than done, but it can the unlock the hidden value that captive assets have and serve the organization with a new revenue stream.
Join the DZone community and get the full member experience.
Join For Free
Whatever new awaits you, begin it here. In an entirely reimagined Jira.
Productization is an asset monetization strategy in which an asset internal to an organization is transformed into a suitable commercial product.
This article answers the following questions:
What value does productization bring?

What are the various maturity levels that captive assets can aim for?

What are the design considerations in productization?
Abbreviations
| | |
| --- | --- |
| Abbreviation | Expansion |
| SPE | Special Purpose Entity |
| GTM | Go to Market |
| SaaS | Software as a Service |
| BPaaS | Business Process as a Service |
Values: Cost Mutualization and Variabilization
Organizations across the world develop and maintain several internal application systems over a period of time. Each of these captive assets (internal application systems) has its own functional focus. For example, an investment bank might have different captive assets across customer relationship, liquidity management, trade processing, collateral management, asset servicing, etc.
Each of these assets will have a varying degree of design, infrastructure, and support. This pressurizes the per transaction cost due to suboptimal consistency. This impacts the customer acquisition and thereby the revenue.
Organizations are increasingly looking at options to reduce their middle/back office per transaction cost leveraging industry utilities. This way, they can focus more on front office solutions (like origination, mobile apps, social sites etc.) that can provide strategic differentiation and achieve lesser costs, leveraging the cost mutualization offered by industry utilities.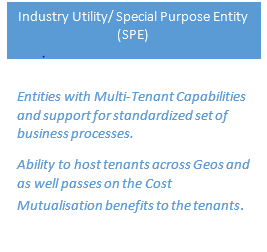 Another critical problem faced by business is that even during the period of low business activity, organizations have to shell out fixed IT Costs.
This impacts the overall profit margin, and organizations are looking at variabilizing the IT costs proportional to business activity.
Captive assets, when transformed into a BPaaS industry utility and hosted in a cloud infrastructure, can help the asset owner to achieve cost variabilization, cost mutualization, and royalty towards every tenant addition, leveraging the ownership of IP.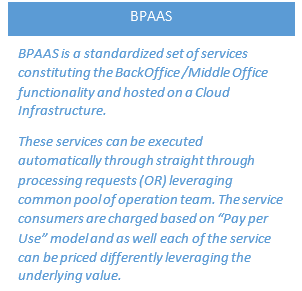 Maturity Models
Productization is easier said than done! Not all assets can be fully transformed into BPaaS Industry utilities. Each asset has been developed with specific priorities in alignment with the captive organization's business strategy.
Below are few bottlenecks faced by captive organizations during the productization journey.
Almost every captive asset doesn't have multi-tenant capabilities.
The underlying business process is highly geo-specific.
Business rules impacting the operation are scattered across the codebase and are not in any centralized repository.
The underlying technology is nearing end-of-service or a certain skillset is not widely available.
With this in consideration, we can devise different maturity levels that any productization journey can achieve. Captive assets can think of positioning themselves at any of these maturity levels.
| | | | |
| --- | --- | --- | --- |
| Productization Maturity Model | Level 1 | Level 2 | Level 3 |
| Type | White-labeled product. | Software as a Service. | BPaaS industry utility. |
| Description | Each tenant will receive its own copy that can be customized and deployed at the tenant's infrastructure. Operations are managed by tenant. | All of the tenants share the common instance. Operations are managed by the tenant. | All of the tenants share a common instance. However, each tenant can have the highest degree of customization. Operations are managed by the utility. |
| Tenancy | Single. | Multi. | Multi. |
| Deployment | On-premise/cloud virtualization (separate VM for each tenant). | On-premise, private, public, hybrid. | On-premise, private, public, hybrid. |
| Operation Team | Tenant. | Tenant. | Utility. |
| Development and Support | Tenant. | Utility. | Utility. |
| Per Transaction Cost | Moderately higher. | Medium. | Low. |
| Process Changes | Allows limited. | Allows limited. | Allows for extensive process changes. Offers support for process modeling and repository. |
| Adoption | Specific geos and organizations with common processes. | Specific geos and organizations with common processes. | Global. |
| Time to Market | Moderately slower. | Faster. | Faster. |
Design Considerations
Below are critical design considerations involved in productization. Captive assets that already have high modularity, extensibility, and reusability can achieve productization at a reduced effort.
SOA Foundation
Ensure that proposed product is on a solid SOA foundation. SOA services can provide abstractions of underlying complexity within the captive assets and as well bundle the underlying functionalities at right granularity to be offered to other tenants.
Multi-Tenancy
Consider metadata-driven multitenant architecture across data, interface, UI, business rules, and business process.
Utilities can monetize on every service execution from tenants, leveraging metering and billing facility of middleware providers (i.e., WSO2 amd Apigee). Threshold limits and quotas can be set to ensure effective sharing of resources among the tenants.
Compliance requirements can be met, leveraging multitenant isolation and protection strategies. For instance, utilities can support the below various database deployment models addressing the compliance needs.
Separate databases per tenant (for highly compliant financial and healthcare sectors).

Shared databases but separate schemas per tenant (for retail and commerce sectors).

Shared databases as well as shared schemas per tenant (for media and marketing sectors).
Configurability
Consider introducing a business rules engine and a business process engine to achieve maximum configurability. A business rules engine describes the operations, definitions, and constraints that apply specifically to a tenant. Business process management ensures tenant can customize the default workflows to suit its own practice, geo, regulator, etc.
Below are key tasks in the whole productization journey: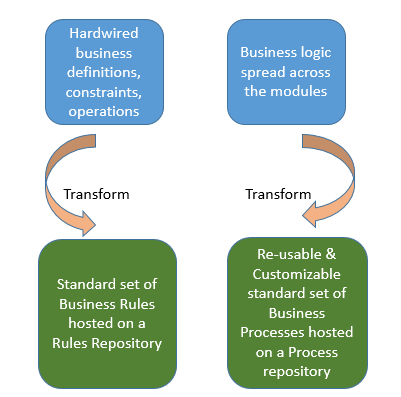 Enrichment
Captive assets have a limited functional focus and hence definitely need functional enrichment in order to go to market.
Onboarding
New tenant onboarding should be done at runtime without impacting other tenants and without experiencing downtime to utility.
Convention over configuration should be the principle to effectively cut down the onboarding effort.
Operation Team
BPaaS requires sharing the operation team among tenants. However, considering the organizational compliance requirements, each tenant can have its own operation team sourced either internally or from the utility.
Conclusion
Productization can the unlock the hidden value any captive assets have and serve the organization with a new revenue stream and as well reduced CAPEX and OPEX.
However, productization will often require an investment in the asset to make it marketable and applicable to a broad customer base. Captive organizations are expected to strategically move from an internal service operation to a sales and external customer-oriented provider.
Alternatively, these organizations can get involved in a joint venture strategy to form an industry utility or SPE with an experienced transformation provider.
New roadmaps, more flexible boards, and dozens of new integrations. And that's just the beginning.
Topics:
agile ,productization ,maturity model
Opinions expressed by DZone contributors are their own.