Project Risk Management: Know How To Mitigate Risks
Whether the risks are documented or unknown unknowns, keeping them to a minimum will prevent your project from being derailed.
Join the DZone community and get the full member experience.
Join For Free
A risk is an uncertainty that cannot be avoided but can definitely be managed. Managing risk is very important especially when it comes to project management as the risk can impact your project positively or negatively. But in either case, your final outcome will have deviated from what you have promised. Thus, project risk management becomes a vital skill that every project manager must possess to ensure the success of their projects. In this article on project risk management, I will give you a complete insight into how risks are handled and managed in a project.
Project Risk Management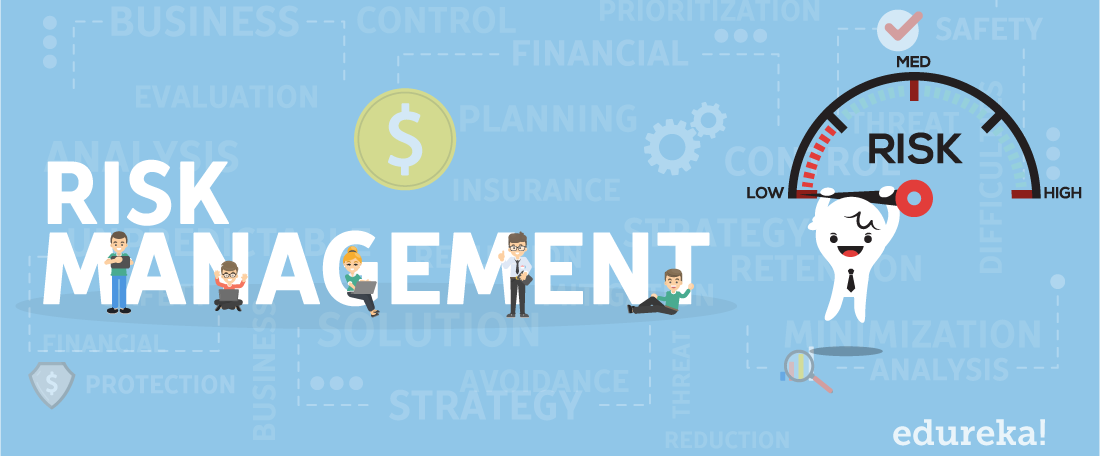 A risk is a deviation of uncertainty that may result in undesirable outcomes. In a project management context, if these risks become realities, then they are classified as "issues" which must be addressed. The occurrence of risks in any project can leave a positive or negative effect on its objectives. To prevent any type of loss or disturbance, it becomes an integral part of every project manager's job to have a proper risk management plan. Project risk management refers to the process in which a project manager tries to identify potential risks in advance, analyze them, and then take proper precautions that will help in reducing or curbing the risk. Risks can arise at any point of the project lifecycle and by performing appropriate risk management you can ensure that your project remains on track and meets its goal.
A different type of project can mean different things. For example, the risk management strategies of large-scale projects might differ from those of the smaller ones. They might be having a detailed plan for each risk to ensure that the mitigation strategies are always up and aligned, in case the issues arise. Whereas, for smaller projects, the risk management plan is perhaps simpler. They will be having a simple plan with the tasks organized in decreasing order of their priority in the project.
Now, let's move further and understand why risk management is so important.
Need for Project Risk Management
As I have already mentioned, project risk management helps in predicting and mitigating the risks which help in avoiding any kind of loss or conflict in the project. But the scope of risk management doesn't end here. There are a lot more sweeping benefits that can change the complete outcome of a project. Below I have listed down a few of them:
Evaluating Problem Areas
A detailed project risk management plan will give you a clear cut picture of your project and the problematic areas in it. That way you will be able to direct your attention towards the weak links of the project, and perform health checks, peer reviews, and audits to keep up the project performance.
Fewer Surprises
Risk management plans give you an early warning of potential risks or issues. This enables the team to gear up and take the necessary steps to mitigate problems before they escalate to severe issues and cause any irreversible harm.
Better Decision-Making
With information on risks in advance, the upper management is able to make better and efficient decisions. They will have real-time information on risk through a dashboard which will be continuously providing them with the latest data.
Enhanced Communication
Effective risk management enhances the flow of communication. With the risks detected beforehand, it opens up the discussion between the team members involved. All the teams can then bring their minds together and talk about the problem areas and handle the causes of it rather than blaming each other after the harm has been done.
Accurate Budget Estimations
With project risk management mapped into your schedule and cost planning, you will be able to predict the potential problems. This will help you in setting aside a buffer budget for things like cost, time, and resources, resulting in less waste and better quality.
Elevated Project Success Rate
An effective risk management plan incorporated in your project management boosts the morale of the entire team as they know the risks are being actively managed and there is less probability of failure.
Focused Teams
Knowing that risks are being actively tracked and managed, the teams can focus more on their assigned tasks. Not only this, risk management highlights the problem areas of a project so that the teams can swiftly deal with them, ensuring project success.
Clear Risk Escalations
A systematic risk management plan will give you a proper idea of when a risk needs to be escalated to the senior level for advice and action. This will help in alerting the right people at the right time to analyze and fix the risk.
Now that you are familiar with the benefits of having a proper project risk management plan, let's move further and see the framework of risk management.
Project Risk Management Framework
The risk management framework consists of five processes which may have varying names from organization to organization. Below I have listed down all the five processes in detail:
Risk Identification
Quantitative Analysis
Qualitative Analysis
Plan Risk Responses
Monitor and Control the Risk
Risk Identification
To resolve a risk it is very important that you first have detailed information on it. Now, how do you identify a project risk? Well, there are various ways in which risk can be identified. Some of them are:
Documentation Review: It is standard practice and is mostly used to identify risks by reviewing project related documents (lessons learned, articles, organizational assets, etc.).
Brainwriting: It is a more effective way compared to brainstorming for drilling down to the problem areas. This is a method for quickly generating ideas where the participants are provided with papers and are asked to write their ideas on it within a given timeframe.
Horizontal Scanning: This is a technique where we try to look into the future to spot threats or opportunities that might arise in our project.
Root Cause Analysis: This process is used to determine the root causes of the identified risks which are further investigated to identify additional risks.
SWOT Analysis: SWOT stands for Strengths, Weaknesses, Opportunities, and Threats. In this analysis, possible weaknesses and threats are identified for the project to determine the risks.
Checklist Analysis: This technique creates a checklist of risk categories that are used to further track the additional risks for the project.
Once you are done with identifying the risk, you can go ahead and determine the possibility of its occurrence followed by the potential consequences. This will help you an understanding of the nature of the risk and the level of impact it can have on your project goals and objectives. Moreover, each and every risk you identify must be logged in the Risk Register.
Qualitative Analysis
Qualitative analysis is a subjective analysis where the risks are scaled from high to low based on two parameters: probability and impact. Probability is the chance of a risk to appear and impact is the degree of effect it can cause on your project. This graph represents the scale of risk based on probability and impact.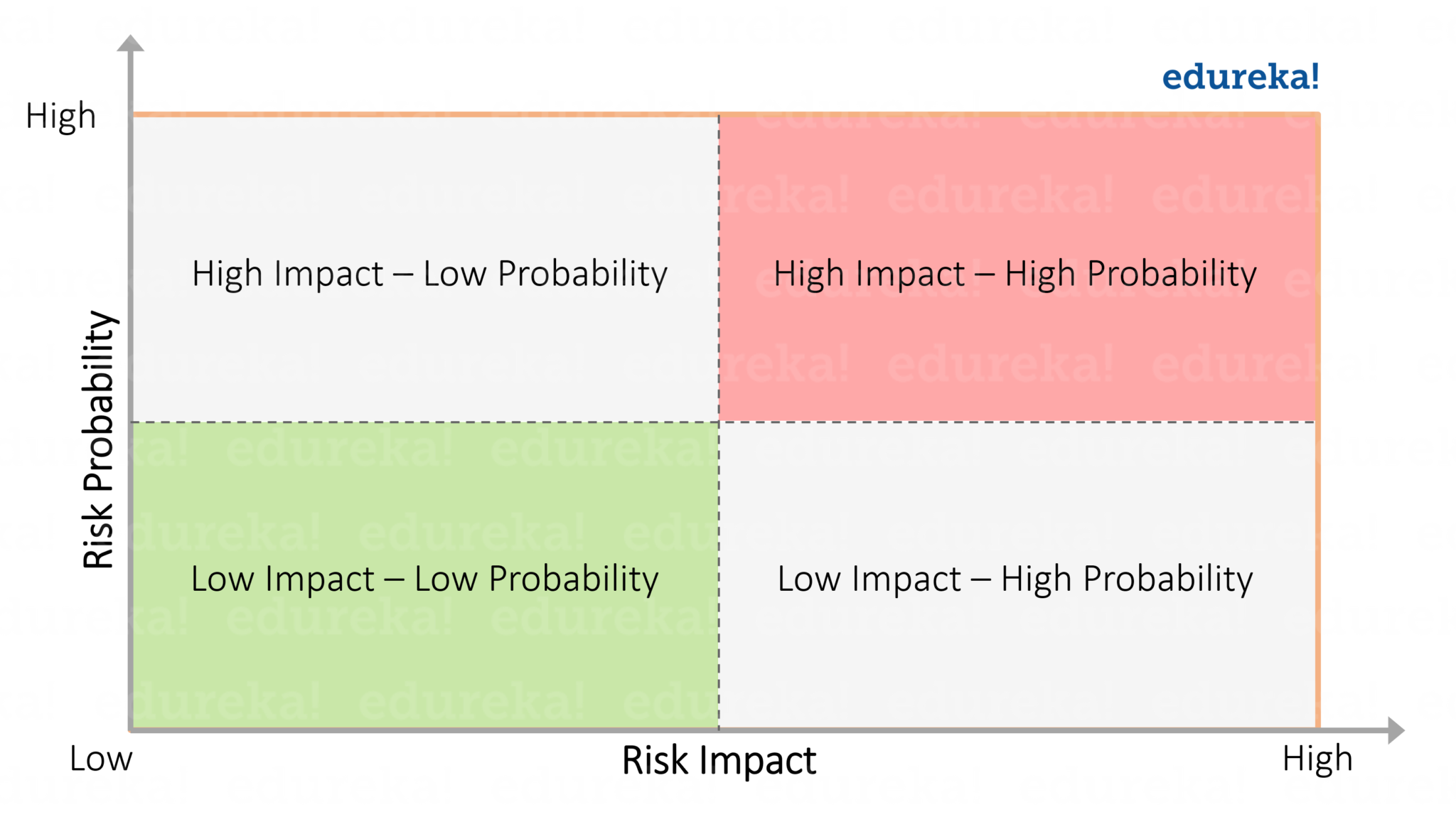 Quantitative Analysis
Quantitative analysis is more focussed on the calculation of numerical values of the risk probability and impact. This can be analyzed with various techniques like expected monetary value, sensitivity analysis, decision trees, historical data, expert judgment, and interviews. This will help the project management team in sorting the tasks based on their priority.
Plan Risk Responses
Now that you know what the risks that may pop up in your project, you need to decide on a plan stating what you will be doing to minimalize the affect of each risk, better known as a contingency plan. Note that your contingency plan will be aligned and embedded in your project management plan. Thus, you need to have a buffer budget for time, resources, and money. But however you try, there is no such thing as perfect risk management plan that doesn't require any iterations. Once you put your risk management plan into action, you will end up with another plan to verify that no new risks were introduced. So this phase continues until the end, and by the end of the project, and you may still be left with some secondary or residual risks.
Monitor and Control Risks
Your task doesn't end with implementing the risk management plan. Since risks are not static and have a tendency to transform, evolve, reappear, or generate at any point of the project life cycle, you need to keep a constant eye on them. One of the easy ways to do this is to periodically review the risk register that contains the log of all the identified risks. You need to closely monitor your project progress and identify the probability of any potential risks. Your risk response plan will be considered successful and effective only if it kicks in each time a risk occurs. But there can always be exceptional cases where your contingency plan doesn't work. In such kind of situations, you need to have a backup up plan ready up your sleeve. This will give you double security against the risks and reduce the loss percentage to a minimum.
After learning about the complete process, you might be thinking that risk management is a complex and prolonged process. It is, and for a project manager, it becomes too cumbersome to handle this single-handedly. This is where various risk management tools come into the picture.
Project Risk Management Tools
According to a survey conducted by PMI, there are almost 86% of the organizations, irrespective of the size and industry, who uses risk management methods. With the advancements in technology and everything going digital, project managers have started integrating digital risk management tools/software into their project management. Below I have listed down the most preferred tools by the project managers across the globe:
nTask
nTask is a full-fledged project management tool that enables effective risk reporting, easy visibility, calculation of exact risk impact, auto-generating risk matrix summary, ad much more.
Resolver
Resolver mainly focuses on project risk planning and preparation phases and incorporates benefits like effective assessment, customizable reports, real-time insights, incident management, risk prioritization analysis, risk retrieval inventory, and risk response management.
TimeCamp
TimeCamp is a time tracking tool that determines potential financial risks using time management risk evaluation.
Integrum
Integrum is considered to be one of the best risk management tools that focuses primarily on the health and safety of a project. It provides benefits like risk identification, business optimization, and business intelligence.
Qualys
Qualys is an advanced risk management tool that offers benefits such as vulnerability scanning, malware scanning and detection, threat protection, and more.
This brings us to the end of this article on project risk management. This blog covered just one process involved in project management. If you wish to learn more about project management or project management certifications you can check my other articles as well.
Topics:
project risk management,
project management,
risk assessment,
agile,
estimation,
contingency plan