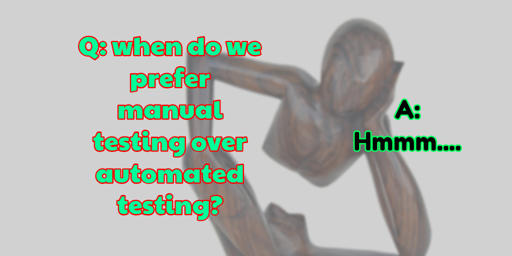 Q: When do we prefer manual testing over automated testing?
A: I have a problem providing a simple answer to this question…
And not just because it depends, but also because that's not the model I use, so I don't frame the question like that. I don't think in terms of "manual testing" and "automated testing."
I think in terms of "testing," "interacting directly with the system," "automating predefined tasks, actions, and paths," "using tools," etc.
Testing
If I'm testing, then I ask myself the following questions:
Do tools already exist to help?
Do I have abstractions that cover those areas?
Do I have to create tools?
Do libraries already exist?
I might automate heavily if I already have abstractions. My testing might involve lots of automating if tools already exist. I might not automate if I have to create. When and if I create, the testing has to wait.
Don't Automate Under These Circumstances
So, what about scenarios where you might expect "don't automate" as my default answer? The following are situations in which I wouldn't suggest automating.
It's something that we rarely need to do.
It's something that has to do with usability in terms of look and feel.
It has to do with experimental features.
It's something that's still under development and that changes frequently.
Many people conduct stress and performance testing rarely. They generally automate. Usability and "look and feel" have tools to detect standards non-compliance. I might very well use those. So, I might automate portions of this type of testing early.