Real-Time Streaming Deep Learning Pipelines With DJL and Apache NiFi
Using Apache NiFi and DJL for Real-Time Streaming, a tutorial on how to build deep learning pipelines.
Join the DZone community and get the full member experience.
Join For Free
Introduction:
I will be talking about this processor at Apache Con @ Home 2020 in my "Apache Deep Learning 301" talk with Dr. Ian Brooks.
Sometimes you want your Deep Learning Easy and in Java, so let's do that with DJL in custom Apache NiFi processors running in CDP Data Hubs, Private Cloud, and in laptop deployments.
Let's run this flow with both processors getting data from the same news REST source.
For Sentiment, we get the probability and percentage for both Negative and Positive outputs as well as the raw classification results if you want them. These are NiFi attributes and won't affect the ingested flow file data. You can change this in my class, rebuild and redeploy if you wish.
To install, please grab the prebuilt NARs referenced below and copy them to your NiFi nodes lib directories and restart those nodes. That is different for other NiFi runtimes like Stateless and K8.
I highly recommend you increase your NiFi RAM, by default you only have 512MB?!?!?!
In your enterprise Cloudera Flow Management Cloudera Manager console: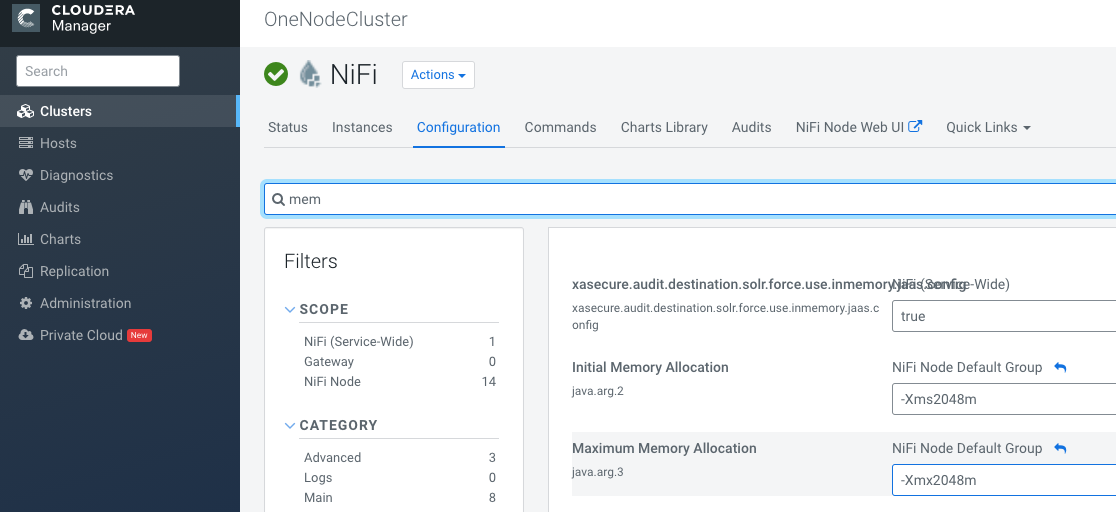 In your NiFi conf/bootstrap.conf
Let's check to make sure we have that RAM after a restart.

Example Run
[

class

: 

"Negative"

, 

probability

: 

0.99440

, 

class

: 

"Positive"

, 

probability

: 

0.00559

]
To use the Bert QA processor on the results of our REST call, you feed in a paragraph to analyze via the paragraph parameter in the NiFi processor. Also feed in a question, like Why? or something very specific like asking the date or an event.
You Will Get Results Such As:
Build Your Own Deep Learning Workflow
You can build your own NiFi processor, just download or clone one of the below-listed repositories and import the maven into IntelliJ IDEA. You can then run JUnit tests and add your own models or just add more features or changes. I recommend you build your own custom models trained on your own corpus of data, perhaps your internal corporate documents to learn your own lexicon.
Reference:
Grab the Source:
https://github.com/tspannhw/nifi-djlsentimentanalysis-processor
https://github.com/tspannhw/nifi-djlqa-processor
Grab the Recent Release NAR to install to your NiFi lib directories:
https://github.com/tspannhw/nifi-djlsentimentanalysis-processor/releases/tag/1.2
https://github.com/tspannhw/nifi-djlqa-processor/releases/tag/1.2
Deep Learning Note:
The pretrained model is the DistilBERT model trained by HuggingFace using PyTorch for Sentiment Analysis. We used the pretrained Apache MXNet BERT QA model for BERT QA.
Tip
Make sure you have 1-2 GB of RAM extra for your NiFi instance for running each DJL processor. If you have a lot of text, run more nodes and/or RAM. Make sure you have at least 8 cores per Deep Learning process. I prefer JDK 11 for this.
See Also: https://www.datainmotion.dev/2019/12/easy-deep-learning-in-apache-nifi-with.html
Topics:
deep learning,
java,
real-time streaming,
machine learning,
djl,
apache nifi,
cloudera,
pipelines
Opinions expressed by DZone contributors are their own.