Real User Monitoring and User Tracking: How Are They Different?
DZone 's Guide to
Real User Monitoring and User Tracking: How Are They Different?
Before fixing a bug, half the battle is knowing where it occurred and who it affects. Real User Monitor and User Tracking to the rescue.
Join the DZone community and get the full member experience.
Join For Free
Are you wondering about the differences between Real User Monitoring and User Tracking?
This post has you covered.
In a nutshell, development teams need to understand where performance problems like page load speed are, and their cause. That's where Real User Monitoring, or RUM, comes in. It's also vital to know whichusers experience these problems so you can understand how they're impacted by errors, crashes, and performance issues. That's User Tracking's job.
Real User Monitoring: Performance Metrics
Sometimes, you may need to track a user's journey by event to discover how a software crash has affected users. A list of errors in a Crash Reporting tool doesn't necessarily help connect the dots about the effect of the crash on an individual user.
Real User Monitoring tracks individual users and their interactions with your application, including all the errors they may have run into in their lifetime as a user. RUM shines a light on performance issues you would otherwise have to take time to look for, and will help you answer questions like:
Where exactly did a user encounter a slow loading page?
What caused the problem to happen to this user?
What was their journey path before encountering the problem?
Was their whole session poor or just a single page/view?
Was their device, connection speed or location a factor?
How does our app perform for users of different versions, browsers, and locations?
That sounds like a lot of data, but Raygun, for example, serves this data in real-time in an easy to use dashboard: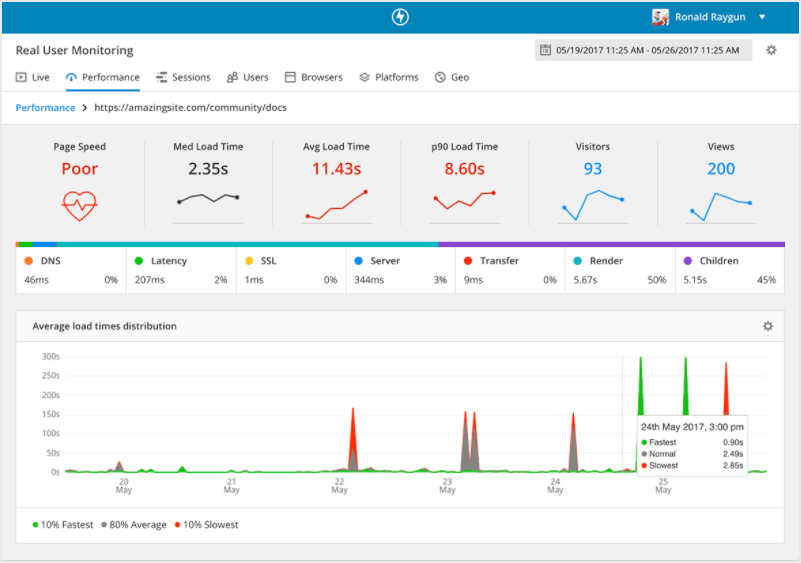 Who Is Real User Monitoring Designed For?
Real User Monitoring is most useful for product managers and front-end engineers who are trying to optimize application performance. RUM makes this data accessible and visual, helping identify outliers and surface immediate problems.
User Tracking: The People Behind The Numbers
Development teams aren't always customer facing. But, with every crash or performance problem comes a unique opportunity to stand out from your competitors.
Sending a crash report for the user to fill in is usually ineffective. Customers don't usually understand what they need to provide, which makes replicating the error difficult. Imagine how delighted your customer will be when you send a custom email apologizing they encountered the error and saying that you've already fixed it without them needing to submit a report. Delivering this type of customer experience will set you apart in highly competitive software markets.
Raygun's User Tracking feature takes data from both Real User Monitoring and Crash Reporting to provide context around performance issues that have already affected an end user.
User Tracking assigns data to an individual profile so you can see all the crash and performance problems they had. For example, you may have identified a customer who is at risk from churn. With User Tracking, you can correlate errors and crashes to their user experience and assign them as a priority. This data will also reveal if there is a threshold of too many bugs that turn a user off your service.
The primary goal of User Tracking is to identify individual users who have had a poor experience. Raygun surfaces this data into the User Tracking pages in your central Raygun dashboard:

To protect your user's sensitive information, you can choose the level of detail you obtain. (Raygun is also HIPAA compliant.) If you would like to track users and their details, you will need to use the setUser()call. If you wish to add custom data into each error instance, you will need to use the CustomData call. CustomData field is also searchable using our search function.
Who Is User Tracking Designed For?
User Tracking is most useful for customer service and customer facing developers who are trying to diagnose specific errors with specific users.
Real User Monitoring and User Tracking Work Together
Both tools are useful for helping you understand your users. Real User Monitoring helps keep your team aware of performance problems, while User Tracking enables you to see how individuals are affected by crashes and software errors.
I hope this has made it more clear why Raygun has both tools in our software intelligence platform. If you have any questions, please contact us here.
Topics:
performance ,raygun ,real user monitoring ,user tracking ,ux
Published at DZone with permission of Freyja Spaven , DZone MVB. See the original article here.
Opinions expressed by DZone contributors are their own.
Performance Partner Resources