Red Hat Summit: Day 1 Recap (And Some Change!)
Wrapping up my trip to Red Hat Summit 2018, here's the latest news and reflections from the show with a focus on Day 1.
Join the DZone community and get the full member experience.
Join For Free
Editor's Note: I began writing this the night after day 1 at the conference, but it took me longer than I thought it would, so I squeezed in a few highlights from day 2 also... hence the "And Some Change" in the title.
Day 1 of the 3-day Red Hat Summit 2018 here in San Francisco just wrapped up and I'm back at the hotel now, my head still spinning from all the awesome sessions, some big news drops, and the plethora of incredibly cool people I met today. As expected, everywhere I looked there was a sea of red—red shirts, red lights, red carpet, and of course, plenty of red fedoras.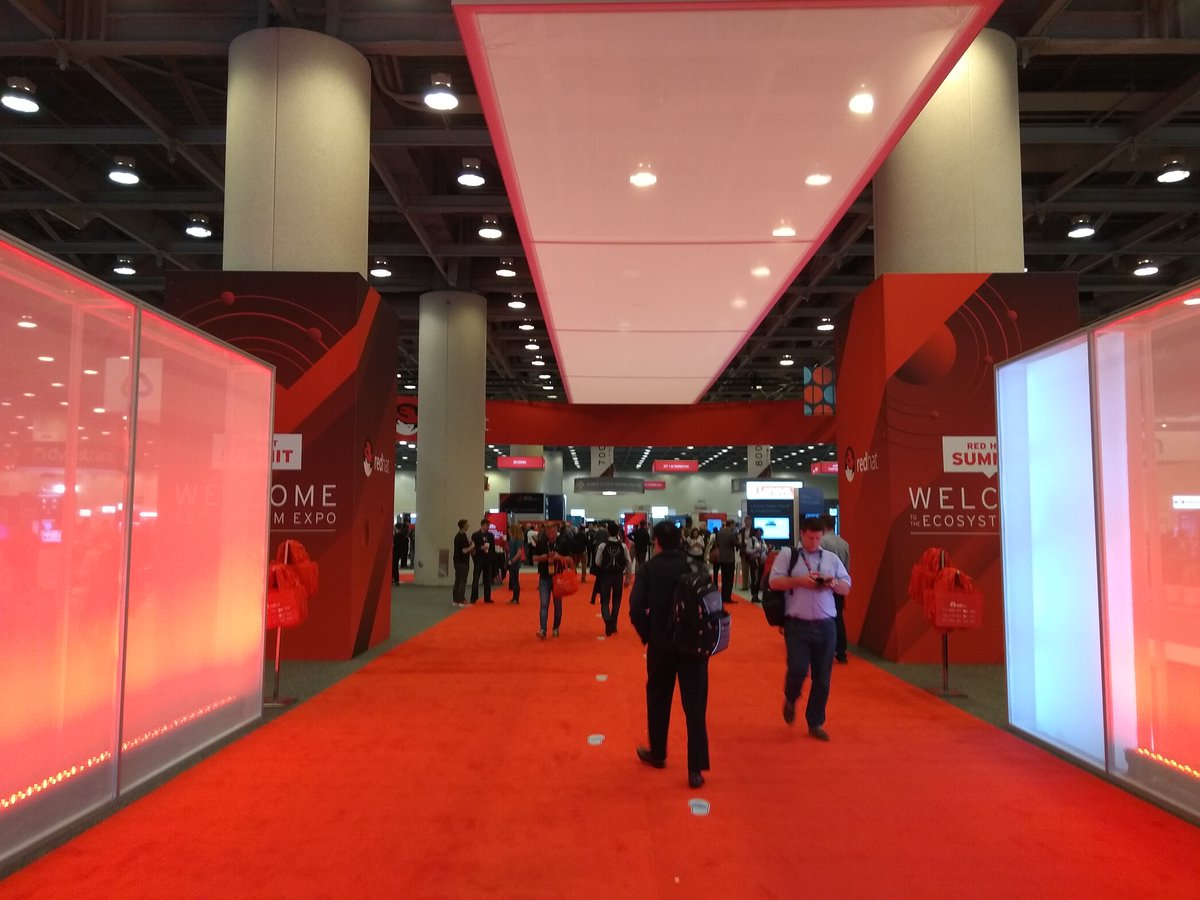 Snapshot of a very red entrance at Red Hat Summit 2018
If there's one major theme I took away, it's that collaboration is key for success. And Red Hat being a shepherd of open source technology and mindset, it's really no surprise that so much of this show is about organizations and individuals working together to solve big problems for the enterprise and beyond.
Below, I'll walk you through my day one experience, offering up some of the major highlights of the show while giving shoutouts to some of the interesting folks I met.
The News: Press Releases and Partnerships
First off, here's the list of raw press releases that went live on Tuesday provided to me courtesy of Red Hat (the accompanying blurbs were included in the original PR release email).
The Official Press Releases
So, that's a lot to soak in.
Red Hat and Microsoft partnering up to bring fully managed OpenShift on Azure is still pretty awesome and unbelievable even though it's clearly been on the roadmap; but, it makes sense with Red Hat's goal to provide customers the ability to shift their container-based applications to the hybrid cloud without sacrificing production stability when on-premise hardware maxes out.
The roadmap presented for the CoreOS Integration with Openshift also brought big news. The Operator Framework has been getting lots of love recently, and we learned that Red Hat OpenShift Container Platform will use the open source project to benefit Red Hat's ISV ecosystem, making it easier for ISVs to bring cloud services to the hybrid cloud and address a broader set of enterprise deployment models while avoiding cloud lock-in.
Talks and Talking to Folks
I had a somewhat tricky start to my day when trying to attend some of the morning sessions. Turns out that Burr Sutter's talk Containers, microservices, serverless: On being serverless or serverful was pretty popular—so much so that when the room filled up, a crowd of eager listeners huddled outside the door. Unfortunately, I couldn't pick up much from outside, but learned that registering for the talks would fast pass me through any futurue lines, and so quickly picked up the Red Hat Events app to begin marking my next move. I'll be keeping that in mind for future events.
I had better luck later on and caught the session Red Hat research: The future is open in which speakers Hugh Brock and Michal Kenneth talked about their work with universities in Boston, Toronto, Brno Czechia, and Tel Aviv to get involved with upstream projects that'll shape the future of computing in academics and other industries. The major takeaway was that the academic world sees the value of open source, and research institutes are increasingly adopting the concepts present in Red Hat's open culture. I was particularly interested in the projects that Hugh talked about between Red Hat and Boston University, like Dataverse "an open source web application to share, preserve, cite, explore, and analyze research data"—basically, an open data governance project that partners researchers from academia—and the ChRIS Project, an Openshift-based framework for running image processing codes that's being used by radiologist and clinicians to process medical images on an open, collaborative platform. To hear about researchers at the university level collaborating through open source technologies and ideology to solve big problems like these is uplifting.
Browsing the booths, I stumbled upon many familiar faces—well, in some instances, it was the names on the name tags that were familiar but not necessarily the faces themselves. That's one of my favorite things about attending events like these, connecting in person with people that I've been speaking with for ages over email. Anyway, I'm going to do my best to give shoutouts to the many awesome folks I saw here at the show:
Now, this list could keep on going and going. I stopped by Cloudera, spoke with NGINX, talked to some familiar folks at Cloudbees, and chatted with awesome people at Portworx, Puppet, and Couchbase. The problem with these conferences is never trying to find people to talk to, instead, it's trying to remember all the different people you did talk to! So, if I missed anybody, I'm sorry about that... it's been a whirlwind!
Wrap Up
As I said previously, if there's one major takeaway from going to Red Hat Summit 18, it's that partnerships and collaboration are going to be key for success going forward. Those that integrate and play well with others are going to be the choice companies for developers to work with.
Red Hat understands the power of working with other companies—big & small—and the necessity of Open Source. Their excitement for collaboration is contagious, and if the turn out at the show is any indicator of what's going on in the larger industry, we've caught that excitement.
Opinions expressed by DZone contributors are their own.
Open Source
Partner Resources