The Register Covers the Revolv DB Migration
DZone's Guide to
The Register Covers the Revolv DB Migration
Join the DZone community and get the full member experience.
Join For Free
The Register's Jack Clark wrote a short piece on Revolv's database migration based on my blog post from last week and an interview we did on Friday. I found the conclusion to the article to be a fairly phrased and well-put summary of the NoSQL/SQL issue:
We here on El Reg's database cluster are sure that NoSQL technologies have some great benefits (the flexibility of a document-oriented system like MongoDB, or the resilient ring-storage structure of Riak, for instance), but many startups risk being spiked by arcane problems that come about as they scale. We recommend they take a hard look at traditional systems and work out if they can have a relationship with them. [That's enough—Ed.]
Thanks, El Reg, for stating the point so clearly.
---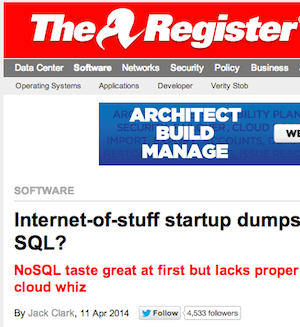 Download AnzoGraph now and find out for yourself why it is acknowledged as the most complete all-in-one data warehouse for BI style and graph analytics.
Topics:
java ,sql ,opinion ,nosql ,database ,trends ,tools & methods ,revolv
Published at DZone with permission of Matt Butcher , DZone MVB. See the original article here.
Opinions expressed by DZone contributors are their own.
Database Partner Resources
Database Partner Resources