Retention Lessons From 3 Top Travel Apps
While there isn't a one-click solution to boosting user retention in mobile apps, the travel apps above give good ideas for using your app's flow to hook users.
Join the DZone community and get the full member experience.
Join For Free
According to research done by Google, 88% of travelers with smartphones would switch to another app if the one they're using doesn't satisfy their needs. Travel booking isn't something people do every day, or even every month, which makes retention a tricky proposition for travel apps.
To attract a loyal base of users who stick around, travel mobile apps need to create better experiences for travelers. They have to nurture user behavior by building in loops that motivate people to return to the app time after time.
So how do they do that? Let's take a look at three stellar examples. Each of them uses a retention hook in a different part of the booking process to keep customers coming back for more.
Skyscanner: Satisfy All Their Search Needs
Google's research on travel that we noted above showed two strong trends in the use of smartphones for travel searches: 60% of searches about destination information come from mobile devices and 70% of travelers with a smartphone use them to research travel.
It's not surprising then that Skyscanner — a meta search engine that allows you to find and book deals on flights, hotels, and rental cars — has focused its energies on making searching both fun and easy for its users. The app's latest redesign aims at making it "easier for you to find everything you need to plan a trip on your mobile or tablet."
When searching for flights, the app collects all relevant flight information, such as:
Flight duration.
Overlays.
Public transportation access to and from the airport.
Seeing all this relevant information on the same screen makes it easy for users to pick the best option without having to switch back and forth between screens or consult any other apps.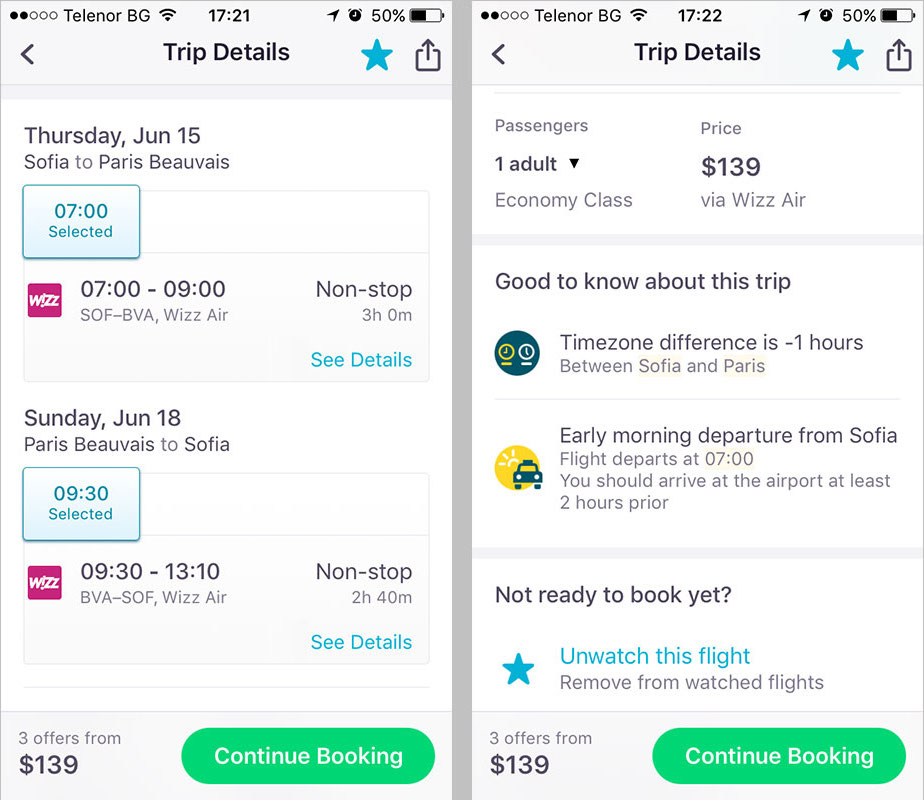 The Watch feature allows users to mark specific flights for comparison with others. It also allows them to track price fluctuation over time. The app highlights all watched flights in the search results for easy reference.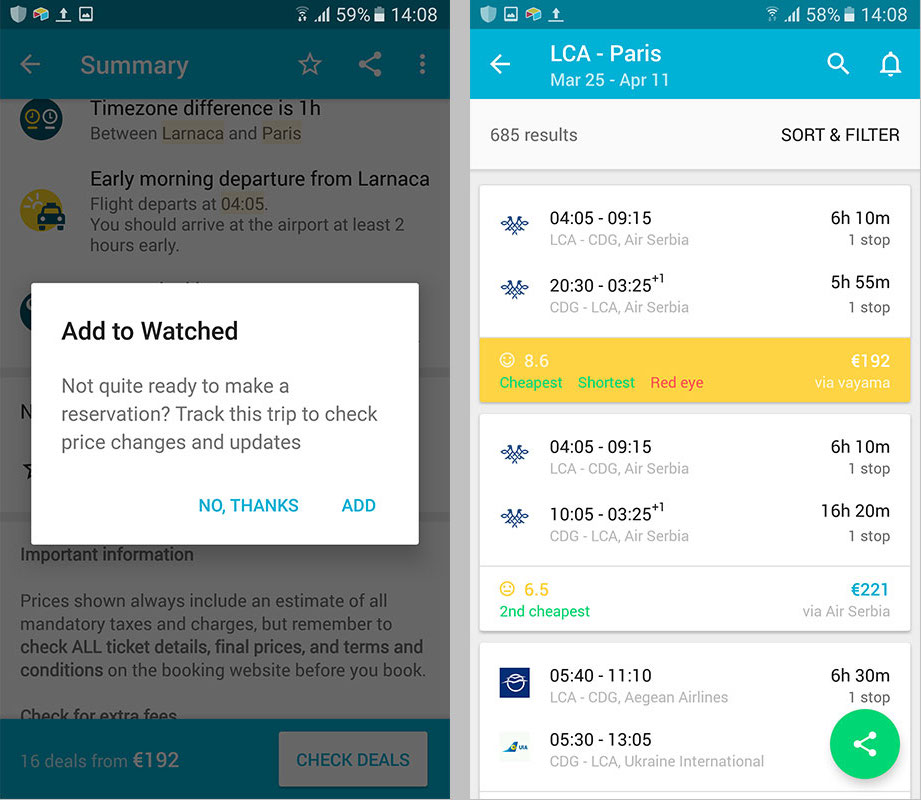 Once a user finds the best flight and switches to hotel booking, the app automatically populates the search fields with the destination and travel dates used for searching flights to save time.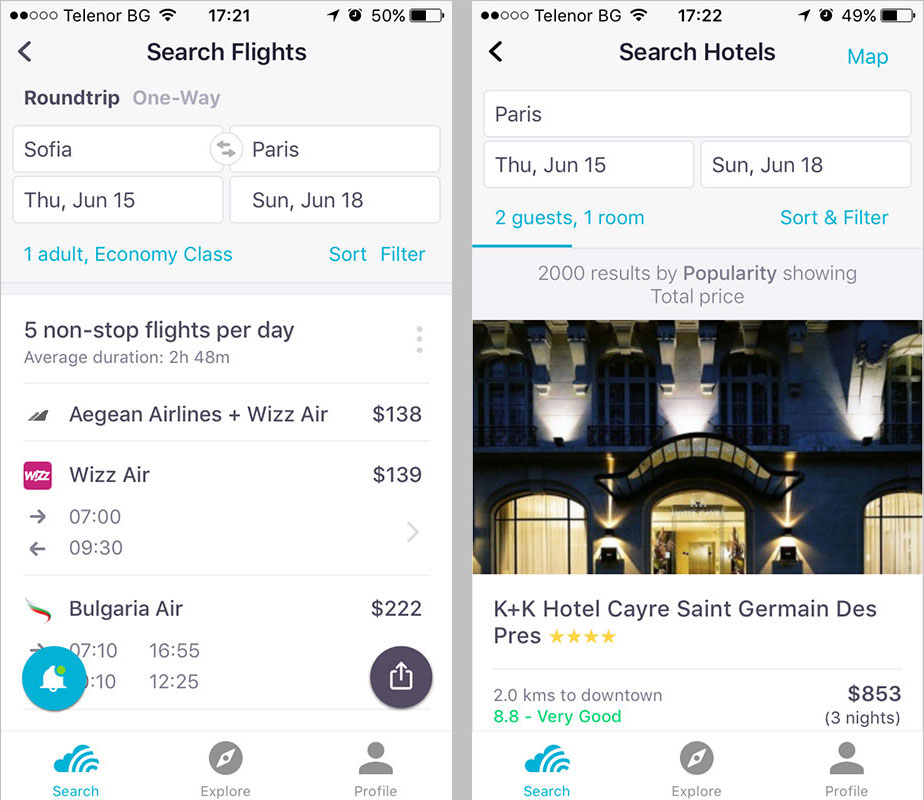 Whether you're looking for the cheapest flight or the shortest one, for the cheapest hotel or the most convenient one, Skyscanner seems to have all the answers at the click of a button.
The combination between extensive search results and simplicity of presentation keeps users hooked and coming back to the Skyscanner app for all their travel needs.
Hotels.com: Reward Booking With Free Gifts
Hotel.com takes a different, more classic, approach to user retention. It's an approach that works just as well on mobile as it does at your local coffee shop.
Ever been given your latte along with one of those cards that get stamped every time you order a coffee until you get a free cup? That card is essentially a loyalty rewards scheme: "Get your coffee from us every morning, instead of the coffee shop across the street, and we'll reward you for it."
Hotels.com, a website for booking hotels online that's owned by Expedia, uses the same method to boost user retention for its mobile app. The difference is that instead of cups of coffee, the currency used in this case is nights spent at a hotel.
The app shows users their progress towards earning a free night at a hotel of their choice on a card that looks just like the one you get at your coffee shop.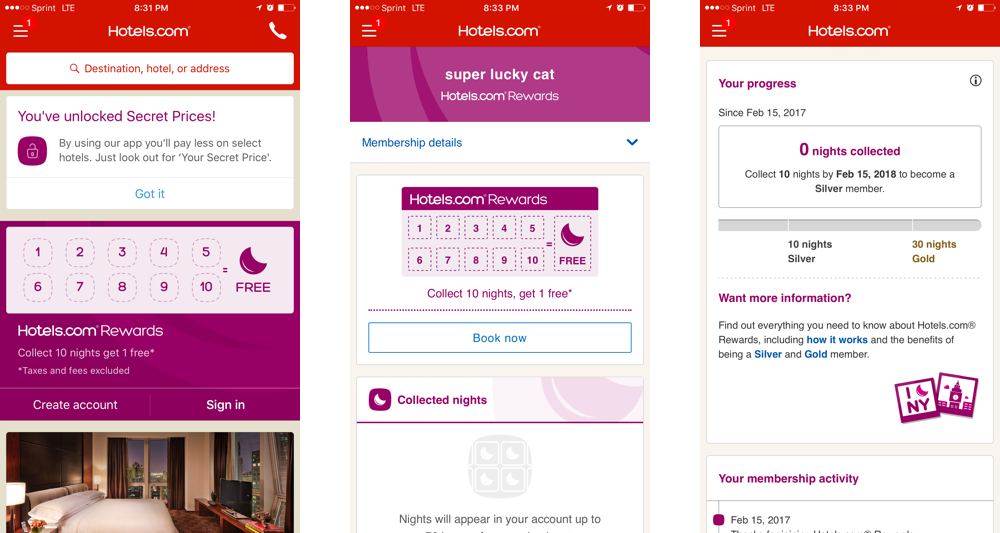 Does the scheme work? The 35 million downloads of the app would seem to say yes.
According to a research study conducted by the company, 53% of smartphone-enabled travelers have made a same-day hotel booking, while 22% typically book hotels less than a week before travel. That means that the rewards scheme hooks both last-minute travelers and those who like to plan in advance.
Booking.com: Capitalizing on Post-Booking Assistance
Another interesting thing that Google's research on travel revealed is that nearly nine out of ten travelers expect their travel provider to share relevant information while they are on their trip. What's more, 67% of travelers feel more loyal towards a travel company that shares information during their trip that improves their travel experience.
Booking.com, the behemoth of the travel space with over 1 million reservations made through its service every day, earns mobile retention by capitalizing on the greater travel experience.
Reserving a flight or a hotel is just the start of a longer journey for Booking.com. To create a stickier in-product experience, the Booking.com app helps customers keep discovering new things with their service. Using geolocation and trip data to provide, the app provides users with helpful information during their vacation.
Booking a hotel in Boston, for example? The app offers you a "FREE Boston Travel Guide" that's available any time in-app. This interactive guide contains all the top attractions, "city secrets," and things to do in Beantown, all of which you can book right from the app.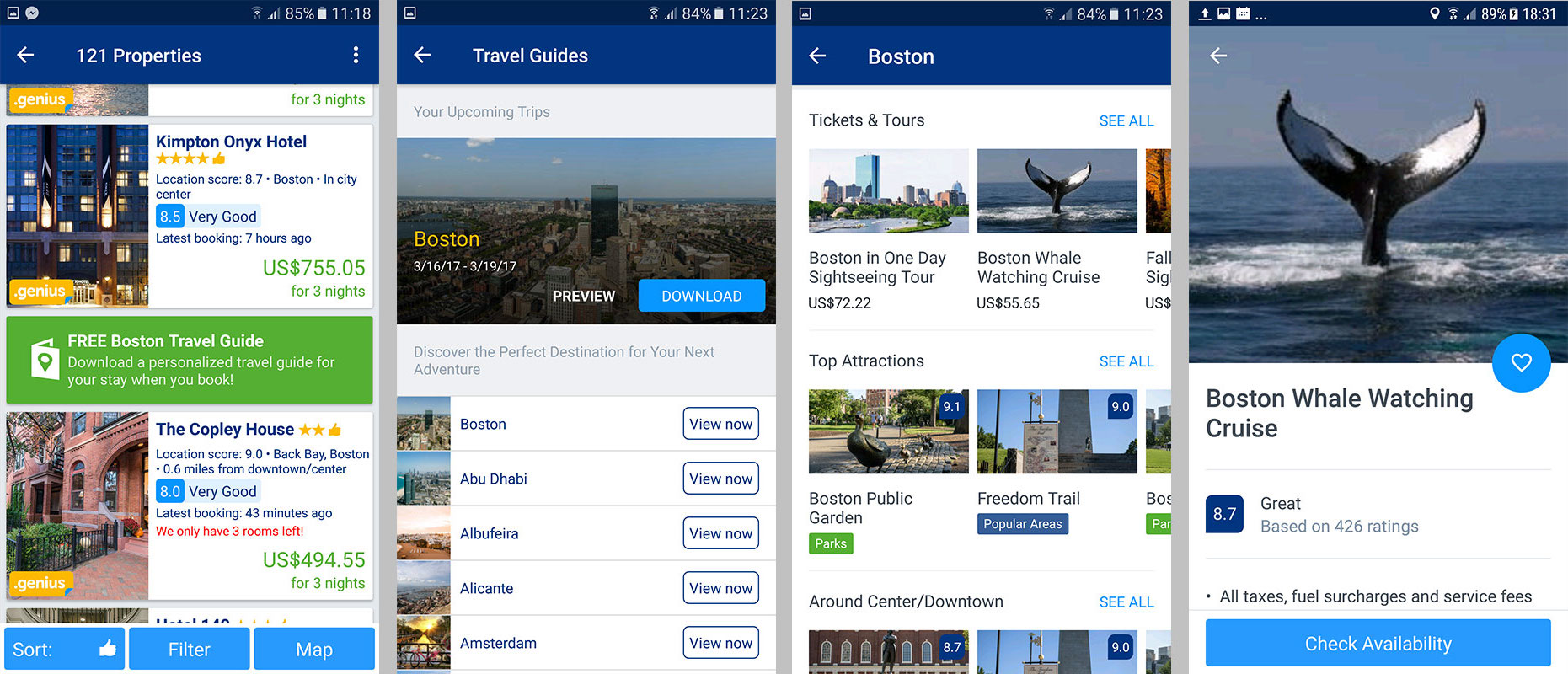 By providing users with these free resources, Booking.com delivers value beyond just helping customers book hotels. This extra value hooks users into relying on the mobile app as a broader travel resource and encourages them to spend more time in it.
It's a virtuous cycle: The more time users spend in-app, the more Booking.com can help them with relevant offers for tours, rental cars, or extended stay arrangements.
Mastering Retention With Mobile Travel Apps
While there isn't a one-click solution to boosting user retention in mobile apps, the travel apps above give good ideas for using your app's flow to hook users.
Whether it's satisfying all the needs and questions users have while searching for a booking, incentivizing bookings with free gifts, or capitalizing on post-booking assistance for local travel arrangement, each app has enhanced one specific area of the travel experience to keep users coming back.