Review on SysTools SQL Recovery Tool for Corrupted MDF/NDF Files
DZone 's Guide to
Review on SysTools SQL Recovery Tool for Corrupted MDF/NDF Files
Let's take a quick look at a review on SysTools SQL recovery tool for corrupted MDF/NDF files. Explore the advantages and disadvantages.
Join the DZone community and get the full member experience.
Join For Free
SQL Server is the most popular relational database management system (RDBMS). It also gives the flexibility to the database administrator for managing a database. However, sometimes, there are some minor issues that will crop up in the SQL database file. In that case, users will search for a reliable and instant solution to fix corruption issues in the SQL database. Here in this review page, we will discuss SysTools SQL Recovery Tool along with the most useful features.
About SysTools SQL Recovery Tool: An Expert Solution
Users can easily recover a corrupt database of SQL Server using SQL MDF recovery tool. This application is designed with advanced algorithms which allows repairing both Primary and Secondary database files. Also, it is developed with a user-friendly interface which makes easy for users to accomplish the task. The software is capable enough to retrieve all tables, triggers, stored procedure, views, functions, rules, and other components of the SQL Database. Moreover, this tool can support all Windows versions (32-64 bit) including 10.
Versions of SQL File Recovery Software
The software is available in two different editions, one is Demo version and another is Full version. Description of these product versions are mentioned below:
Demo Edition: One can simply download the demo version from an official site. With the help of demo edition, users can move 25 records of each table and 5 database objects. This edition will help a user to understand the functionality of the product.
Full Edition: After knowing this tool, users can purchase the paid version from the company's official site. The full edition will allow users to recover corrupt or damaged SQL database files.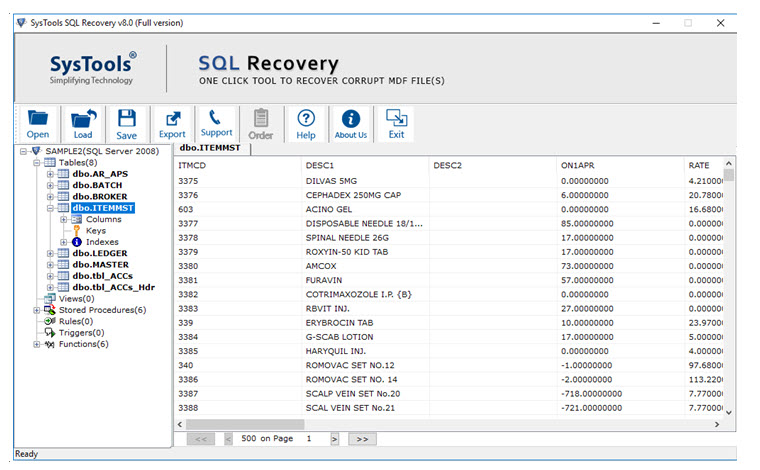 System Specifications
Support: Windows 10 and all below Windows versions
Processor: Intel® Pentium® 1 GHz processor (x86,x64) or equivalent
RAM: Approximately 2 GB RAM
Hard Disk Space: Requires minimum 100 MB space for installation
Impressive Features of SQL Recovery Tool
Provide Scanning Modes For SQL Recovery
This application supports to recover triggers, tables, stored procedure, views, and all other components of the SQL Server database. Also, it will provide two scanning modes, i.e., Quick and Advance. You can either choose Quick scan for normal database corruption or Advance scan for severe database corruption.
Scan and Preview SQL Database Components
With the help of SQL Recovery tool, you can scan primary (.mdf) and secondary (.ndf) database files. If you have accidentally deleted the SQL tables then, this software will help to restore the deleted SQL table's data. You can also preview all scanned and recovered items with total item count.
Supports Other Advance Data Types
The software provides the advance data type to recover the SQL database including Datetime2, sql_variant, datetimeoffset, geometry, hierarchyid, and geography data types. Furthermore, these two data types, i.e., ASCII and Unicode XML are supported by SQL Recovery software.
Migrate Selective SQL Database
This MDF recovery tool lets you export the selective items from database files (MDF or NDF file) and save it. Moreover, it allows the user to check or uncheck the database objects as per the convenience. Besides this, it will help to recover XML data if you have created columns and variables of XML type.
Option to Auto Detect MS SQL Version
SQL Database Recovery software equips an option to detect the SQL Server version of MDF or NDF database file automatically. Even though if you know the original version SQL Server then, it is always recommended to check the suitable SQL Server version manually.
Export to Microsoft SQL Server Database
SQL Database Recovery tool offers an amazing feature through which you can directly move recovered data into Live SQL database. For this, you should provide all database credentials such as Server name, Database name; Username and password and so on. It also helps to restore data from Wallet Ransomware affected MDF files.
Move Schema and Schema and Data Both
Using this MDF file recovery tool, users can export the database with a schema of selected procedures, tables, etc. As an alternative, you can move tables with both schema and data in it. Moreover, it supports SQL database tables with standard and user-defined schemas.
Export as SQL Server Compatible Scripts
In case, if you want to transfer files to SQL Server compatible script, then, the software allows you to export all the database objects as .sql files. You can keep that database file on any machine and use it to retrieve data from SQL Server. Also, it has a simple and user-friendly interface that even a novice user can avail it.
Advantages and Disadvantages of SQL Database Recovery Tool
Advantages
Repair Corrupt SQL Database files (MDF and NDF).

Allows recovering multiple .ndf database files.

Automatically fetch the SQL Server Name while exporting to SQL Database.
Disadvantages
Software does not support Mac Operating system.
Overall Verdict
SQL Database Recovery is a trustworthy, reliable, and smart software. With this application, one can easily repair corrupt SQL database files including MDF and Ndf file. In addition, there is no risk of data loss associated with this tool. Both technical and non-technical persons can easily work with this tool due to its brilliant graphical user interface. This software is integrated with so many advanced features, which makes it best among others. After going through all the amazing features of the tool, it can be rated as 9.8 out of 10.
Topics:
sql server recovery ,database ,systools ,rdbms
Opinions expressed by DZone contributors are their own.
Database Partner Resources