Understanding the Impact of IoT and Edge Computing Through  Popular Use Cases
Today it is important to understand the impact of an IoT system and the most effective way to do that is to start with the use case of a real-world product.
Join the DZone community and get the full member experience.
Join For Free
IoT is already affecting every segment in industrial, enterprise, health, and consumer products. It is important to understand the impact, as well as why these disparate industries will be forced to change in the ways they build products and provide services. 
There is an opinion that the impact of IoT-related industries, services, and trade will affect 3% (The Route to a Trillion Devices, ARM Ltd 2017) to 4% (The Internet of Things: Mapping Value Beyond the Hype, McKinsey and Company 2015) of global GDP by 2020 (extrapolated). Global GDP for 2016 was $75.64 trillion dollars with an estimate that by 2020 it will rise to $81.5 trillion. That provides a range of value of IoT solutions from $2.4 trillion to about $4.9 trillion.
This article is an excerpt from the book, IoT and Edge Computing for Architects, Second Edition, by Perry Lea– A comprehensive guide that helps you learn how to design, implement, and secure your IoT infrastructure.
The IoT deployment growth rate in the near term is about 20 percent year after year.
The scale of connected objects is unprecedented. Speculation of industry growth is imperiled with risks.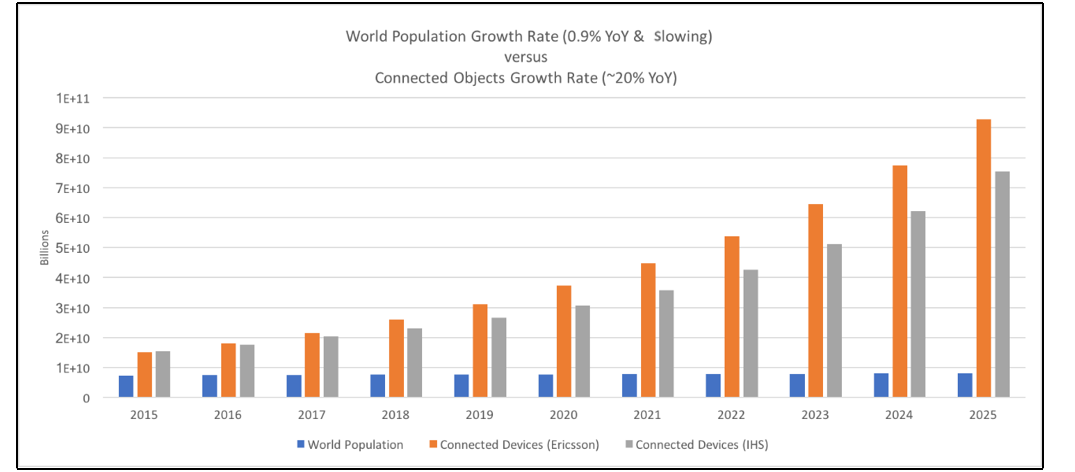 The disparity between human population growth versus connected thing growth. The trend has been a 20 percent growth of connected objects versus a nearly flat 0.9 percent human growth. Humans will no longer drive network and IT capacity.
It should be at the top of our minds as to what value an IoT solution delivers. If it is simply a new gadget, there will be a limited market scope. Only when the foreseeable benefit outweighs the cost will an industry thrive.
It is also worth noting that after the first public website went live at CERN in 1990. It then took 15 additional years for 1 billion people to be regular users of the Internet. IoT is looking to add 6 billion connected devices per year. This, of course, is swaying the industry.
Now, let's look at how IoT and Edge computing impact different industries through their popular use cases.
IoT Use Cases
Industry and Manufacturing
Industrial IoT (IIoT) is one of the fastest-growing and largest segments in the overall IoT space by the number of connected things and the value those services bring to manufacturing and factory automation. This segment has traditionally been the world of operations technology (OT). This involves hardware and software tools to monitor physical devices in real-time.
Industrial and Manufacturing IoT Use Cases
Following are the industrial and manufacturing IoT use cases and their impact:
Preventative maintenance on new and

preexisting

factory machinery

Throughput increase through real-time demand

Energy savings

Safety systems such as thermal sensing, pressure sensing, and gas leaks

Factory floor expert systems
Consumer
Consumer-based devices were one of the first segments to adopt things being connected to the Internet. Consumer IoT first took the form of a connected coffee pot at a university in the 1990s. It flourished with the adoption of Bluetooth for consumer use in the early 2000s.
Consumer IoT Use Cases
The following are some of the consumer IoT use cases:
Smart home gadgetry: Smart irrigation, smart garage doors, smart locks, smart lights, smart thermostats, and smart security.

Wearables: Health and movement trackers, smart clothing/wearables.

Pets: Pet location systems, smart dog doors.
Retail, Finance, and Marketing
This category refers to any space where consumer-based commerce transacts. This can be a brick-and-mortar store or a pop-up kiosk. These include traditional banking services and insurers, but also leisure and hospitality services. The retail IoT impact is already in process, with the goal of lowering sales costs and improving customer experience. This is done with a myriad of IoT tools.
Retail, Finance, and Marketing IoT Use Cases
Some of the IoT use cases are as follows:
Targeted advertising, such as locating known or potential customers by proximity and providing sales information.

Beaconing, such as proximity sensing customers, traffic patterns, and

interarrival

times as marketing analytics.

Asset tracking, such as inventory control, loss control, and supply chain optimizations. Cold storage monitoring, such as analyze cold storage of perishable inventory. Apply predictive analytics to the food supply.

Insurance tracking of assets.

Insurance risk measurement of drivers.

Digital signage within retail, hospitality, or citywide.

Beaconing systems within entertainment venues, c

onferences, concerts, amusement

parks, and museums.
Healthcare
The healthcare industry will contend with manufacturing and logistics for the top spot in revenue and impact on IoT. Any and all systems that improve the quality of life and reduce health costs are a top concern in nearly every developed country. The IoT is poised to allow for remote and flexible monitoring of patients wherever they may be.
Healthcare IoT Use Cases
Some of the healthcare IoT use cases are as follows:
In-home patient care

Learning models of predictive and preventative healthcare

Dementia and elderly care and tracking

Hospital equipment and supply asset tracking

Pharmaceutical tracking and security

Remote field medicine

Drug research

Patient fall indicators
Transportation and Logistics
Transportation and logistics will be a significant, if not the leading driver in IoT. The use cases involve using devices to track assets being delivered, transported, or shipped, whether that's on a truck, train, plane, or boat. This is also the area of connected vehicles that communicate to offer assistance to the driver, or preventative maintenance on behalf of the driver.
Transportation and Logistics IoT Use Cases
Following are some of the transportation and logistics IoT use cases:
Fleet tracking and location-awareness

Municipal vehicle planning, routing, and monitoring (snow removal, waste disposal)

Cold storage transportation and safety of food delivery

Rail-car identification and tracking

Asset and package tracking within fleets

Preventative maintenance of vehicles on the road
Edge Computing Use Cases
While computing platforms running outside of IT-managed corporate environments and data centers are not new, edge systems today are extensions of general IT-managed components as though they were within the control and security of a corporate data center. Edge systems are essentially remote computing systems and borrow elements from established engineering domains of embedded systems, cloud computing, computer security, and telecommunications.
Edge computing serves four primary usage patterns:
Reduced latency

: Edge systems can be placed closer to end-users and services. This naturally can avoid various network hops and propagation. Certain latency-sensitive applications, such as cloud-based gaming and video streaming, have strict real-time latency and performance requirements. This also includes devices that need real-time decision-making or the execution of rules engines for safety-critical machinery.

Bandwidth preservation:

Certain environments have limited bandwidth to and/or from the edge system. In other cases, data costs for cloud or data centers can grow to be prohibitive at scale or at a sizable volume. Many carriers have data caps or fee schedules based on usage. Edge computing can best serve this issue through filtering, caching, and data compression techniques to efficiently maximize available bandwidth.

Resilient computing

: Some situations do not have reliable communication. An example may be a transportation or logistics application that tracks a fleet of vehicles and cargo in real-time as well as critical cargo temperature data. A moving vehicle may, at times, lose its carrier connection as it travels through tunnels, rural areas, and underpasses. It is unacceptable in these use cases to simply "lose" data. Therefore, these types of systems must look at edge local caching to store data until communication is restored. These systems may also have

failover or handover routing techniques to switch to different carriers in the event of a primary carrier loss.

Security and privacy

: Some situations must secure or even remove certain data before it travels further into the cloud or other edges. This is especially true for situations involving health data and image or personal privacy for surveillance. In many cases, data security is defined by government regulations. As an example, an edge system used for video surveillance may need to denature images containing pictures of children if the images are being used in a public broadcast. This can involve tremendous amounts of computing resources at the edge.
With these patterns, some use cases common in the industry include the following:
| | | |
| --- | --- | --- |
| Category | Description | Edge Usage |
| Device automation | Interaction, control, and monitoring of edge-based "things", sensors, systems, and environments. These require cloud-based interaction but have real-time requirement needs. | Industrial control systems, autonomous vehicles. |
| Immersion environments | AR and VR types on interactions, remote surgery, voice command systems (Alexa). | Edge systems used to reduce latency and increase bandwidth for applications sensitive to proper timing and synchronization. |
| Patient monitoring | Healthcare, in-home care, and patient monitoring solutions must be robust, foolproof, and secure. | Edge systems may coexist with patients to provide secure and resilient communication with upstream healthcare provider systems. |
| PAN aggregation | Environments with non-IP-based systems and mesh environments requiring a bridge and translation between protocol stacks. | Edge systems acting as hubs, bridges, and gateways can be managed and participate as a secured component in an enterprise network. |
| Resilient communication management | Transportation and logistics, fleets, and trucking companies that require consistent communication with cloud or data center systems. | Edge systems can monitor and maintain resiliency in a communication-faulty environment through caching, failover techniques, and carrier switching methods. |
| Immersive entertainment and client delivery networks | Cloud-based gaming, video streaming, and mobile entertainment. | Edge systems may be placed in strategic locations to assist in balancing latency, and capacity for large-scale video and game-streaming applications generally hosted in large disparate data centers. |
| IoT processing | Management of multiple sensors and inputs. Data needs to be filtered, scrubbed for anomalies, packaged, and compressed. Data can also be passed through rules engines, inference engines, or signal processing hardware and acted upon locally. | Edge systems provide the ability to process bulk data locally in real-time efficiently without the cost of moving that data to the cloud. |
| Device management | IoT and edge devices that require system management, firmware upgrades, and patching. | Edge systems can maintain a "manifest" of qualified and authenticated patches and upgrades of devices it manages. It can stage and qualify firmware upgrades without human intervention. |
Summary
In this article, we dived deep into the details of numerous use cases of different industries and fields that IoT and edge computing are estimated to influence in the long run. Some of the industries we saw have already started witnessing the revolution, IoT is said to bring.
IoT systems are not a fire-and-forget type of design. A customer expects several things from jumping on the IoT train. As architects in this new field, one needs to understand what the customer is building and what the use cases require.
Topics:
edge computing,
architecture & design,
cloud,
iot architecture,
iot and healthcare,
iot use cases,
iot use in business,
iot analytics,
iot and smart connected products,
iot solution
Opinions expressed by DZone contributors are their own.