Scoop up Some Insider Knowledge on Apache Sqoop
Scoop up Some Insider Knowledge on Apache Sqoop
Here are some nice diagrams and information on how to use Sqoop to import and export data between Hadoop and relational databases.
Join the DZone community and get the full member experience.
Join For Free
What has our team learned using Sqoop to exchange data between big and traditional data sources? Learn these secrets in our webinar.
Apache Sqoop is a tool designed for efficiently transferring bulk data between Apache Hadoop and structured data stores such as relational databases. It uses a standard JDBC interface and serves as the data access layer for the Hadoop ecosystem to connect external structured data.
Sqoop helps offload certain tasks (such as ETL processing) from the EDW to Hadoop for efficient execution at a much lower cost. Sqoop can also be used to extract data from Hadoop and export it into external structured datastores. Sqoop works with relational databases such as Teradata, Netezza, Oracle, MySQL, Postgres, and HSQLDB.

Below is an illustration of the basics of Apache Sqoop:
Learn Best Practices From Big Data Experts
In our webinar, "Get The Inside Scoop on Apache Sqoop," we give you an introduction to Apache Sqoop along with information on JDBC-accessible data sources. Our team regularly works with Apache Sqoop and provides some best practices learned straight from the field.
Sometimes the greatest differentiator in the performance of your data exchange can be your drivers. The graphic below illustrates when we recommend using DataDirect versus Sqoop Certified JDBC Drivers.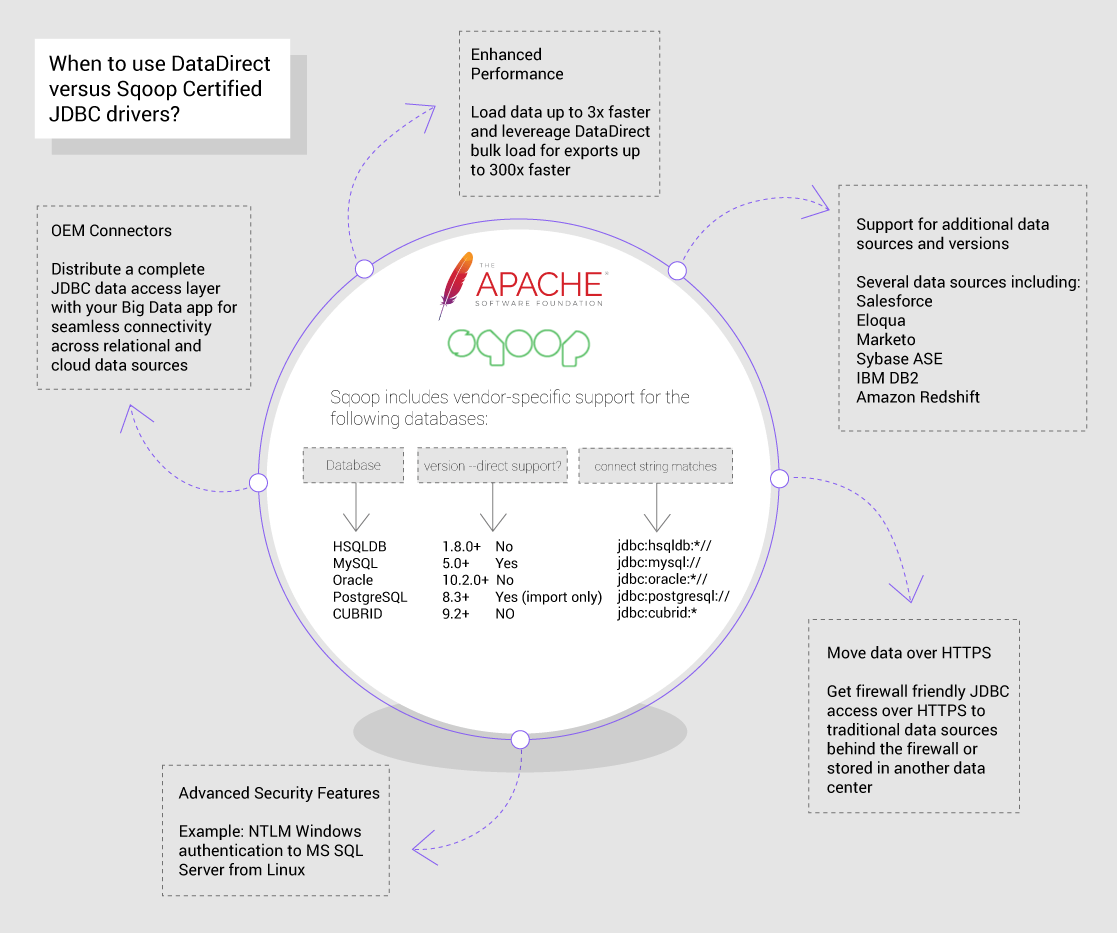 Watch the Webinar
What are you waiting for? Become a Sqoop expert and learn industry best practices! The webinar also includes a recorded Q&A with our customers, so if you have any questions at the end, they were probably already answered there. If you want to learn more about what DataDirect can do for Big Data Frameworks and more including Apache Sqoop, check out our information page. Enjoy the webinar!
Sqoop
Big data
hadoop
Scoop (news)