The Ship Show: Demystifying DevOps - A Chat with Damon Edwards
DZone's Guide to
The Ship Show: Demystifying DevOps - A Chat with Damon Edwards
Join the DZone community and get the full member experience.
Join For Free
Starting today, DZone is proud to syndicate The Ship Show, a twice-monthly podcast on everything from build engineering to DevOps to release management.
For episode 15, we sit down for a chat with the host of The DevOps Cafe, Damon Edwards to talk through the finer points of DevOps. We ask some pointed questions in an attempt to get a good, concrete definition of "DevOps," but without the hype that often comes prepackaged with the discussion. Watch Paul put Damon through the "curmudgeon gauntlet" as we attempt:
Demystifying DevOps: A Chat with Damon Edwards
Join J. Paul Reed, aka @SoberBuildEng,Youssuf El-Kalay, aka@buildscientist, Seth Thomas, aka @cheeseplus, and Sascha Bates, aka@sascha_d, plus the last couple of weeks in News & Views and a review!

Or, download Episode 15, or any of our previous shows!
Show Links/Notes
0:45 – News & Views
8:20 – Main Segment: Demystifying DevOps: A Chat with Damon Edwards
1:25:10 – Book Review
Book Review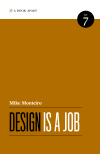 Design Is A Job by Mike Monteiro.
Get it from A Book Apart.
Join Us!
Join the discussion!