Six Excellent Animation Libraries for UI Designers in 2018
If you're looking for some fresh new ways to enhance your website, take a look at these UI libraries for some good inspiration.
Join the DZone community and get the full member experience.
Join For Free
Web design domain is thriving with the help of technological advancements. It has passed through a paradigm shift from static magazine layouts to "digital machines" that have hundreds of thousands of coordinated and moving parts of different sizes.
Simply put, it is the need of the hour that quality UI designers be great animators with a working knowledge of web animation technology.
Today, we look at each library from a perspective of a code-savvy UI designer rather than a "code guru' developer. A few of these design libraries are pure CSS, whereas the others are JavaScript. Howevery, none of these require anything more than a basic HTML/CSS understanding. You can link the library and add a CSS class with ease.
Bounce.js
Bounce.js is a tool and JS library for generating beautiful CSS3 powered keyframe animations. The tool on bouncejs.com allows you to generate static keyframes that can be used without any extra JavaScript, but if you'd like your mobile application to generate these on the fly, you can use the Bounce.js library.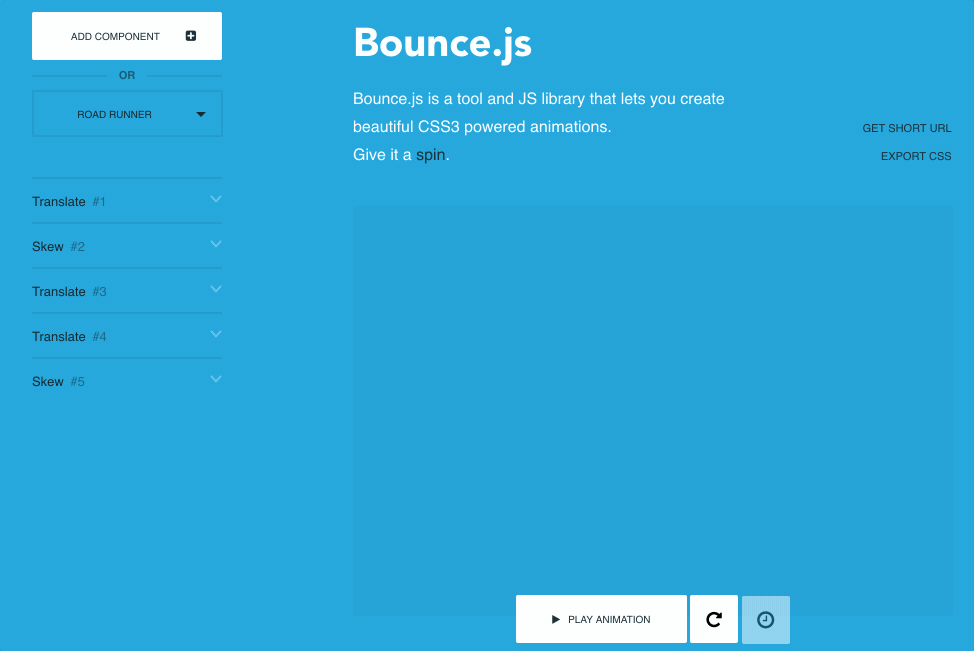 Animate.css
Animate.css is a CSS based animation library. It is easy-to-use and can be integrated into diverse projects which uses CSS in it. For example, you can use it in WordPress or Drupal. The choice is yours. To get started, you need to link the library using CSS stylesheets. Once done, you can start animating the HTML elements using the CSS classes provided with the library itself.
The library also supports manipulation of jQuery. This makes it even more of a better deal. The library size is only 43 kb. Also, it is a cross-browser library and is not limited by the browser you are using. We recommend this plugin because of its wide-acceptance among the community. This means that the plugin is polished and have huge compatibility support for other libraries and solutions. Not only that it is still in active development and it is polished almost now and then.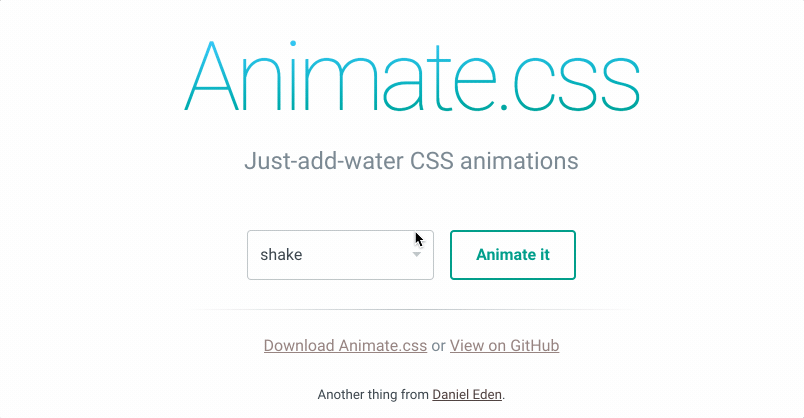 Magic Animations
Magic Animations is our next CSS animation library that we recommend. It is impressive in its own way and works with other libraries such as animate.css. In terms of features and functionality, Magic Animations is top-notch. It also comes with a wonderful demo app that you must try out before downloading it. The demo app will give you a good idea of what to expect when you work on your project.
By using this library, you can create amazing animations including twisterInDown, swap, vanish, and many more. It also supports static and perspective effects. Overall, a great animation library for UI designers in 2018. A must-try.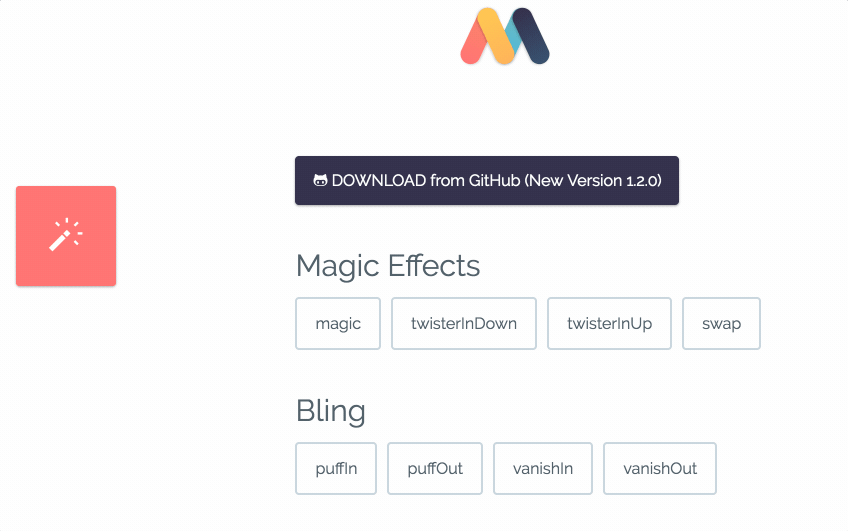 AnimeJS
AnimeJS is fairly new JS animation library compared to others listed here. In the small span of its release, it has grown rapidly and also shows promise to become of the best out there. AnimeJS is a complete package when it comes to animation library. This makes it an excellent choice for your project. However, it should be noted that it is a big library and if you are building a lightweight website, we recommend checking out other animation libraries out there.
Even though it is big in size, it should fit most of the projects out there. It is easy-to-learn. As it is a JavaScript library, you can interact with DOM elements and smoothly animate them. CSS transformations and SVG animations can also be done by doing this. Another critical feature of AnimeJS is how well it is documented. It is a beautiful package that needs to be unlocked by UI designers in 2018.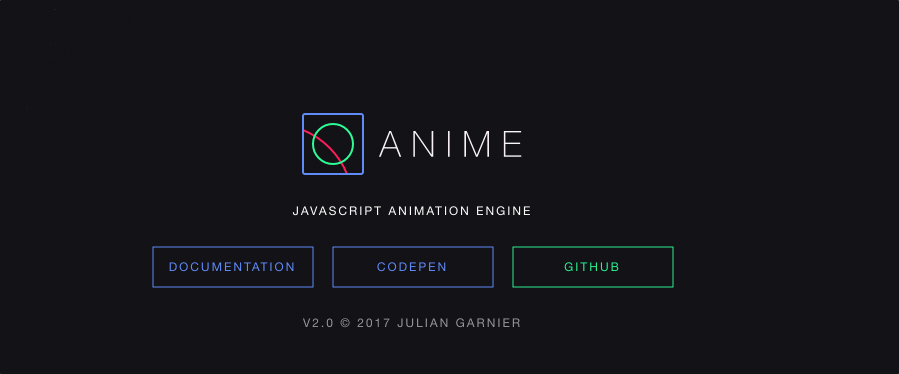 CSShake
CSShake is a CSS animation library that builds around shaking elements! Yes, you read it right. With this library, you can create diverse shake animated elements throughout your project. You might have seen many projects shake animation when the user doesn't enter right credentials or try to perform an action that is not permitted by the system. It is made popular by Apple, and now it is being used in most of the projects out there.
The only downside of CSShake is its file size. It is 78.8 kb.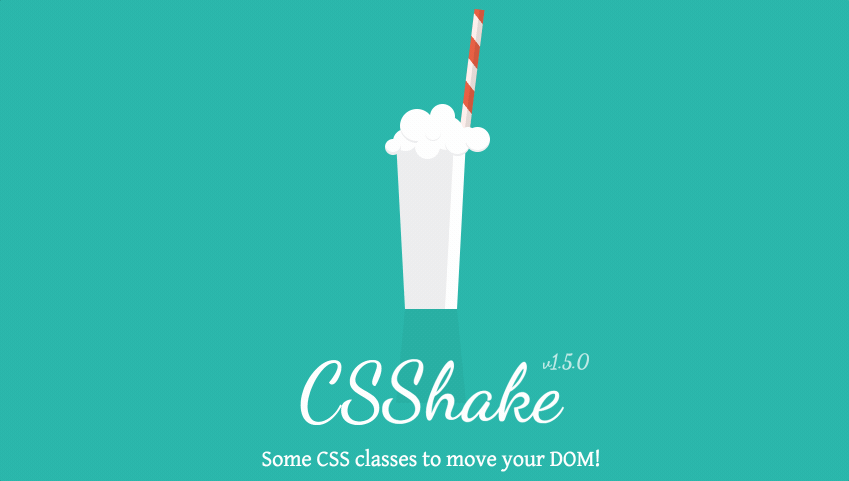 Velocity.js
Our last animation library is Velocity.js. It is a full-featured library that let you do a ton of things including scroll, finish, stop, reverse and much more! It was released in 2014. Also, it is used by big companies in their project including WhatsApp, Gap, MailChimp, and others.
It is incredibly fast and offers tons of features and functionality.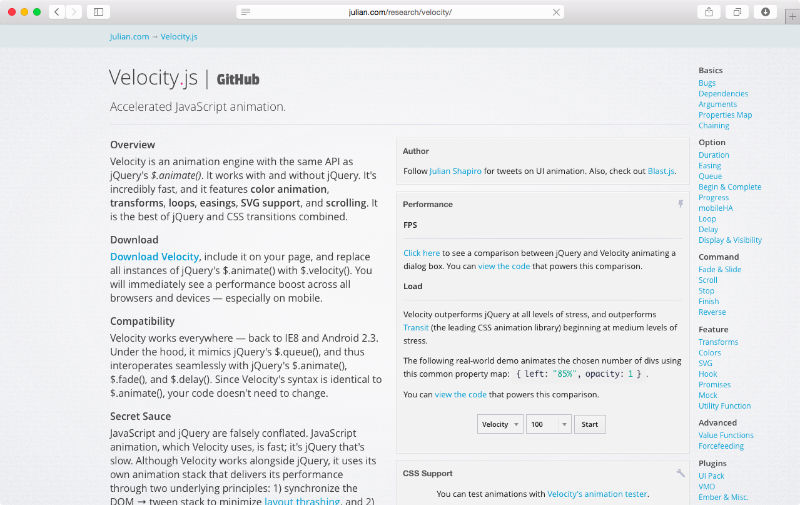 Opinions expressed by DZone contributors are their own.