Smart Contract Use Cases: Commodity Trading (tiqpit)
Smart Contract Use Cases: Commodity Trading (tiqpit)
In this article, the founder of tiqpit gives some details about his company and how they're using smart contracts and blockhain. Read on to learn more!
Join the DZone community and get the full member experience.
Join For Free
Tiqpit's idea to move commodity trading to the blockchain is one of our most recent smart contract use cases. As co-founder Mike Ziemkendorf said, tiqpit was born out of the move to Malta: The confrontation with the situation on the small island, paired with the founders' insider knowledge of how commodity trading works. See how tiqpit aims to solve trading problems and how Espeo is helping them to achieve that with blockchain.
How Did You Get the Idea for tiqpit?
The final idea came from a necessity, I guess. Bitcoin and the blockchain idea went mainstream in 2011. Malta, our company location, is a very small island. Seeing the everyday struggles people have there to buy goods made us wonder. We're 90 kilometers from Sicily and still, everything is so expensive. As traders in different markets and financial instruments, we know what that reality looks like as well. The highest price makes the profit, wetting and speculating… adding to the everyday costs of the end-consumers and leaving the producers with very small margins. Everything is overcomplicated. The confrontation with the local situation, paired with our knowledge about how the end price is set, was the final push for the tiqpit idea to take form.
Since "we cannot solve our problems with the same thinking we used when we created them" (Albert Einstein) blockchain gives us an opportunity to employ a different kind of thinking to solve the problems we created in the past.
So What Exactly Needed Fixing in Commodity Trading?
Commodity trading is very speculative, centralized, and in the hands of very few market players. It's a very unfair system. This is exactly what we're trying to change. We created a vulnerable trading environment, with proprietary matching engines and multiple proprietary protocols. Orders aren't handled equally and fairly between market participants. This can lead to price manipulation. The system is inefficient and serves only a chosen few. Opportunistic information sharing and intermediary fees add costs and complexity. Of course, the end-consumer suffers.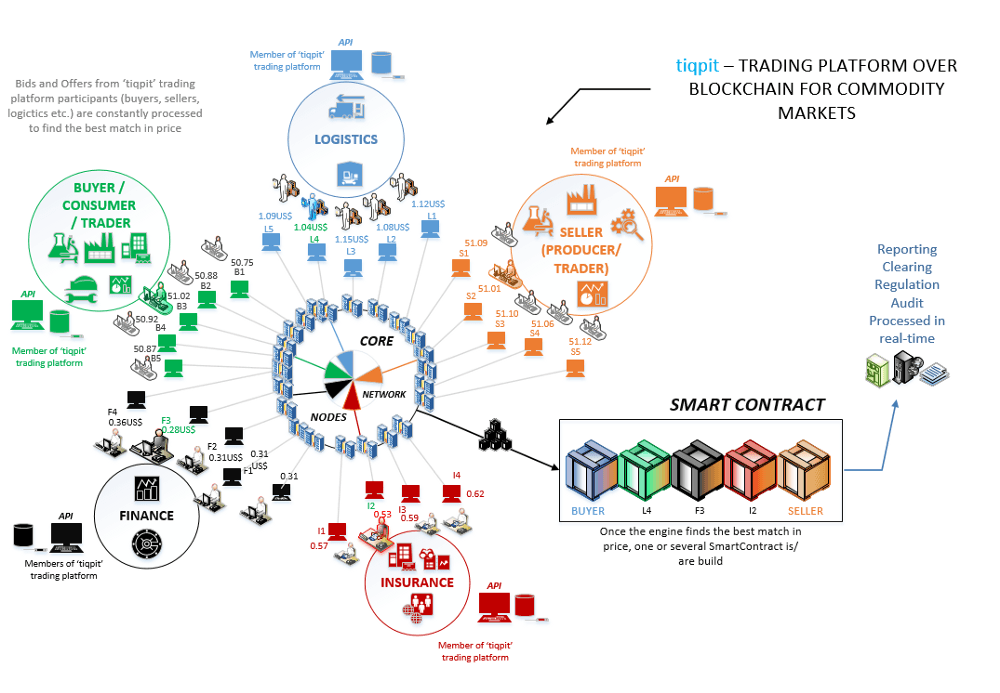 How Is Your Solution Different?
I know there are other projects and trading-related smart contract use cases. However, almost all of them are mostly based on private blockchain solutions. They're led by major energy traders, in cooperation with exchanges and banks. Therefore, the projects are kept in-house and for their own use. Everything happens without the involvement of current and future end-customers, producers, suppliers, and consumers.
Tiqpit Solutions applies blockchain technology to create an easy-to-use and inter-operable trading, insurance, finance, reporting, and risk management platform for all kinds of tradable commodity and energy products. But this time, we created it on an open-source blockchain solution. In one platform, we combine modules for each kind of participant involved in a commodity trade. That's unique. Our tiqpit platform has no potential conflict of interest against any network participant. It's tailored to the participants' needs, with the aim to open the commodity and energy market for everyone.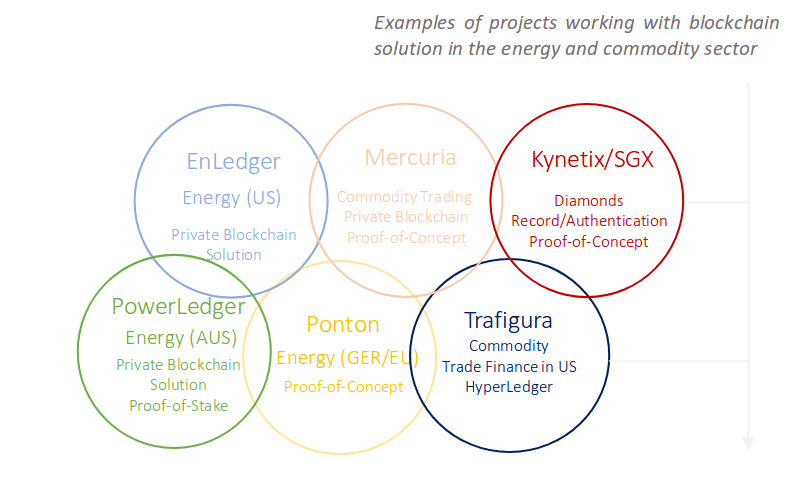 So, Blockchain Was the Best Option?
At this moment, we see blockchain technology as the best solution to decentralize commodity trading. In short, commodity and energy supply contracts can be carried out automatically. They can be performed directly between producers and consumers (peer-to-peer). All other solutions, like cloud-based services, will always have the 'centralized touch' with some control over trade matching, information flow, or settlement.
Blockchain technology is the best way to connect all market participants (small and large producers, suppliers, consumers, authorities, and auditors) in a direct and efficient way. Also, it allows participants to take control, by providing instant, real-time information flow. At the same time, it offers significant cost reductions – by more than 30% per contract.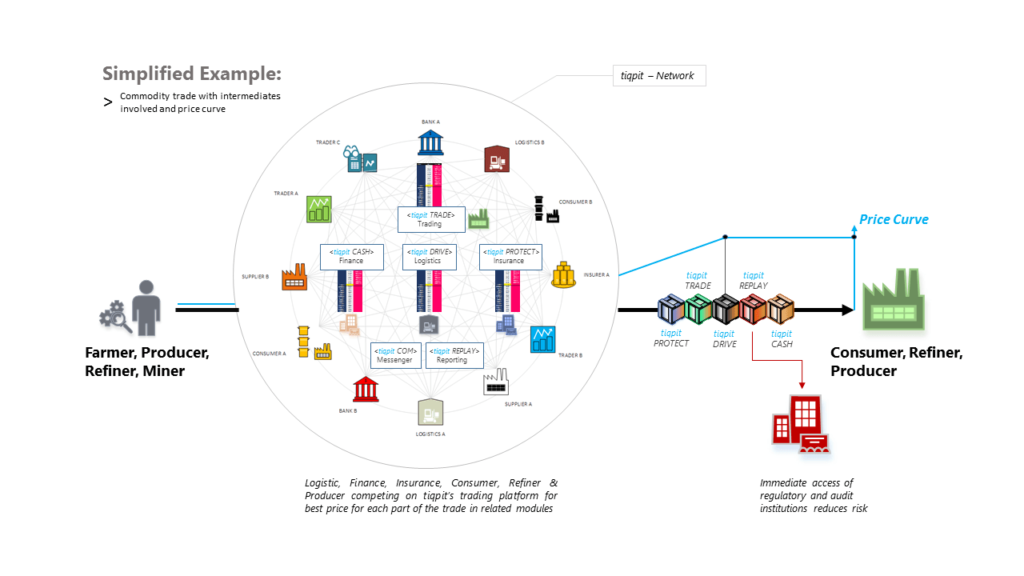 In Your Opinion, What Are the Challenges for Blockchain Adoption? Will We Be Seeing More Smart Contract Use Cases?
The technology is still emerging – it's relatively new, and people tend to be skeptical about new things. Compare it with the evolving Internet in the early '90s. New technology always has its faults, but, at the same time, it's very exciting and offers lots of opportunities.
We currently lack a common set of standards for blockchain transactions. We hope that this will be addressed in the near future.
I hope we'll be able to standardize the wide variety of uses for blockchain and form some guidelines. This would help new products, smart contract use cases and services based on the blockchain evolve.
Although auditability and transparency are the benefits of blockchain, highly regulated industries may need to develop new rules. Blockchain's distributed ledger transactions are likely to necessitate changes to industry regulations governing financial reporting, auditing processes or information-sharing regulations.
Also, laws will need to be made to govern blockchain's smart contracts.
Of course, let's not forget the security, vulnerability, and validation of the transactions.
But all this will be addressed in the near future, in line with the current developments in the technology and as blockchain business ideas mature in the industry.
Where Do You See tiqpit in 5 Years? What Are Your Plans for the Future?
In 5 years, with a 3.0 platform! But we would like to concentrate on the here and now, and create a great commodity trading platform based on blockchain.
Smart contract
Blockchain
IT
Published at DZone with permission of Natalia Brzozowska, DZone MVB. See the original article here.
Opinions expressed by DZone contributors are their own.