"SOA Patterns" Added to Intel's Recommended Reading List
DZone's Guide to
"SOA Patterns" Added to Intel's Recommended Reading List
Join the DZone community and get the full member experience.
Join For Free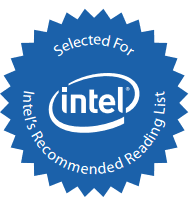 Last month I received a nice letter from Intel saying that my SOA Patterns book was added to their list of recommended reading that they curate. Below are the relevant quotes from the letter:
"We are pleased to announce that a book published by Manning, SOA Patterns, by Arnon Rotem-Gal-Oz, has been selected for Intel Corporation's Recommended Reading List for 2H'13. Congratulations!

Our Recommended Reading Program partners with publishers worldwide to provide technical professionals a simple and handy reference list of what to read to stay abreast of new technologies. Dozens of industry technologists, corporate fellows, and engineers have helped by suggesting books and reviewing the list. This is the most comprehensive reading list available for professional computer developers and IT professionals."
Build and deploy API integrations 7x faster. Try the Cloud Elements 100% RESTful platform for 30 days free. Access your trial here.
Published at DZone with permission of Arnon Rotem-gal-oz , DZone MVB. See the original article here.
Opinions expressed by DZone contributors are their own.
Integration Partner Resources
Integration Partner Resources