SQL Server Software Generate Code, Secure Your Database, and More
DZone 's Guide to
SQL Server Software Generate Code, Secure Your Database, and More
With this tool, you can create tests, check performance, write code faster, include more tools to develop, test, and monitor SQL Server in an efficient manner.
Join the DZone community and get the full member experience.
Join For Free
I have been working with SQL Server for 18 years and I was looking for a good way to develop my software, scripts, and stored procedures faster and more efficiently.
After testing several tools, I found this nice SQL Server add-on for SSMS.
It contains the following components:
Event Profiler
Let's start with the Event Profiler. Open the dbForge Event Profilerand press New to create a new trace:
We will analyze the activity. In the General page, add a connection to your SQL Server. You can specify the template when to stop the trace and the maximum size of the trace. Enable rollover and specify the maximum number of files:
There are several templates available for you to monitor locks, query batch sampling, query detail sampling, TSQL locks, and more: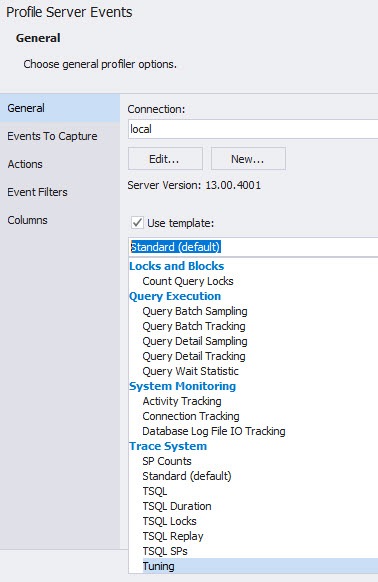 You can capture different events like SQL batches and login and logout events. In Events to Capture, you can select the events to trace:
In Actions, you can select many options like the call stack, the name of the client application that is using SQL Server, the hostname, the Process ID, CPU ID, and more. You can check some of the options in the picture below: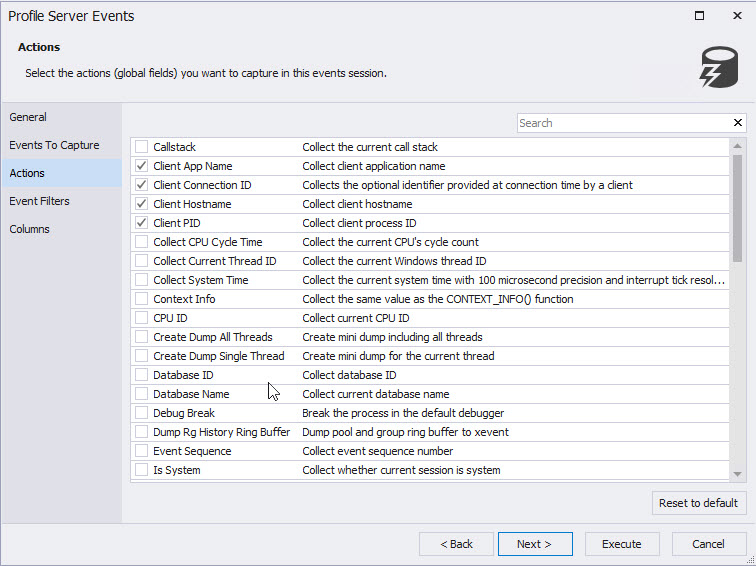 There are other interesting options like the system used to check if the session is a system session or not. You can also get the NUMA node ID, query hash information, and more: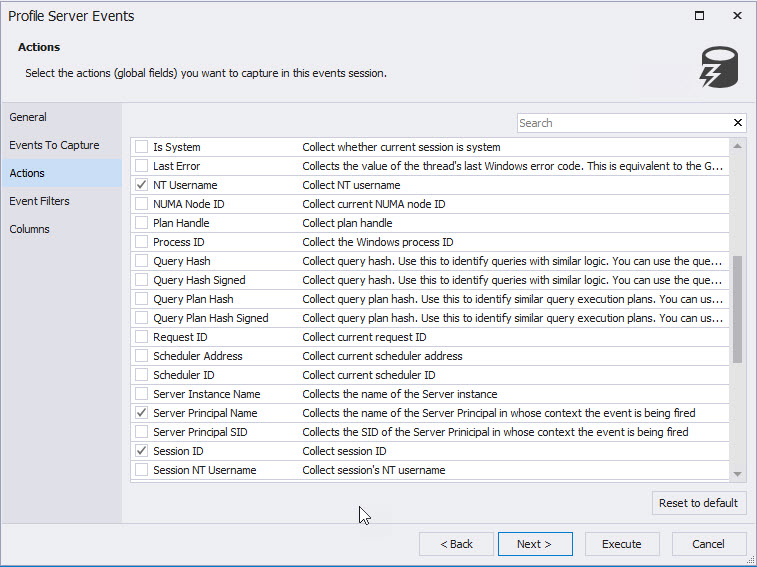 In the Event Filters page, you can create your own filters to customize the information to trace:

Finally, in the Columns page, select the columns to trace: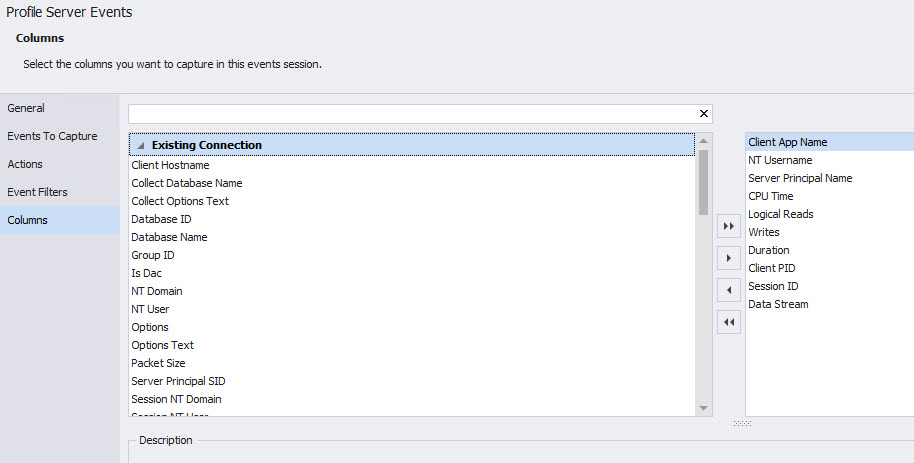 You can check the sentences highlighted.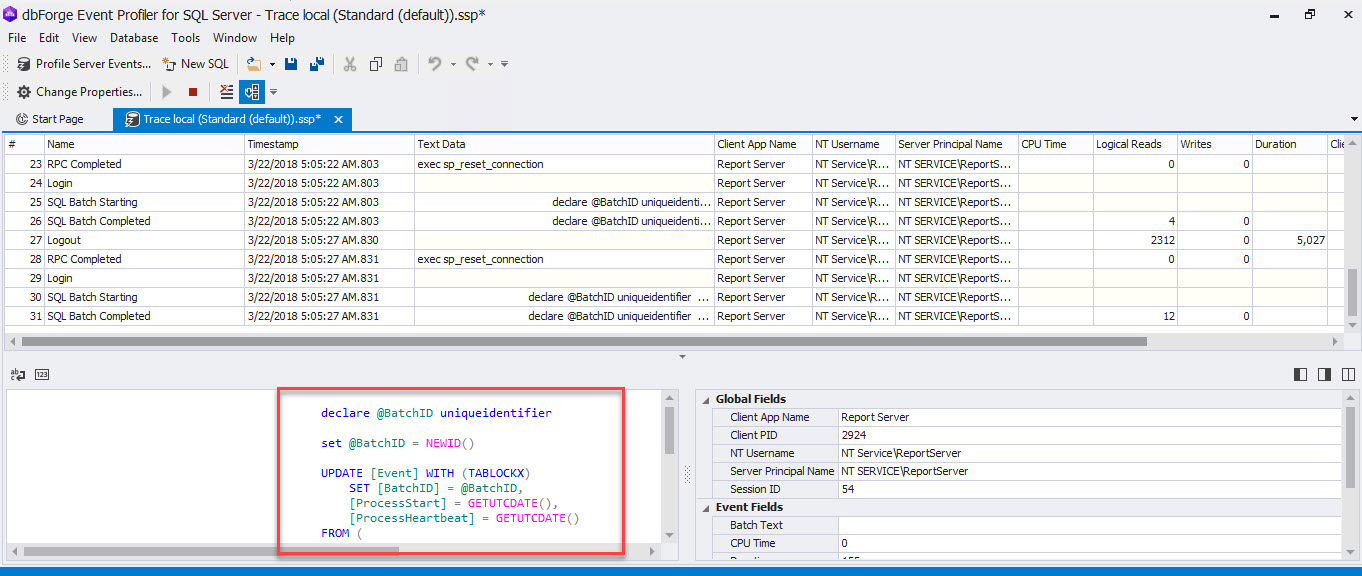 You may find Event Profiler equal to the traditional SQL Server Profiler included with SQL Server at first view. However, it includes several advantages.
As you may know, SQL Server Profiler will be removed in future releases and it will be replaced with the extended events. This is because SQL Profiler is very slow.
On the other hand, Event Profiler offers several advantages like the following:
dbForge Event Profiler does not consume a lot of resources like the Native SQL Profiler. In SQL Profiler, it is recommended to run it on a remote computer to avoid resource consumption problems. This is not the case with Event Profiler.
It supports extended events, which means that there are events in SQL Server Profiler no longer supported (because it will be deprecated soon). This tool can trace 1,000+ events!
The tool was designed to work with an optimized performance consuming low resources.
You can filter and sort data in the grid to narrow your results.
dbForge Monitor
One of my favorite tools is Monitor. It is used to check the SQL Server performance. To start, right-click your database and select Show Monitor: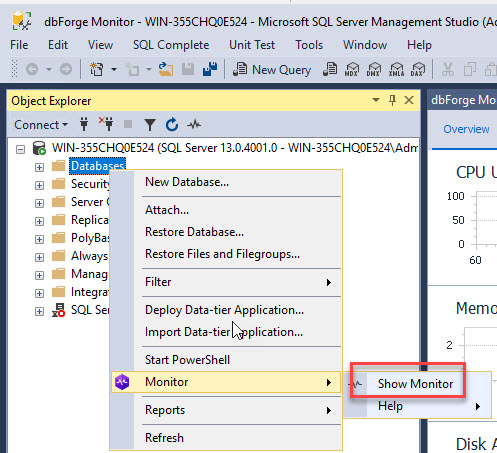 It will show you the CPU utilization, Memory utilization,and Disk activity in MB using graphs online to monitor it. It will also show batch requests, deadlocks, transaction per second, full scans per second, and more. You can also see the SQL Server properties like the authentications, collation, edition, virtual memory, max memory, and more:
The DataIO page will show you the statistics per database with read and write statistics and read and write latency: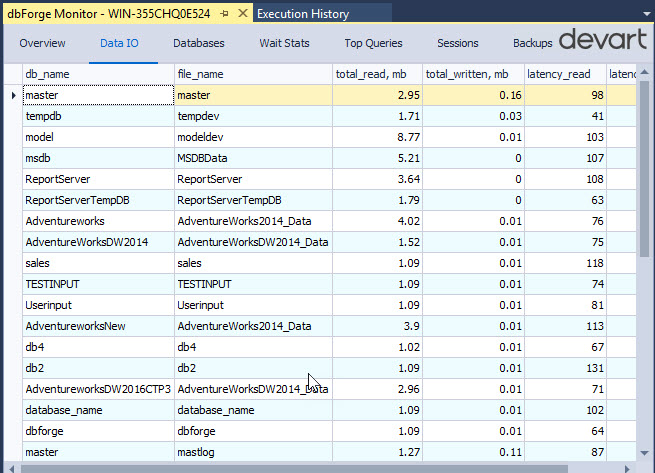 In the Databases tab, you can check which databases are online, offline, the recovery model (simple, FULL, or Bulk), the compatibility level, and size. What I love about this tab is that you can check all your databases at once: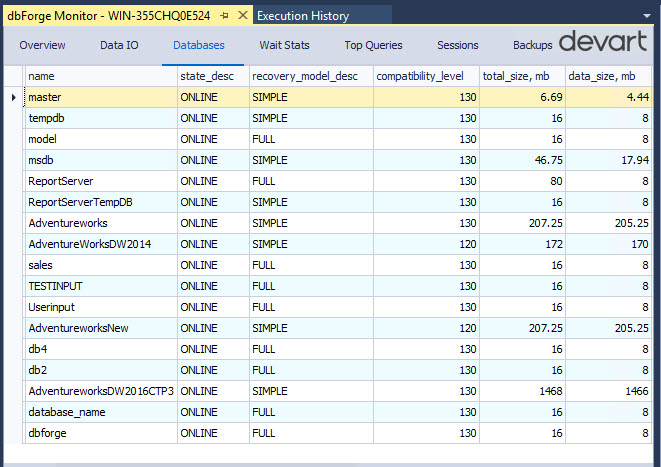 The fourth tab contains the Wait Stats. It contains statistics like the wait count, wait time, and average time. This information is useful to check if there are performance problems.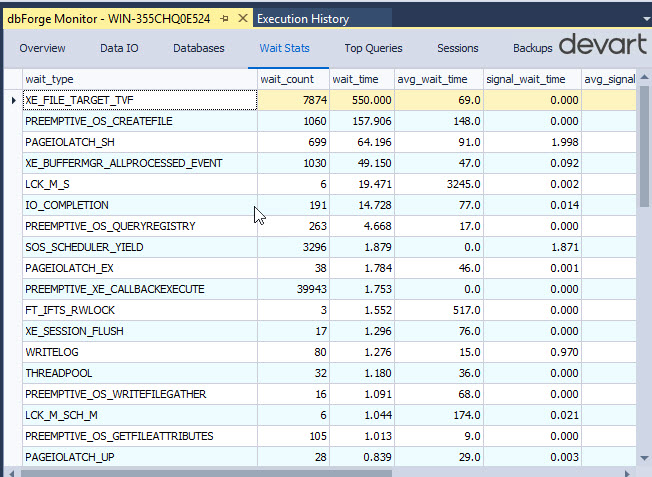 One of the most useful tabs is Top Queries. With this tool, we can detect which queries are consuming most of the resources in our database. We can check the plan diagram, plan tree, and plan in XML to analyze the query directly in detail and find out how to optimize the query (if possible) or at least detect it: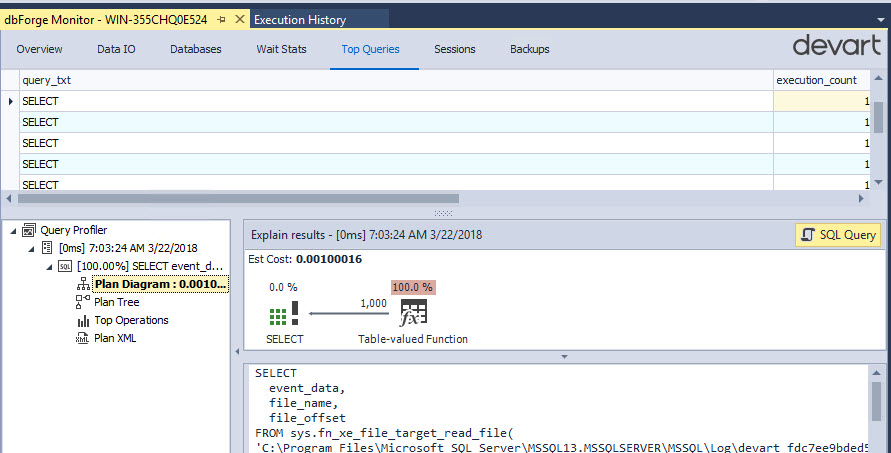 The sessions will show the active sessions in SQL Server. It is useful to monitor the database being used.

Finally, we have the option to check the backups per database and the path.

In future articles, we will explore some of the main features of the other tools. As you can see, they include useful and powerful options.
Conclusion
If you are a DBA or a developer in SQL Server, this tool will save you a lot of time. You can create tests, check performance, write code faster, include more tools to develop, test, and monitor SQL Server in an efficient manner.
References
Topics:
sql server ,database ,database security ,ssms
Opinions expressed by DZone contributors are their own.
Database Partner Resources