How to Structure a .NET MVC Application
DZone's Guide to
How to Structure a .NET MVC Application
Many if not all development teams have had to restructure/refactor their code at some point. Read on to see how one team tackled this issue.
Join the DZone community and get the full member experience.
Join For Free
In this article, I will be discussing the .NET MVC package structure which my team designed for a project after many design discussions.
The scope of this package structure is not limited to MVC — you can implement it in ASP.NET (C#, VB) projects, as well.
Problem Statement
Like most .NET MVC applications, we had two layers in our project: Controller and Repository.
Controller: Used to validate input and apply business validations.

Repository: Used to insert, fetch, update, and delete from DB and also to perform minor data manipulations while performing DB operations.
Over a period of time, our business logic got scattered between these two layers and our controllers became really code heavy, i.e. it became very difficult to change/fix things inside controllers.
The following diagram depicts our old package structure:
Solution
After facing a lot of issues with maintaining our application, we realized it would be better if we introduced one more layer between the controllers and repositories for handling business logic.
Controller would then be used for input validation and to delegate requests, and th repository would be only be used for performing DB opeartions.

We then started using this component/business layer for doing all of our business validations, the complete business logic was shifted in this layer and was used for throwing custom exceptions.
You must be wondering how it look with multiple controllers.
For multiple controllers it would look as follows :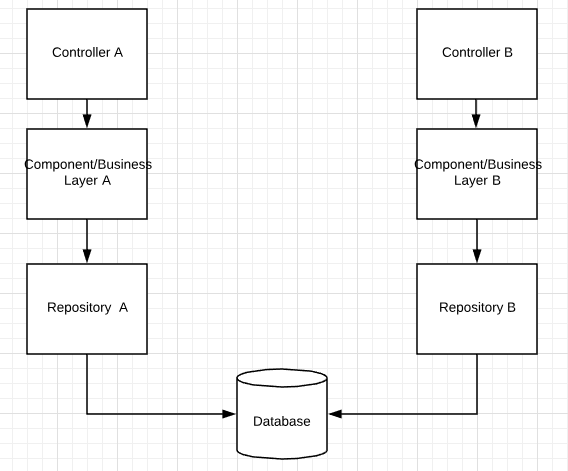 The above package structure follows the Facade Pattern closely.
I have added a project on my public GitHub account that follows the above package structure.
You can download the code and have a look at it.
https://github.com/shivi146/Helpdesk
In the above project, I have also implemented Log4Net and Dependency Injection.
Topics:
.net ,package structure ,web dev ,tutorial ,mvc architecture
Opinions expressed by DZone contributors are their own.
Web Dev Partner Resources
Web Dev Partner Resources