Summiting the Developer Pyramid: Turning Builders Into Advocates
In the final part of a 3-part series, we conclude our look at the Developer Pyramid, a framework to guide the creation of developer programs.
Join the DZone community and get the full member experience.
Join For Free
When many set out to build a developer program they think first and foremost of the benefits that come from having developers actively participating in their community: supporting other developers in your forums, writing blog articles, hosting meetups and hackathons, helping with documentation, and contributing to open-source projects. The developers who grow into these roles are your advocates, and they bring to our developer programs what we all hope to achieve: scale.
A common miscalculation is an assumption that these outcomes will happen naturally. And while some products and platforms are better situated to achieve these outcomes more organically, the vast majority of platforms need to be much more intentional and conscientious in the creation of their advocacy engine.
Welcome to the final part of a 3-part series deconstructing the "Developer Pyramid," a framework resulting from over 15 years of experience with developer programs, and has been guiding our work on the RingCentral Platform, an award-winning UCaaS API and developer program.
In part one of the series, we worked to understand how to support learners within your community. In part two we explored the builder persona. In this final chapter, we turn our attention to the developer segment from which your platform will extract some of the greatest value: the influencers, experts, and advocates that help fuel the growth of your platform.
What Sets Advocates Apart
In order to build programs to support and cultivate advocates, we must first understand what motivates them, and what sets them apart from the other developers your program serves. Let's take a quick look at the persona of your top developers, those most prone towards advocacy.
Advocates Are Passionate
A defining characteristic of all advocates is passion. When we talk about "passion," often the first thing that comes to mind is the image of a person who is excited, someone who actively shares and expresses their affinity for your product. We love developers like this. They provide us with our testimonials, and they become people we love to introduce our customers to because their passion is infectious.
Passion however can be expressed in more ways than raw enthusiasm, and knowing this will help you build the tools to help you detect other potential advocates. One of the best ways to measure someone's passion is in the time they freely give to your product, with little or no expectation of a return. Thinking of passion in those terms opens us up to finding:
Contributors to your forums and community
People who submit feature requests and ideas
Bloggers and publishers
Meetup and event attendees
Advocates Have a Personal Stake
Developers who have something personal to gain or lose will gravitate naturally towards advocacy because incentives align easily with their self-interests. One's personal stake can come in many forms:
Self-image
Social status
Professional reputation or brand
Economics
Knowing what incentives a developer is pursuing can help you build programs to deliver those incentives directly to the developer, and in turn, promote greater affinity for your brand and product.
Creating an Environment Where Advocates Can Flourish
The secret to summiting the Developer Pyramid lies in the knowledge that we have the power to cultivate the qualities above in those developers who do not possess them naturally or develop them organically through the programs and opportunities we offer. For example, by giving a developer direct benefit for being on the platform, we can give them a personal stake where they didn't have one before. By so doing, we prime those individuals towards more active forms of advocacy.
Build an Economy on Your Platform
The most successful and expansive developer communities all share one thing in common: there is an active and vibrant economy that directly benefits those that choose to participate. Those platforms on which developers can fully subsidize their participation through the returns they receive are the ones that grow the fastest and endure the longest because they become self-sustaining, and reward developers directly for devoting more and more of their time to the ecosystem.
These economies or marketplaces stoke the passion and devotion of their developers as well - especially among those developers that grow to become dependent upon the revenue they generate on the platform. These advocates then attract more developers to the platform who hope to cash in on the marketplace's potential, creating a positive feedback loop fueled by every new developer who successfully generates revenue on the platform.
Understand what kind of value exchange your platform is optimized for, and connect your developers to the value you provide. Here are three different "economies" to serve as an example:
Money, e.g. app stores, and retail
Customers, e.g. lead generation
Engagement, e.g. API call volume, traffic, and service utilization
Create Opportunities For Volunteerism
With every program or service you offer, design a variety of ways for community members to contribute. Some programs, like community support forums and events, have obvious and inherent ways people can participate. Other programs and services may require more creative thinking in order to manufacture those same opportunities.
Through participation, however, people have the chance to establish or build upon their status in the community, or to build their "personal brand." As their reputation grows, so does their confidence and their willingness to take on more responsibility. As they take on more responsibility, the potential for them to be perceived as leaders grows as well, creating a beneficial feedback loop that encourages them to participate more and more.
Don't Be Afraid To Ask
Be mindful of the fact that many people in your community may want to volunteer, but may hesitate to step forward on their own. Perhaps they lack self-confidence, maybe they are afraid of doing something they think they shouldn't, or maybe they are simply unaware of the ways they are welcome to contribute. This is all to say that you will be far more successful in recruiting volunteers by simply asking.
Fill In Gaps In Your Developers' Experience and Knowledge
Success on a platform often draws upon a broad base of knowledge and experience across a number of different domains. For example, developers often come to the table with a lot of technical expertise, but with less experience and knowledge of how to drive business outcomes.
For example, it is obvious that developers need technical documentation to support their software development efforts. But ask yourself, do those same developers know how to best market the products they build? Do they have experience in product marketing and design? And do you have content to support developers who are looking for ways to attract more customers to their product?
Therefore, support not only their technical education but all of the skills they will need in order to become successful on your platform.
Building an Advocacy Engine
The first tier of the Developer Pyramid is designed to support individual Learners on your platform. The programs and content you create in service of these learners flow largely in one direction, from you to them. As developers shift their primary focus away from learning and towards building, their needs will start to exceed your capacity to support them directly.
To support developers in this phase of their growth, you lay the foundations for developers to support each other, creating a more social developer experience.
Once a developer has successfully brought a product to market on your platform, their focus will shift towards making that product a success. As they do so, opportunities are created for you to turn them into advocates. The third and final tier of the Developer Pyramid comprises the programs and activities you create to help drive your advocacy program and pipeline. Success here is ultimately measured in the time developers give back to you, and in the scale they bring to your programming efforts.
Events
If your goal is to cultivate individuals in your community with elevated status, who actively promote and speak on your behalf, then hosting an event provides no better opportunity for you to find the potential advocates within your community.
Hosting an event is no small undertaking. There are so many details and logistical concerns that it might be easy to lose sight of why you are hosting the event in the first place. So as you embark on hosting an event, make sure the following is properly prioritized so that you are actively growing your advocacy base.
Be inclusive. When we produce an event, it is only natural for us to devote a great deal of time to our content creators and speakers -- as we should by the way. But do not let yourself do so at the expense of the many supporting roles advocates can take on as well. Be inclusive of all the different skills people bring to the table, and capitalize on as many as possible.

Focus on growth. Events are incredibly labor-intensive to plan and produce, and we are often tempted to lean on a trusted core of advocates and contributors to assist us and reduce the overall load. Resist this urge and strive to strike a balance between recruiting from a pool of usual suspects, and bringing new people into the fold.

Support your content creators. Filling your roster with speakers and content creators is a milestone that will no doubt bring a great deal of relief to the planning team, as it should. But don't stop there. Create an engagement plan with your speakers, set reasonable deadlines for intermediate deliverables, and reach out to help them. Assess their technology needs. Provide them with several rounds of feedback on the content they are producing. Bolster their confidence and help them become a celebrity at your event.

Make advocacy a core metric of success. We all fantasize about our events becoming the next Dreamforce, Oracle OpenWorld, or WWDC, where attendees overflow into the streets and tickets sell out within hours of being released. As tempting as it is, don't make the size of your event your only goal and metric you tout to leadership. Keep your focus on recruiting and growing your advocate pipeline, by making it one of your key success indicators. As your base of advocates grows, so can your ambition for future events.
Top Developer and VIP Programs
Periodically, a developer within your community will rise above the rest, often because their product or integration has struck a chord with your customers or your team. When this happens, return their investment by offering your help, and by creating opportunities to highlight their product and to amplify its success. Finally, measure the impacts of these efforts to inform which of them could be systematized and repeated within the context of a formalized partner program.
Such programs are important not only to scale your efforts but are essential in attracting corporate advocates to your ecosystem as well. Businesses form a crucial segment of any advocacy network because they are capable of bringing to bear a greater wealth of resources to support your developer program. To attract businesses, you need to offer concrete benefits that have reliable returns in order to help businesses justify their investment.
Lesson from the field: RingCentral's Premier Partner Program

At RingCentral our developer program and community is large enough that we have created a multi-tier partner program. Our Authorized partners receive assistance in promoting their app in our app marketplace. Premier partners gain direct access to a lead capture system associated with the products they build and collaborate with us on Go-To-Market opportunities. Our Elite partners get integrated into our internal Sales materials and receive help from our engineering teams in building and enhancing their products and integrations. A tiered approach like this helps us to better scale our programming efforts and offset the costs associated with a white-gloved support experience.
Marketplaces
As discussed earlier, intermediating a concrete exchange of value between your developers and your customers is a sure-fire way to prove your value to developers, and the more value they extract from your platform, the more prone to advocacy they will become. Listed below are some of the ways you can help bring financial benefits to your developers.
App Stores
Aaaah, the coveted app store. If your platform is in a position where it can exclusively facilitate financial transactions, by all means do it. Not only will developers become dependent upon you, but your developer program will have the potential to become a profit center for your company.
Unfortunately, successful platform-driven, transactional marketplaces require at least one of two things:
Massive-scale
Value exchange baked into the core
The challenge this presents is that either your marketplace needs to be built into your product from the very beginning, or your platform needs to achieve a level of success seen by very few.
The advice I most often offer is this: don't be seduced to build an app store until you have achieved one of the two prerequisites. Until then, focus on establishing and growing other kinds of economies on your platform.
Professional Services Networks
Many customers, especially in the enterprise market, require custom development to integrate their business with yours, and they are willing to pay for it. To meet this demand and to capture that revenue, companies will often build out an in-house professional services organization.
If your company has a professional services organization, consider something that may be relatively counterintuitive: don't soak up all of this revenue for yourselves. Allow at least some of this business to flow out to your developer community. By doing so not only are you helping to directly subsidize your top developers' work on your platform, but you are also creating an engaged segment of developers who have a personal stake in your platform's success, as well as the tools, services, and documentation within the ecosystem.
Lesson from the field: Six Apart and Apperceptive

At Six Apart we had an enviable, active and vibrant developer community, many of whom worked full-time for one of our most trusted partners. To boost revenue and expand our sales capacity, Six Apart purchased that partner. At first we celebrated bringing so many of our friends from the community into the fold, but later lamented the unintended consequences to our community. By bringing those resources in house, we decimated our community, and cratered community engagement as once public interactions moved to internal mailing lists, and an open source culture of plugin development succumbed to pressure to be make code proprietary. We also began to compete directly with our developer community in our thirst for more professional services revenue. In absorbing that business, we failed to fully appreciate the value that partner and their network of consultants brought to our community, our company and more importantly to our customers.
Referral programs
Money is not the only currency your platform has to offer - customers is another. And while affiliate and referrals programs that generate revenue for developers are notoriously challenging to pull off in a cost-effective manner, that should never deter you from tracking referrals. Not only will this data help you quantify the success of your program, but it also helps establish the value of your platform with external developers and partners.
Reward programs
Finally, if your developer platform lacks the scale to produce any of the kinds of marketplaces above, there is one last way you can incentivize participation: reward them directly for contributing to the platform. These systems are costly and do not scale well, but they are also very effective at generating engagement. Consider a rewards program if what you need is help getting the flywheel running smoothly once all the other pieces in your program are in place.
Lesson from the field: RingCentral's Game Changer Program

At RingCentral we have deployed an incredibly successful incentive and reward program that has driven a wealth of engagement, and more importantly cultivated our greatest and most devoted advocates on the platform. The Game Changers program gamifies advocacy on the platform, rewarding community members for answering questions on the forum, posting blog articles, posting on social media, and contributing open source projects.
Conclusion
As shared in part one, the base of the Developer Pyramid exists to support your Learners. Whether they are experienced developers or novices, they all have a lot to learn when they first arrive. Truth be told? No one ever really stops learning. So, developers will routinely revisit the resources and programs that comprise the base of your pyramid in order to continue their education as they tackle increasingly harder and harder challenges.
If a developer commits to your platform to help them solve their problems at hand, they will matriculate to the second tier of your pyramid which is designed to support your ecosystem's Builders. Inevitably, developers will start to encounter challenges not addressed by your documentation and will begin to turn to each other for assistance. At this stage, your role is to provide the systems your developers need to share their knowledge and experience with each other and to continually re-enforce the base of your pyramid with more specialized and advanced learning materials and developer tools.
Finally, when developers successfully ship a product on your platform they matriculate to the third and final level of your pyramid. Here you work to help your developers achieve successful outcomes with the product they built. Each success engenders greater trust and appreciation among the developers who benefit. This reveals the second objective of your pyramid: to catalyze their success into advocacy.
As the adage says, "success breeds success," and so with each new success and each new advocate your program cultivates, your program can begin to scale allowing you to accomplish more and more with the same number of resources.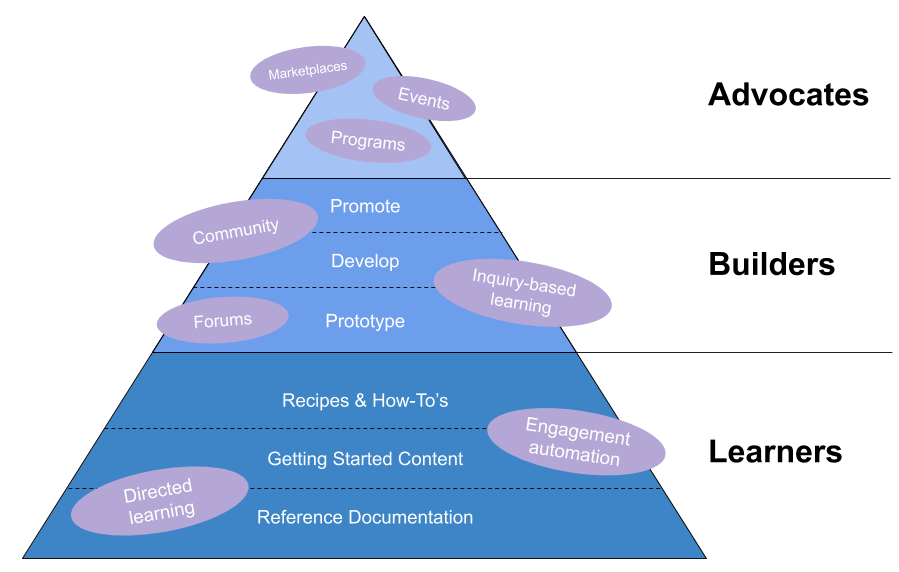 The Developer Pyramid is not a rulebook, but a construct to help you understand the personas within your developer community, what motivates them, and what they need to be successful in each stage of their journey. Like building a pyramid in real life, start at the bottom and work your way up. This helps guide your decision making in a way that ensures each level has a solid foundation underneath it to make success easier to achieve.
Topics:
developer relations,
developer programs,
advocates,
apis,
marketplace ecommerce platform
Opinions expressed by DZone contributors are their own.