SXSW Part 1: Blockchain and SpaceTech
DZone 's Guide to
SXSW Part 1: Blockchain and SpaceTech
We hear promises of how blockchain will revolutionize tech, but most of its applications thus far seem rather mundane. Read on to see what devs are doing to change that.
Join the DZone community and get the full member experience.
Join For Free
It's late on Tuesday night, and Austin is shifting around me. Over the past 5 days, I had grown accustomed to a particular style of person. Startup hustlers, skinny suits, hoodies, and a wardrobe of SWAG T-shirts. SXSW is an event of multiple streams, beginning with 'interactive,' which overlaps with film and then merges into music. 12 years ago I was a professional musician, and the shifting crowd around me is distantly familiar from those days. Scrappy jeans, black T-Shirts, the odd fancy suit or dress, and people grappling with hard cases everywhere. Almost in an afternoon, the interactive stream of SXSW packed up and the musicians and their fans moved in.
I find it hard to define themes from anything but the most specific conferences, and SXSW has so many talks, booths, people, parties, and events, it's impossible to attend more than a slither of what's happening. In my first two days, I made the rookie mistake of plugging myself into too many sources of information and listening to the opinions of too many people. Simmering under the surface of SXSW is a definite fear-of-missing-out, as attendees scour social media and blogs in an attempt to find 'the best party/talk/celebrity appearance/giveaway/experience.' I realized this is a fool's errand, and 'best' is subjective. It's better to pick themes, events or people important to you and be happy with those.
My coverage includes ethics in tech, the blockchain, and seeking out innovative startups, which are all subjects interesting to me right now. I have so much to say about SXSW; this first part covers Blockchain and SpaceTech. The next part, ethics in tech, good design, and other miscellaneous ideas.
Grab yourself a Cryptotaco and a cold beer from the fridge and let's all try and make some sense out of the madness.
Blockchain all the Things
There wasn't a blockchain track per se at SXSW, but lots of events dotted around the program and side events covering aspects from ICOs, to the government, to rights management, and much more.
Bringing Creative Industries to the Blockchain
The highlight for me was an interview I conducted with Zach LeBeau of SingularDTV. Their idea for a blockchain-powered media creation, distribution, and monetization platform is not new, but its comprehensiveness and level of integration is impressive. To me, the rights management and monetization of digital works is a perfect use of blockchain, and as an ex-musician who was a professional during the times of Napster, it feels like an ideal solution to potentially solve a lot of issues with media distribution.
If you're interested in hearing more about SingularDTV, I interviewed Zach LeBeau, and you can hear it below.
Government on the Blockchain
Another highlight was a short presentation at the Blockhouse side event by Justin Herman of the U.S. Emerging Citizen Technology Office (ECTO). Justin made a handful of valuable points on the role of government in technology, but specifically on Blockchain. Justin mentioned that the Government's role isn't just to regulate, but also research and recommend best practices to other departments and businesses. His department focuses not on adding new technology to broken processes, but figuring out how people can use it to improve practices.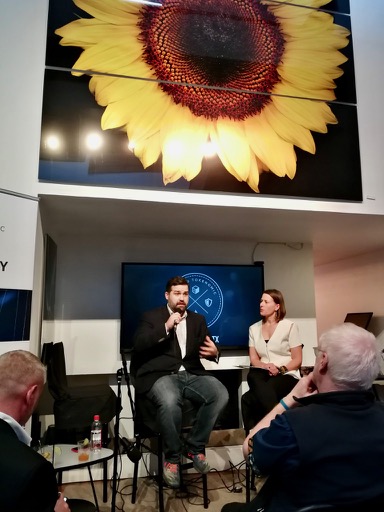 A panel at the EU house partially covered the use of AI and chatbots in Diplomacy and government to communicate with actual people and citizens better. The panel discussed that we often tend to focus too much on the negative aspects of technology, and not enough of the positive. Yes, governments and other agencies are using technology to miss-inform and manipulate foreign peoples, but governments should also be using them to counter this better, creating bots that keep populations informed on the actual 'facts.' Alternatively, use the tools to convene the populace better, so they can inform each other of the information and 'truth' as they see them. Some members of the panel voiced an idea around using bots to help with frequent and tedious interactions people have with governments, such as bills and visa applications. I wonder if too many of these processes still rely on a human to give the final say for this to be a viable option. There is complexity in apps for governments, what if a 3rd party creates a visa app for the US, but one of their VCs is a Chinese company? Does that constitute a security or conflict of interest issue?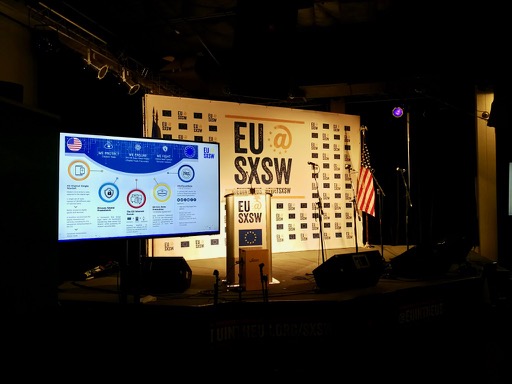 Hacking the Blockchain
Towards the end of my time at SXSW, I attended the official Hackathon and met a lot of teams working on Blockchain-based projects, mainly voting platforms, another ideal use case for the technology. Hopefully, the times of ICO scams and ridiculous overvaluations are nearing an end, and we can focus on innovative technological use cases again.
The New Space Race
Among the people promoting dumb apps we don't need, carbon copies of 100s of other existing services and bizarre ideas was also a growing amount of people and companies working with space technology. When I hear discussions on (relatively) affordable space travel and Mars exploration it sends a shiver down my spine that no "Tinder for Dog Walkers" can manage.
The highlight of the SXSW program was an interview with Elon Musk that I didn't even attempt to get into, but there was also a spattering of other talks in the program covering everything from futurism to living on Mars.
There's Plenty of Space Down Under
The highlight for me was from Australia House (I am half Australian). Australia has seen a rise in space-related startups to 85, with the country announcing their first space agency in September 2017. The country is ideally placed geographically, financially and skill-wise and I hope to see more success in the, err, space.
And There's More...
OK, folks, that's the first half of my coverage from SXSW, more to follow later this week.
Topics:
ai, blockchain, chatbot, security, sxsw
Opinions expressed by DZone contributors are their own.
Security Partner Resources