The 4 Best Trello Alternatives for Kanban Project Management
If you need a system that manages Kanban but aren't thrilled with the idea of Trello, take a look at some of the other options.
Join the DZone community and get the full member experience.
Join For Free
Trello is a star when it comes to project management software and collaboration tools. It embodies a neat interface with cards stacked up for different projects. Each card can be opened to view more detail such as checklists, labels and due dates.
While it is favored by the likes of National Geographic, Google, and more, it comes without some basic features that might be critical for most teams. Trello works great as a simple to-do list app, however, it's limited when it comes to handling bigger and complex projects.
To begin with, Trello does not have built-in Gantt charts, which is considered a necessity for project management by most teams. It can be integrated with external tools to get the job done, but that means additional steps.
Second, it does not come with a meeting management module either. This means you need to switch between tools to set up meetings and to monitor tasks. It does not offer time tracking for tasks, either.
Although not critical, there are time-tracking tools for you to have a better idea of how much time a task requires. It definitely helps in project planning for similar projects in the future.
For the price of $9.99 per user per month (Premium plan), there are Trello alternatives you can switch to today to get a better value for your investment. Here is a list of our picks to make the switch easier for you.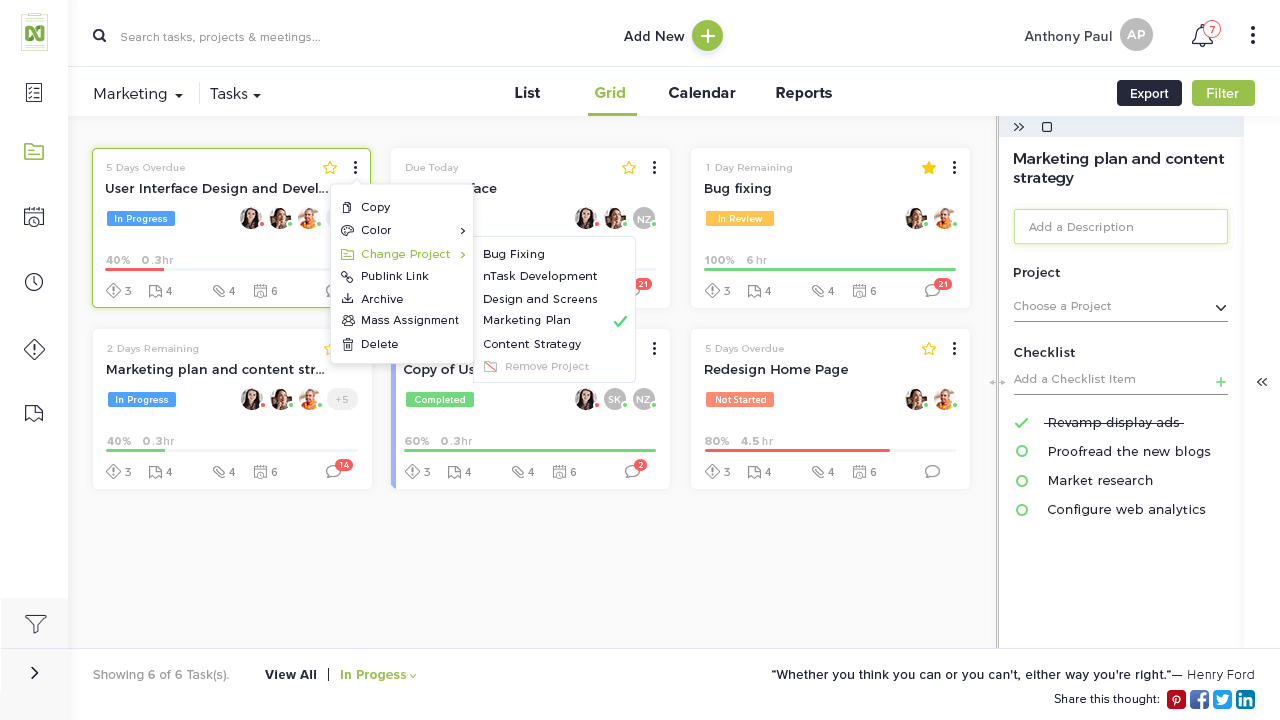 At the top of the list of your free Trello alternatives is nTask. Although we hold a bit of bias towards it, if you check out nTask for yourself, you may agree it is rightfully placed.
This Trello alternative comes with a spectrum of features that covers all your task and project management needs under one roof.
With multiple modules neatly placed on the left panel of a central dashboard, nTask gives you options to work solo or monitor multiple teams with their dedicated workspaces. Outside of the basic project management feature set, it gives you issue and resource management, meeting management, time tracking, and Gantt charts.
All this, at an incredibly low price and an extraordinarily short learning curve.
Key Features
Check out the following features and modules in nTask:
Project management including reports, timelines, Gantt charts, progress meter, and project budgeting. Plus, there is an option to create projects and associate tasks or treat tasks independently.
Task management including task creation, time tracking, assignment, organization, prioritization, and sharing tasks with multiple statuses.
Integration with Slack so you can convert comments to tasks and projects in nTask using Slack and receive updates from nTask in Slack.
Meeting management module with a multitude of options including recurring or one-time meetings, sending invites, adding agenda, post-meeting actions, and meeting minutes.
A simple user interface with access to a wide range of modules.
Team specific workspaces that can be managed and monitored simultaneously for seamless team management.
Timesheets management module for creating and managing team specific sections for employee task efforts and payroll.
Issue management module to facilitate identification and listing down of issues related to multiple tasks. List down the issue along with the Issue owner and relevant details to track issue maintenance.
Risk management module for keeping an eye on potential risks. Arrange risks in lists and assign a risk owner in order to track risk management.
Powerful search and filter tools to search for tasks, projects, meetings, issues and risks. Plus, make use of the filter option to save more frequent searches
Alerts, notifications, and reminders to keep teams on track
Two-Factor Authentication for extensive security
Third party access via public links
Mobile apps for iOS and Android
Pricing
nTask offers the following plans:
Free
Pro pricing plan ($2.99 per month per user with annual billing

2. Asana
If Trello is a star, Asana does not lag far behind, boasting with millions of customers across 15 countries. This free Trello alternative gives you a wide array of features with a clean view, making your life as a project manager easier.
Whether it's a small team locally or you are working with remote teams, Asana makes communication and collaboration a breeze. Like Trello, you can place your tasks and other information as cards that can be dragged and dropped.
The timeline makes project monitoring more efficient through moveable tasks with images of the task owners. Plus, communication is simplified with comments, likes, and follows. You can also share files and tag a team member in the comments to get their attention.
Key Features
Here is a detailed list of Asana's key features:
Detailed project management options that include project timeline, Gantt charts, project permissions, Project Sections, Search Views, goal setting, and due dates
Comprehensive task management including task tracking, adding assignees, uploading attachments and adding comments to tasks, options to show the importance for tasks through 'hearts', task dependencies, My Tasks list, and Focus Mode
Centralized feed for centralized updates on the workflow and team activities
Multiple workspaces for handling multiple teams in parallel Option to view team members' tasks and priorities
Meeting management including agenda, follow up, upcoming, notes, references, meeting minutes, option to share projects with attendees and before meeting discussion
Real-time updates on tasks and projects
Notifications and reminders including automatic updates to the inbox
Customize calendars and select from multiple views
Admin and other roles creation for projects
Email bridge
Kanban support
Mobile apps for iOS and Android
Pricing
Take a pick with Asana's multiple plans:
Free
Premium ($ 9.99 per user per month)
Enterprise (customized)
3. Bitrix24
Bitrix24 is primarily an online tool that can also be installed on-premises as your next Trello alternative. Extremely user-friendly, it helps teams in collaboration, manage tasks and projects, and gives you a CRM module for customer support. With a customizable interface, you can create a layout as per your liking.
Already winning the hearts of 4,000,000+ organizations globally, Bitrix24 is a promising tool, especially for small teams. Make use of comments, instant messages, chats, and group discussions or email. Plus, it is easy to keep ahead of your teams by viewing their activities on a centralized news feed.
In addition to basic project management options, it offers a video conferencing option, which is perfect for remote teams. Also, you can save time using their built-in task templates.
Key Features
Birtix24 comes with the following robust features:
Task management includes task and subtask creation, time tracking, reminders, reporting, templates, task dependencies, and time tracking.
Project management options include creating projects and workgroups, Kanban boards, Gantt charts, reports, and workload management.
Meeting management including setting meeting topic, agenda, description, date, time, duration, location, attendees, and minutes, as well as attaching files. You can add attendees first, and select meeting assistant from one of them after.
Extensive options for team collaboration through comments and likes, email, instant messaging, group chat, activity stream, calendars, and workgroups.
In-depth Human Resources Management system with attendance management, work reports, workflow automation and employee directory.
Cloud storage and advanced document management system.
Videoconferencing and Telephony
User profiles
Photo albums
Custom Fields
Document management including document search, document sharing, and version history maintenance
Sales Team Management
Custom Access Rights
Calendars (Personal and Shared)
Two-way sync with iOS, Android, Google, Outlook calendars
CRM, including lead and contact management and invoicing
Email Marketing and Sales Automation features
Mobile apps for iOS and Android
Pricing
Bitirx24 offers the following plans to its customers:
Free
Plus ($35 for 24 users)
Standard ($89 for 50 users)
Professional ($179 for unlimited users)
4. Aceproject
The fourth position on the list of top Trello alternatives goes to none other than Aceproject. This project management tool reminds us a lot of nTask due to its vast array of modules. With Aceproject you can manage your tasks, projects, documents, and timesheets as well as expenses. This makes it a great project management software especially for startups and small teams.
It has a clean interface for easy collaboration and also offers email updates and notifications. Take your project management game a notch up with Gantt charts, time tracking, and effective visuals. With so much to offer with a variety of plans to select from, Aceproject is definitely worth a try.
Key Features
This Trello alternative offers the following set of features and modules:
Project management including Gantt charts, project and time tracking, project dependencies and in-built templates.
Task management including task creation, time tracking, organization, recurring tasks, and customized task reports.
Timesheets management module including time clock, timesheet approvals, and advanced time reports.
Document management including sharing and storing documents online through drag/drop or simple upload, maintain document versioning and locking to sustain document originality.
Expense management including expense type, expense date, amount, code, tracking, approvals and advanced reports with the option of attaching supporting documents.
Email notifications and updates
Customizable dashboard
Mobile apps for iOS and Android
Pricing
Take a pick with one of the following Aceproject pricing plans:
Basic (Free)
Standard ($24 per month)
Advanced ($49 per month)
Silver ($99 per month)
Gold ($199 per month)
Which app would you rate as the top Trello alternative? Let us know in the comments below.
Project management
Trello
Task (computing)
teams
code style
Kanban (development)
mobile app
Listing (computer)
Project management software