The 6 Best Slack Alternatives for Effective Project Management
The 6 Best Slack Alternatives for Effective Project Management
If you've decided that Slack just isn't right for your team's communication needs, check out these paid and open-source alternatives.
Join the DZone community and get the full member experience.
Join For Free
Slack is a popular collaboration tool that is becoming a natural choice for small- to medium-sized teams. It has a clean, intuitive interface that neatly organizes your conversations in the forms of chat rooms and associated options. Plus, it offers a free and two reasonable paid plans, which makes it a no-brainer for most teams.
Primarily replacing the use of emails to escape lengthy Email conversations, Slack helps teams discuss (and in some cases, create) tasks and projects, make voice and video calls, create groups, and add attendees as required.
It also lets teams search through message history with a powerful search option. With all these features, it definitely offers teams the ease of collaboration and is thus rated highly as one of the best productivity apps in the market effective team management.
However, there is more to project management than just task and project creation and discussions. Here we give you a list of top Slack alternatives that will up your project management game, both with additional features as well as competitive pricing.
1. nTask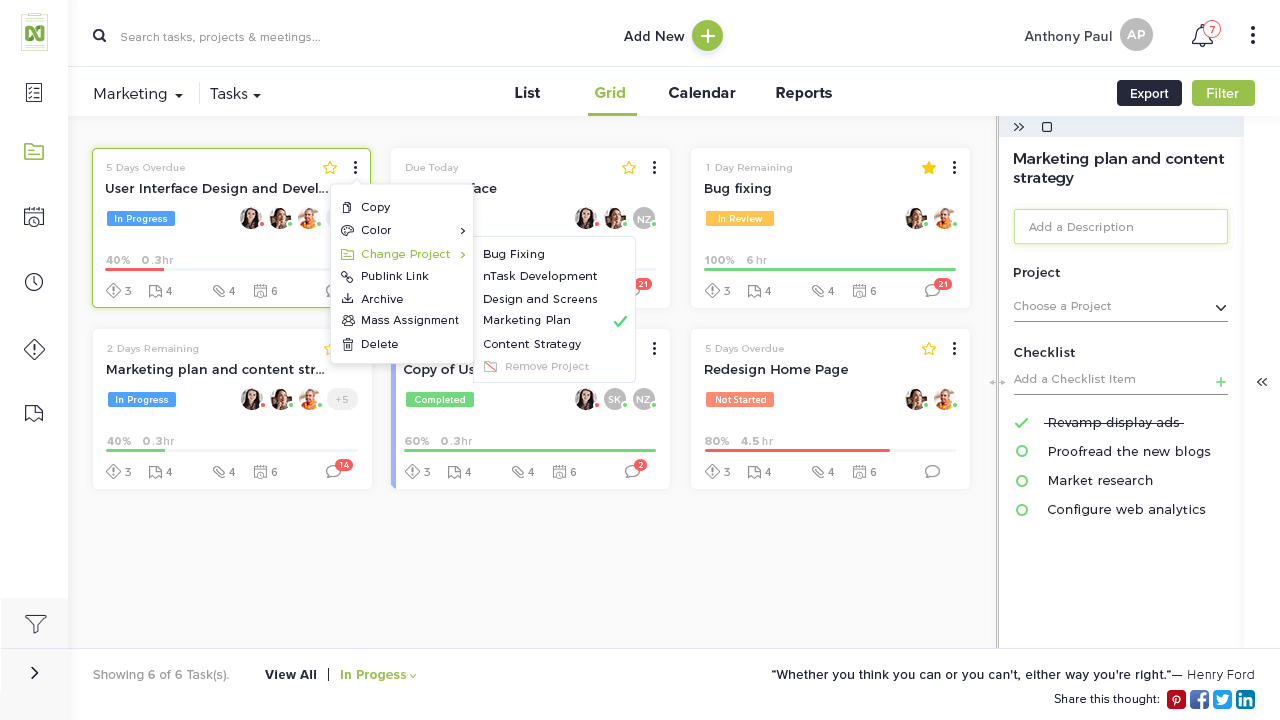 nTask takes the first spot in the list for our Slack alternatives for project management. With a Free plan with a huge array of features and paid plan at just $2.99, it is an obvious choice by project managers.
To give an idea of what it entails, it includes comprehensive modules related to tasks, projects, meetings, timesheets, issue, and risk tracking, as well as powerful search and filter options.
For existing Slack users that may want to take their time switching, nTask makes it easy due to its integration with Slack. You can create projects and tasks in nTask through some basic Slack commands.
You even get notified about updates from nTask in Slack. Need we say more? Check out the key features to see for yourself why nTask is your top Slack alternative.
Key Features
nTask offers the following features for your task and project management:
Task management including to-do lists, task creation, assignment, organization, prioritization, and sharing tasks with multiple statuses.
Project management options including reports, timelines, Gantt charts, percent completion, and the option to interchange tasks. You can create projects and assign tasks or treat tasks independently.
Integration with Slack giving you the options to convert comments to tasks and projects in nTask using Slack and receive updates from nTask in Slack.
Meeting management module for setting up recurring or one-time meetings, sending invites, adding agenda, post-meeting actions, and meeting minutes.
Workspaces to manage and monitor multiple teams, simultaneously.
Timesheets management module for logging and approving employee task efforts and payroll.
Issue management module for spotting and listing down issues related to multiple tasks. You can add details including Issue owner and status to track issue maintenance.
Risk management module for identifying and jotting down potential risks. Arrange risks in lists and assign a risk owner in order to track risk management.
Powerful search and filter tools to search for tasks, projects, meetings, issues, and risks. Plus, make use of the filter option to save more frequent searches.
Alerts, notifications, and reminders to keep teams on track.
Two-Factor Authentication for extensive security.
Third party access.
Mobile apps for iOS and Android.
Pricing
nTask offers the following plans:
Free
Pro pricing plan ($2.99 per month per user with annual billing
2. Rocket Chat
The spot for first runner up for our Slack alternatives list goes to Rocket Chat. Having more or less the same options as Slack, Rocket Chat is unlimited and open source.
Being trusted by leading teams such as Nokia, Audi, Samsung, and more, this tool seems to be going places with its recent announcements of partnerships with Amazon and Gluu.
It gives you one-on-one and team chats, share files, and video/audio conferencing. Plus, it is actually being used in the new wave of blockchain phenomena, by blockchain innovators. Also, it gives you real-time translation with the interface being translated to over 50 languages.
Key Features
Take a look at the following features for Rocket Chat:
Team and one-on-one chat
Multiple users and guest access
Audio and video conferencing
Screen sharing
Role definitions, including moderators and administrators
Search through conversations
Real-time chat with translation (over 50 languages)
File uploads and attachments
User support helpdesk creation for customer queries and lead conversion
UI personalization and customization
Two-factor authentication (2FA)
E2E encryption
Mobile apps for iOS and Android
Pricing
Rocket Chat is offered at about half the price as Slack for paid plans. Here are the options:
Community (Free)
Pro ($3 per user per month)
Enterprise (Tiered pricing and volume discount)
3. Fleep
Fleep becomes our second runner up in the array of Slack alternatives for project management. Fleep has a clean UI that is intuitive and efficient, simultaneously. Apart from chat, audio and video conversations with screen sharing, Fleep gives a number of task creation and tracking options.
You can add multiple types of details to conversations, including links, meeting notes, upload files and pin important messages to highlight them for the chat attendees. Plus, it reduces guesswork by offering chat statuses including messages seen, last active or simply a team member writing a reply.
You can have Fleep conversations with any email address, whether or not you are a team member. Check out the detailed feature list below.
Key Features
Some of the prominent features you can use with Fleep include:
Create, assign, search and track tasks
Full message history
Unlimited conversations with the option to editable pin important message, meeting notes, links and contact details, file drawer for shared photos and files
Status indicators including last active, 'Seen' for messages, or 'busy writing a reply' with the 'Writing' indicator.
Audio-video calling and screen sharing
100 GB file storage
Document/file sharing
Native apps
User account management
Premium conversations owned by the organization.
Admin control over membership, settings and message history
Personalization with company name and logo
Mobile apps for iOS and Android
Pricing
Fleep has you covered with the following plans:
Basic (Free)
Basic ($5 per user per month)
Enterprise (custom)
4. Twist
With over 100k users and growing, Twist seems to be rapidly making way to be one of the most sought-after online collaboration tools. This Slack alternative gives a new twist to communication by offering you the best of both chat and email.
You can sort conversations by topics and threads, which makes it easy to catch up on the actual matter instead of being attentive to every message. Team chats can be open or you can opt for more not-so-public conversations through messages with the option of one-on-one or small team messages.
Add images, files and other information to clarify discussions. The best part is, unlike Slack, which gives a search option for a limited number of messages in the past (on the Free plan), Twist helps you find information through hundreds of conversations from years ago.
Twist actually surveyed their users for potential improvement in their collaboration. Amid other percentages relevant to calmness, focus, and synchronization, 81% agreed to being more efficient.
Key Features
Check out these notable features in Twist:
Team conversations with the option to upload images, files, and other attachments
Messages for one-on-one, private conversations
Basic and advanced search for finding conversations and information
Organized team conversations with topics and threads
Multiple channels divided through teams, clients or projects
Option to archive channels
Mobile apps for iOS and Android
Pricing
Twist gives you the following pricing plans:
Free
Unlimited ($5 per user per month)
5. Glip
This Slack alternative for project management has clients including food franchises, a publishing house, churches, and more. 96% of their users have agreed that Glip simplifies their communication. Glip offers team chats and messaging for remote and local teams, file and information sharing, and task/project management options.
Plus, you can hold meetings with clients and teams through video calls and screen sharing. With a central team calendar, you know exactly who is up to what and how to progress. You can associate tasks, events, notes, file, and photos with the calendar.
Additionally, the unlimited storage option makes it all the more worthwhile for documents, spreadsheets, presentation files, contracts, invoices, images, and videos.
Key Features
Glip makes collaboration and task management easier through the following feature set:
Task management including task creation, assignment, sharing, and tracking tasks in any team or conversation
Chat options including an invitation to unlimited users, post unlimited messages and chat in real time
Video chat and screen sharing
File upload, sharing and document storage
Centralized team calendar for synchronizing notes, tasks, and events
Pricing
Take your pick with the following plans Glip offers:
Free
Standard ($5 per user per month)
6. Flock
Flock is a team communication and task management tool that comes with a broad feature set. From setting private and public channels to converting discussions into tasks and making audio and video calls, this Slack alternative has it all.
Especially for DevOps teams, there is an option of creating and sharing code snippets on the go. Moreover, you can upload files in multiple formats, bookmark entities and create polls for team vote.
Powered with an efficient search, you can find any entity and even contact teams through the company directory, offline and online. With automated mailing lists and data made secure through encryption,
Flock is definitely worth your time to check it out to get a little bit more than what Slack offers.
Key Features
Find the following features in Flock:
Direct one-on-one messaging
Private or public channels to discuss ideas and tasks
Convert discussions into tasks
Audio conferencing
Video calls directly from conversations and screen share
Upload and share content including Google Drive links, images, videos, apps and files
Create and share code snippets
Note down ideas during meetings that are editable by the team
Bookmark important messages, files, and links
Create image-based polls for teams
Simple and advanced search for files and links
Guest access
Set reminders for personal and team tasks
News and updates through announcement channel
Company team directory even for off-line access
Auto-generated mailing lists to team members and external parties
Predefined membership rules for channels
Data encryption using TLS 1.2
Mobile apps for iOS and Android
Pricing
Flock brings forth the following subscription plans:
Free
Pro ($4.5 per user per month)
Enterprise (custom)
Which app would you recommend as a Slack alternative for project management? Share your tips in the comments below.
Slack (software)
Project management
teams
Task (computing)
Conversations (software)
mobile app
Listing (computer)