The 9 Best SaaS Tools For Remote Teams
Find out the best tools to collaborate with your team in the most efficient way and make work from home productive.
Join the DZone community and get the full member experience.
Join For Free
Software as a service, popularly known as SaaS in the corporate world, is a cloud-based service.
To put it simply, it is a software distribution model or, more so, an application. A service provider hosts these applications for customers and makes them available to the customers via the internet. SaaS refers to providing a software product or services to the client over the cloud.
As the corporate culture is changing rapidly, and remote work is the "new normal," cloud-based services or the SaaS business have gained massive popularity among the remote teams.
SaaS has become a standard delivery model for many business applications, including,
Office software

Messaging software

Management software

Collaboration

Human resource management (HRM)

Talent acquisition, and

Content management (CM), among many others.
One great benefit of these SaaS tools is that it removes organizations' need to install and run applications on their computers or data centers. It further eliminates the expense of hardware acquisition, provisioning, and maintenance, as well as software licensing, installation, and support.
Now, coming back to remote work, managing remote teams can be challenging. But, the SaaS tools have made remote work into an effortless and efficient process.
So, recognizing the popularity and developing flexible options to include the SaaS tools in your remote business model is a great move. SaaS tools will aid in better team management and facilitate attracting new talents from the remote work pool.
Using the right tools can make quite a big difference and ensure greater transparency among remote teams, whether in project management, maintaining productivity, or boosting employee satisfaction.
So, check out this list of the best SaaS Tools for remote work that includes every aspect of managing a remote workforce efficiently.
The Best SaaS Tools For Remote Teams
1. Skype
Skype is one of the oldest communication tools that's been around. It provides video chat and voice calls between computers, tablets, mobile devices, the Xbox One console, and smartwatches over the internet.

Remote workers need to have face to face interaction with the team members they are working with. Otherwise, it makes work difficult. That's where this SaaS product comes in. It provides you with good quality video conferencing with various cool features like sharing screens, enabling live subtitles, and much more.
Moreover, you can use Skype as your messaging tool with features like creating group chats, attaching pictures and videos, and much more. Also, it's free to use locally and globally.
2. Join.me
Another great video conferencing tool would be Join.me. It's a very user-friendly tool that makes work for remote teams easier. Want to know how? Read on.

This product's unique selling point is that the video freezes up much less than any other software.
Moreover, it has these fantastic features to claim your personalized URL, customize your meeting background, record the calls, etc. The fact that you can record calls makes it easy to create training materials for your remote team.
3. Slack
Now moving on to collaboration tools. The one tool that tops the list is Slack. If you are a remote worker or handle a remote, you might be already using it or at least have heard about it.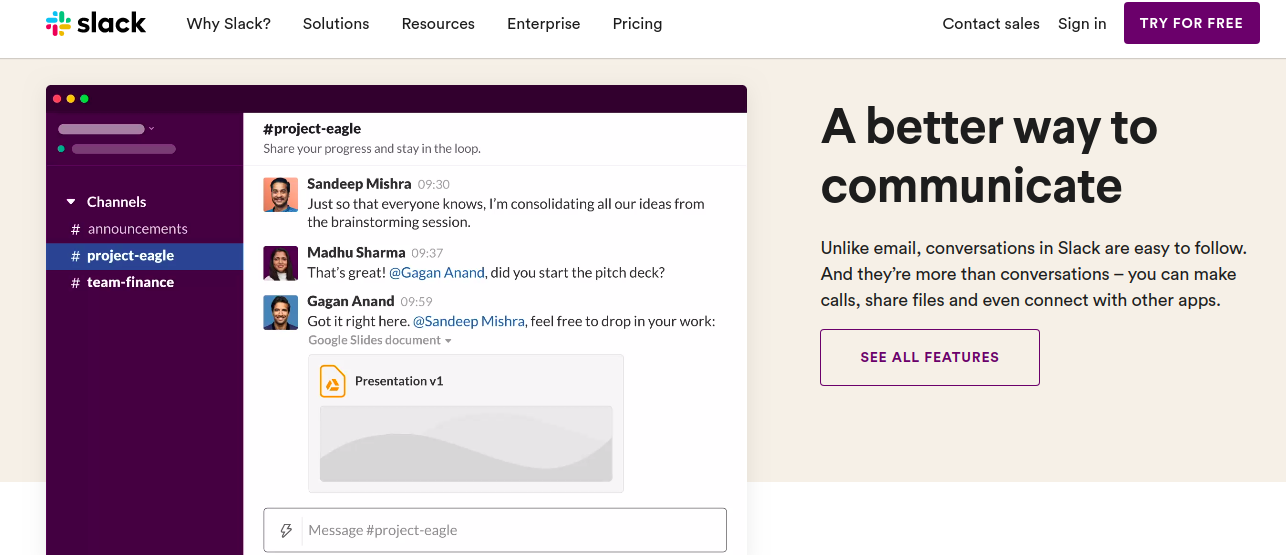 Remote teams always need to be connected via different channels for a better flow of work and communication. Slack is just that. Using an always-on chat interface, teams can converse with each other publicly via channels or privately through instant messages.
Unlike email, conversations in Slack are easy to follow. And they're more than conversations – you can make calls, share files and even connect with other apps.
4. Google Drive
Google Drive is a tool that startups and remote workers always pick first. It allows for easy and seamless team collaboration.

Google Drive is a file storage and synchronization service. It is the gold standard when it comes to cloud storage and file sharing. Moreover, it provides this amazing feature of real-time editing. It makes the tool so much more desirable compared to other products in the market.
Also, Google Drive makes it easy to share work documents, presentations, and spreadsheets across multiple remote teams.
5. Dropbox
If you are looking for cloud-based storage and file-sharing tool as impressive as Google Drive, go for the Dropbox tool.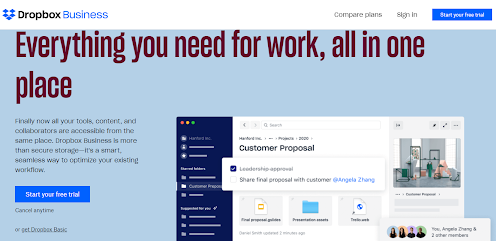 Dropbox is simple to use and has an expandable storage capacity. You can download the tool onto your desktop for easy drag and drop file sharing. It is reliable and syncs files faster than most of its competitors.
Another great thing is that it is compatible with all platforms and devices, for example, Windows, Linux, Android, Phone/iPad, Mac, the Web, and Windows Mobile. So, now you won't miss out on sharing your work with any of your remote team members.
6. Vantage Circle
If you are looking for a cloud-based reward and recognition tool, Vantage Circle: The Employee Benefits & Engagement Program is the way to go.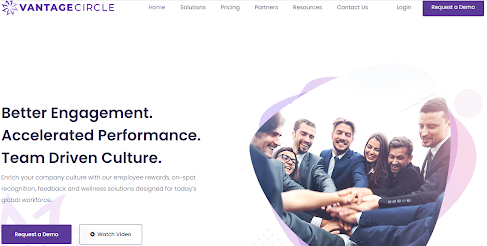 Remote employees might often feel that they are not recognized enough for their hard work. Because of the lack of in-person experience or the lack of platforms where you can show these employees gratitude and recognition that they deserve.
But with Vantage Circle, you can reward and recognize your employees' efforts with just a click and motivate them to be more efficient and productive. Vantage Circle provides a comprehensive and cost-effective employee benefits package for your entire workforce. It has a range of engagement solutions such as corporate offers, rewards and recognition, health and wellness, etc.
The platform also includes peer recognition, where employees can nominate their colleagues for awards and appreciate them. All of these appear in your employees' news feed, ensuring no one misses any update. Also, the entire platform is available on a mobile app with real-time tracking. So, now employee rewards and recognition can be in the palm of your hand.
7. Trello
All remote teams need that one project management tool that helps them organize tasks and look at what others are up to. Trello promises to be just that.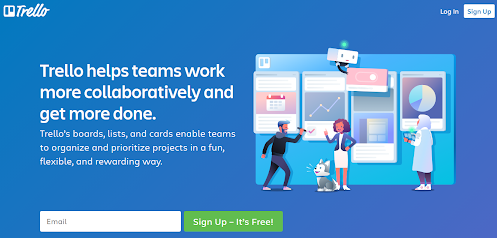 Trello is a fun and interactive project management tool. It lets you organize your work and tasks into visual boards.
Moreover, all works are listed on cards that are on the list and categorized as they are completed. You can add comments, attachments, due dates, and more directly to these cards and update your remote teams all in one go.
8. Encrypt.me
While working remotely, a whole lot of sensitive information is shared over the internet. If the security of these data and information is compromised, it can pose a considerable threat.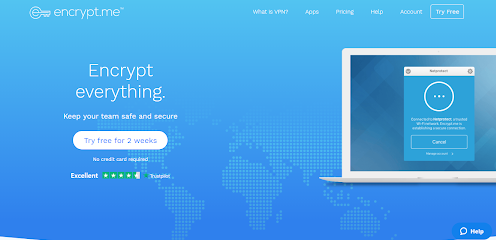 Encrypt.me is one such tool that ensures you are protected from any browser leaking, broadband spying, or Wi-Fi eavesdropping. It encrypts all of your data through a VPN (a virtual private network) and keeps your team safe.
9. Every Time Zone
As a remote worker, you must be working with people from various time zones. It becomes difficult to collaborate when you have to translate their times into your own every time you connect with them.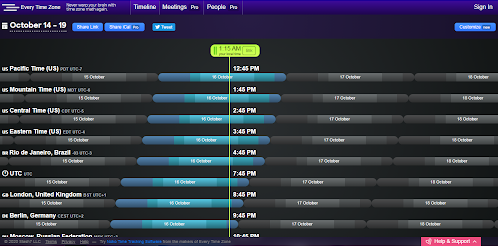 The Every Time Zone is a beneficial tool here. You can easily and quickly find the exact time difference with the visual Time Zone Converter.
Finally
The pandemic has made it a necessity for the corporate to embrace the remote work culture. Everyone took some time to adjust, and some are still doing it.
Having the right software as a service (SaaS) tools can help create productive teams and make remote work easier and fun.
Also, most of the tools listed above have free trials, so make sure to give them a go and make remote work a success.
Topics:
saas based solutions,
teams,
work from home
Opinions expressed by DZone contributors are their own.