The Internet of Things and Pothole Detection
DZone's Guide to
The Internet of Things and Pothole Detection
Join the DZone community and get the full member experience.
Join For Free
Digi-Key Electronics' Internet of Things (IoT) Resource Center Inspires the Future: Read More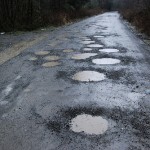 For sometime now councils around the world have offered citizens the capability to alert them to poor road conditions. Most of these allow photos to be geotagged and attached to a map to provide a live picture of how safe the roads in their location are.
A new innovation from Jaguar Land Rover is hoping to automate this process. Researchers at the company are working on a sensor that fits into the wheel mount of the vehicle that both spots potholes, prepares the vehicle for impact, and then shares the data with the local authority.
The system was developed by both Jaguar Land Rover and Coventry City Council, with a trial due to launch shortly that if successful will see it rolled out across the company's brands in due course.
It's estimated that around £150 million is spent each year on fixing pot holes, whilst each local authority in Britain deals with several hundred claims per year from motorists whose vehicle was damaged by poor road conditions.
Coventry City council hope that the data from the cars will allow them to identify both the cause of the problems and assign a proper level of prioritization to fixing it.
And that, one suspects, will be the main bottleneck to clear. Whether it's a crowd based reporting system or an automated IoT based system, it seems inevitable that councils are informed of more issues than they have the money or manpower to fix.
So, from a road maintenance perspective, I think the proof will very much be in the pudding with this project, but it does provide an interesting new development in automated car technology, with Jaguar Land Rover of the opinion that it will eventually lead to the vehicle maneuvering around the pothole automatically.
Topics:
iot ,smart cities