The Next Big Thing: Putting 'IT' to Perspective with 'IoT'
DZone's Guide to
The Next Big Thing: Putting 'IT' to Perspective with 'IoT'
A look at the history evolution of IT systems and how they relate to the Internet of Things.
Join the DZone community and get the full member experience.
Join For Free
Digi-Key Electronics' Internet of Things (IoT) Resource Center Inspires the Future: Read More
A Digitization PoV
Information technology has seen big leaps and bounds of discovery and evolution over a past few decades, the more recent ones being 'optimization' based out of distributed computing techniques; leading to the effective consolidation of IT assets across the spectrum-layers.
What's interesting is that the same evolution phenomenon applies across all tiers of IT stack, starting from requesting-devices leading to the information-hosting devices guided by the business-logic processing assets in between. I would like to call this journey as the "Journey of Precision & Concision."
If we were to look at a typical IT System use-case which receives request and generates response from the auto-processing systems integration, be it from any industry, domain etc, a simplistic view of such an intelligent, automated IT Systems Landscape tiers would be:
Let's now emphasize the evolution of each tier of the IT Systems Landscape.
Requesting devices started from monolithic machines and took its evolution journey leading to computing desktops, laptops, smart-phones to a pluralistic idea of inclusive smart devices, aka IoT-Things.
XML was the backbone a revolutionary idea which transformed the ethos of how the mid-tiers of request processing logical constructs were supposed to collaborate effectively. The idea of XML influenced the entire eco-system of processing logic components and their integration. Simply put it gave the traditional raw data formats a structure, a grammar which could be better comprehended by the universal landscape of logical entities.
Artifacts such as Web-services/SOA/EAI, standard messaging formats and other message oriented middleware protocols such as XMPP, MQTT etc. are only a bi-products of XML used as a concept.
The processing logic behind the mid-tier and dedicated functional components also underwent a considerable extent of consolidation and standardization, wherein the need of a set of well-researched and similarly functional constructs was not required anymore for each enterprise/industry-segment at the individualistic organizational level, rather sharing of such logical artifacts evolved as a core part of the SOA philosophy.
Next aspect which is another key layer of our data processing and automation systems (IT) is the storage of data i.e. databases. Canonical flat file databases led to definition of inherent and resident relationships of the data-sets as a part of RDBMs to what is lately evolved to segregation of simplistic unstructured and polymorphic data aka BigData from the business-relations and transaction value RDBMS data-sets.
And lastly from information processing and hosting perspective, with all the ecosystem of IT value-chain getting into distributed computing mode, the systems infrastructures and data-centers consolidation led to an evolution of shared and distributed/on-demand processing systems - what is now known as Cloud based hosting solutions. This extends the concepts of virtualized computing machines, tying it up with on-demand computing to ensure optimized levels of computing and their extensive availability at the same time.
IoT is the next big thing within the IT evolution spectrum, wherein capabilities of smaller and internetworked (ability to receive and share data) devices are planned to be integrated to the overall IT based automation value chain. IoT as a concept has been out there for years and has also been implemented in a rather personalized/scenario-based way (if you will) way e.g. what smart and integrated cars such as Mercedes already offer to you is talked about in global, more-accessible, and granularly industrialized context with the inception of connected Things.
Quoted below are some of the thoughts from the industry prime contributors to assess and appreciate the evolution of IoT within the whole IT spectrum.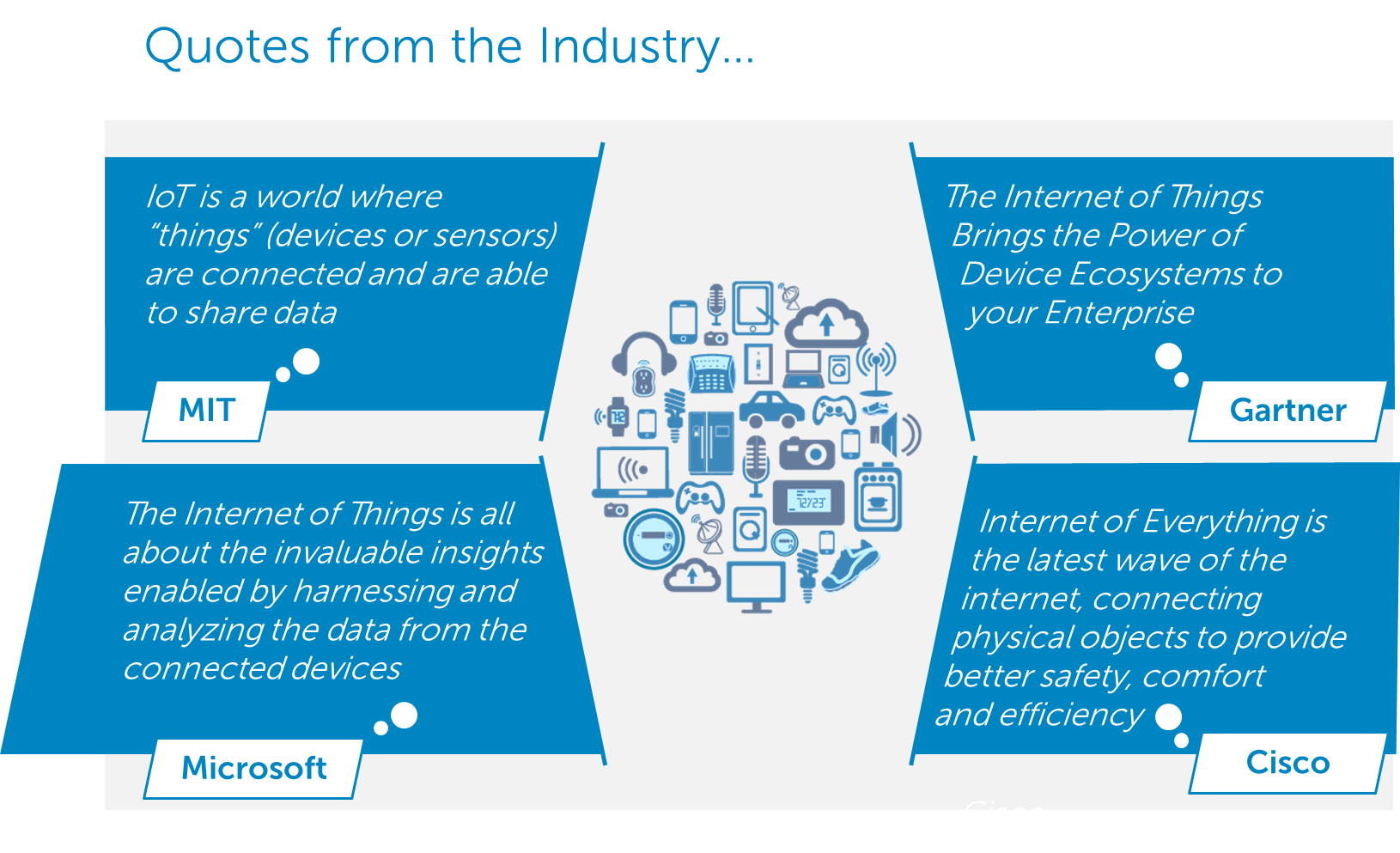 A view of an overall value-chain led by IoT compliant devices from the top is demonstrated per below. This also gives a perspective of how each of the layers, undergoing its respective evolution journey is geared-up to support the IoT based advancements, currently underway and talked-about as the Next Big Thing.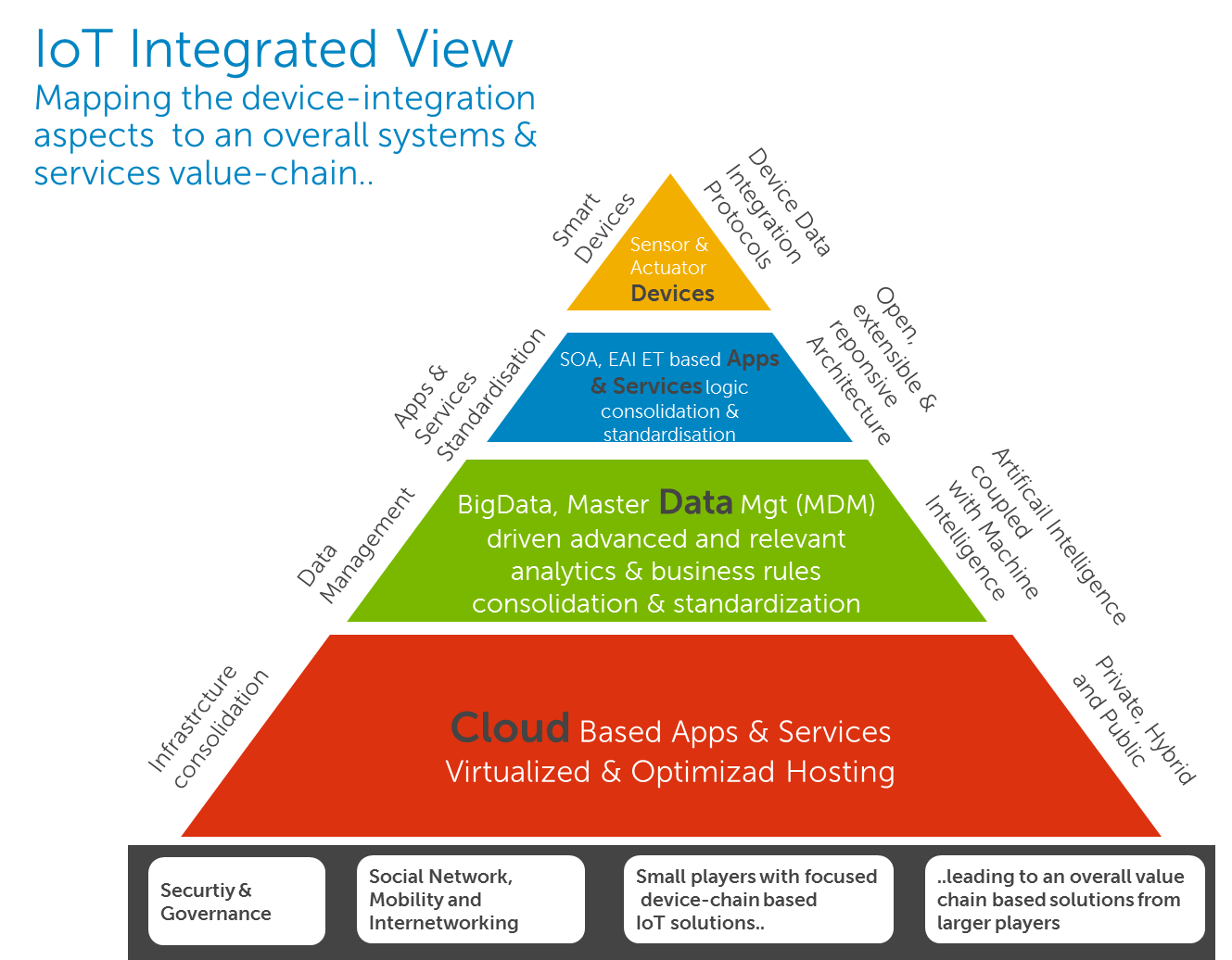 Start from small is the key here and with time, as the reach of IoT constructs grip the global devices for their planned maturity of integration and automation, larger players such as Dell, Cisco, Microsoft and other similar enterprises can take these to the next level of device-chain ecosystem leading to automated and integrated environment across the globe.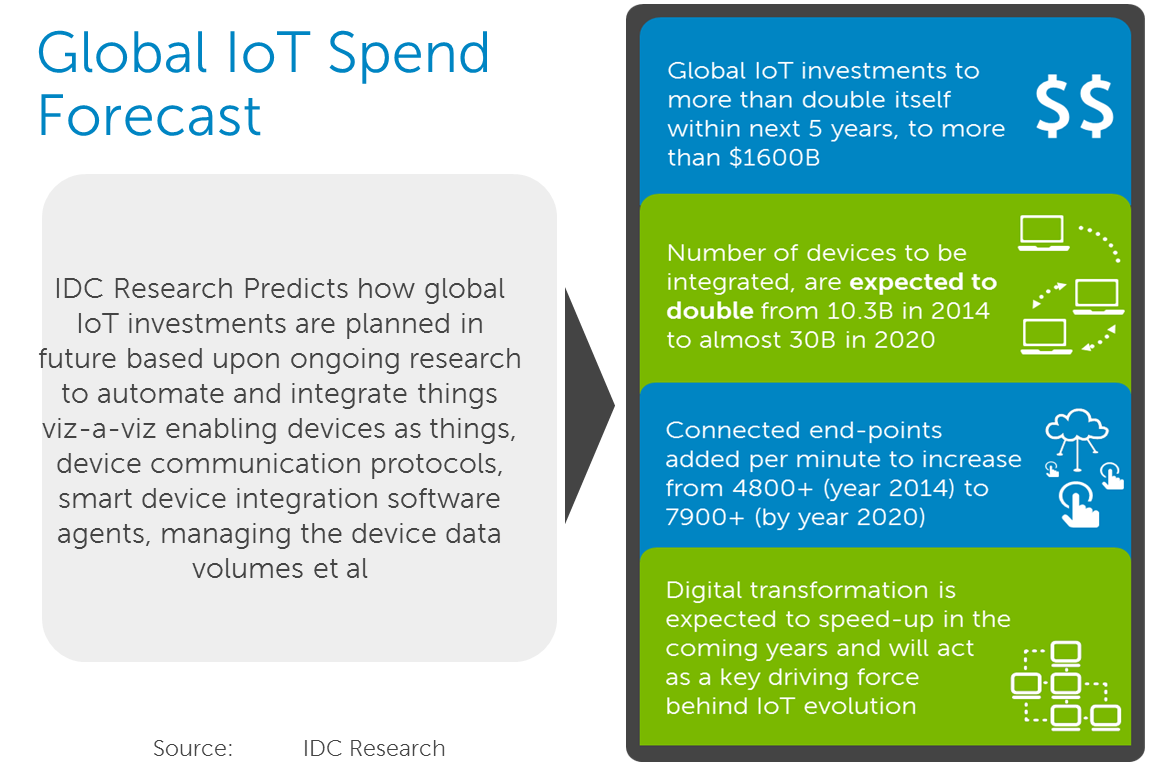 References:
www.dell.com www.gartner.com
www.forbes.com www.idc.com
www.web.mit.edu www.cisco.com
Topics:
iot world ,it strategy ,it systems management ,soa manifesto ,cloud automation ,analytics platforms ,bigdata ,eai
Opinions expressed by DZone contributors are their own.