The Next Wave of Robots Will Learn From Each Other
DZone 's Guide to
The Next Wave of Robots Will Learn From Each Other
How robots are using machine learning to teach and train other robots to perform their tasks.
Join the DZone community and get the full member experience.
Join For Free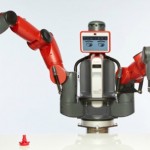 There are a number of distinct trends in robotics that are promising to converge to fascinating effect in the coming years. I mentioned earlier this year about a DARPA led project that sees a robot study cooking videos on YouTube and then understand both what utensils to use, and more importantly how to handle those utensils.
The second interesting trend is typified by an MIT led project to develop robots capable of collaborating with other robots. The team built a team of robots capable of servicing a bar, with one robot taking orders, one serving drinks and so on. Each was communicating and collaborating with the others.
Robots Teaching Robots
These kind of tasks are relatively straightforward for you and I, but are very challenging for robots, especially if the item in question is unusual or unfamiliar.
A recent project from Brown University is working towards robots that can teach one another how to perform these kind of tasks. The machines will use an array of cameras and sensors to look at the object from a range of angles, and then share that learning and experience with others.
Whilst this will take a bit of time to go through the initial learning, once it has been done once, the team believe it will be very fast once it has been learned once.
The eventual aim is to "teach" robots to pick up millions of different things. The robot itself was developed by the Boston based company Rethink Robotics, who were also behind a recent project via the University of Maryland that also used the YouTube based approach to learning.
Being able to manipulate objects is incredibly important for robots, so if the team can manage to achieve this successfully it marks a big step forward in what robots can achieve.
"We have powerful algorithms now — such as deep learning — that can learn from large data sets, but these algorithms require data," the researchers say. "Robot practice is a way to acquire the data that a robot needs for learning to robustly manipulate objects."
There are currently around 300 of these kind of robots in operation in various labs around the world. The researchers hypothesize that if this relatively small cohort can examine objects using both arms, it could be possible for 1 million objects to be 'learned' in just 11 days.
"By having robots share what they've learned, it's possible to increase the speed of data collection by orders of magnitude," they say.
Fine Motor Skills
In order to grasp each object, the Brown team modified the core algorithm within Baxter to optimize the process of practicing various grips. This allowed it to successfully grasp each object around 75% more than with the original method.
Once a successful method has been found, it is encoded in a format and then shared with other robots online.
This learning process will be fundamentally important to the development of robots, as humans are inherently capable of learning from their experiences in a way that most robots are currently not.
Hopefully, in time, this ability will be picked up by the next generation of robots.
Topics:
robot ,machine learning ,algorithms