The Robotic Device That Can Draw and Analyze Blood
DZone 's Guide to
The Robotic Device That Can Draw and Analyze Blood
There is a new robotic device that can draw and analyze blood without a doctor present. Click here to learn more.
Join the DZone community and get the full member experience.
Join For Free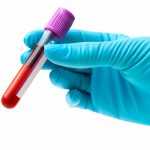 Extracting blood is something that happens on a daily basis, but the process can often be incredibly painful and laborious. Researchers from Rutgers University-New Brunswick believe that they've come up with a robotic solution to help not only with withdrawing blood but analyzing it.
The work, which was described in this recently published paper, has the potential to significantly improve the workflow in hospitals whilst allowing practitioners to spend more time with patients.
"Integrating miniaturized robotic and microfluidic (lab-on-a-chip) systems, this technology combines the breadth and accuracy of traditional blood drawing and laboratory testing with the speed and convenience of point-of-care testing," the researchers explain.
The device is completely automated and uses an image-guided robot to draw the blood from the arm of the patient. The sample is then analyzed internally via a centrifuge-based blood analyzer.
Automating Healthcare
Performing diagnostic blood testing is probably the most common clinical procedure in the world. What's more, it also influences a huge number of medical decisions in both hospitals and laboratories. It's a process that can be error-strewn, with success usually dependent upon both the skill of the clinician and the physiology of the patient. Equally, the analysis process is incredibly bureaucratic, with most analyses performed in centralized labs that perform huge numbers of tests per day.
The device is capable of providing highly accurate results from a simple white blood cell test. It does this by utilizing a blood-like fluid that is spiked with fluorescent microbeads. The testing process then uses artificial arms complete with plastic tubes that serve as blood vessels. The team believes that the device can perform rapid tests bedside, in the emergency room, in clinics, or even in the ambulance on the way to the hospital.
"When designing the system, our focus was on creating a modular and expandable device," they say. "With our relatively simple chip design and analysis techniques, the device can be extended to incorporate a broader panel of tests in the future."
Topics:
iot ,robots ,blood ,health ,iot healthcare