The Smart Shoe Aiming to Keep Senior Citizens Active
DZone's Guide to
The Smart Shoe Aiming to Keep Senior Citizens Active
dsffsfsdf
Join the DZone community and get the full member experience.
Join For Free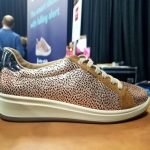 Wearable devices are becoming increasingly adept at not only monitoring our health and wellbeing but acting when they think things are going wrong. One of the more interesting developments in the industry is the move away from watches and other physical devices towards wearable technology that is built into the clothes we wear.
Whilst most of these have been in sporting apparel, there have also been some interesting developments in terms of smart footwear. For instance, last year Under Armour announced shoes capable of monitoring for fatigue.
The shoe, called the UA SpeedForm Gemini 3 RE, is the next generation of an existing range of shoe, and comes with sensor technology to measure the runner's pace, cadence and distance. What's more, UA also claims that the shoe is capable of measuring your fatigue levels.
The shoes segue with MapMyRun and measure the airtime of each stride, and uses this as a proxy for your fatigue levels. The idea is that as you fatigue, your stride pattern changes.
Keeping Us Healthy
The latest effort comes from French manufacturer E-vone, who have developed a smart shoe that they hope will help senior citizens to live a safer and active life.
The shoes are taking particular aim at falls, which are a huge issue among the elderly, and indeed regarded as the leading cause of injuries in this age group. The damage is not only caused by the falls themselves, with a fear of falling often preventing people from being as active as they would like.
They aim to overcome this fear by providing a sense of security to the wearer. The shoes are able to detect when the wearer falls or has another form of abnormal movement, and can then either contact the designated emergency contact or even the emergency services themselves. They do this via a device that's inserted into the sole of the shoe.
In addition, the shoes also come complete with GSM and LoRa to enable them to communicate successfully, with GPS fitted to locate the wearer at any given time, a gyroscope and accelerometer to measure movement, and a pressure sensor to detect when the shoe is being used.
They aim to be as user-friendly as possible, so don't need to be paired with a mobile device as all of the data can be processed internally. Whilst the company sees the elderly market as a key one, they also believe the shoes can be valuable for anyone who needs to feel confident when out and about, whether hikers or construction workers.
The company hopes to have the shoes available on the market later this year, with the price expected to range from $100-150, with an extra $20-30 per month for the alarm service.
You can find out more about them via the video below.
Topics:
iot ,sensor tech ,wearable ,lora ,medtech