The Tools of Java Development (Part 3): CI, Testing, and the Web
DZone's Guide to
The Tools of Java Development (Part 3): CI, Testing, and the Web
If your Java project needs a solid continuous integration tool, a web framework, something to help with testing, or an app server, this list is for you.
Join the DZone community and get the full member experience.
Join For Free
Welcome back! If you're just joining us in this series on the tools available for Java development, feel free to check out Part 1, which covers general tools and IDEs, and Part 2, which talks about code coverage, APM, and logging. If you're all caught up, take a look at the best tools out there that cover continuous integration, testing, web frameworks, app servers, and app management tools for your Java projects.
Continuous Integration Tools
32. Bamboo

Bamboo is a continuous integration (CI) server by Atlassian to build, test and deploy code.
Key Features:
Tech stack
Deployment projects
Dedicated agents
Visibility
Parallel tests
Docker agents
Triggers
Quarantine
Cost:
FREE for 30 days
Small teams – $10

Up to 10 jobs
Unlimited local agents
No remote agents
All proceeds are donated to the Room to Read charity!

Growing teams

$800 for Unlimited jobs, Unlimited local agents, 1 remote agent
$2,200 for Unlimited jobs, Unlimited local agents, 5 remote agents
$4,000 for Unlimited jobs, Unlimited local agents, 10 remote agents
$8,000 for Unlimited jobs, Unlimited local agents, 25 remote agents
$8,000 for Unlimited jobs, Unlimited local agents, 25 remote agents
$16,000 for Unlimited jobs, Unlimited local agents, 100 remote agents
$40,000 for Unlimited jobs, Unlimited local agents, 250 remote agents
33. TeamCity

A build management and continuous integration server tool for Java, TeamCity is offered by JetBrains.
Key Features:
Feature branches with Git or Mercurial
Easy to scale
Good customer support
Continuous integration server
Cost:
34. Jenkins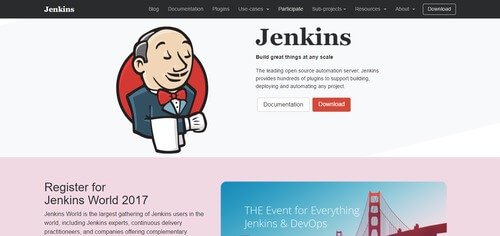 Jenkins is the leading open source automation server and a clear leader in Java continuous integration. It can be used as a simple CI server or turned into a complete continuous delivery hub for any project.
Key Features:
Self-contained and ready to run
Easily configurable web interface
Detects errors on the fly
Hundreds of plugins for seamless integration
Cost: FREE
Java Testing Tools
35. Junit

JUnit is a framework that helps write repeatable tests. It is considered to be one of the top testing frameworks out there.
Key Features:
Simple unit test tool
You can test one block of code at a time
Cost:
36. Apache JMeter

JMeter is an instance of open source software, and a 100% pure Java application for load testing. This testing tool measures the functional behavior and performance of websites, web services, and more.
Key Features:
Easy to understand GUI
Easier test plan building, and application debugging
Open source
Ability to load and performance test different applications/server/protocol types
Full featured Test IDE
Command-line mode
Complete and ready to present dynamic HTML report
Cost:
37. Mockito

Mockito is one of the developer-favorites when it comes to Java mocking frameworks. It allows you to write tests with a clean and simple API.
Key Features:
Produce readable, clean tests, and verification errors
Stub method calls
Verify interactions
Slim API
Natural mocking when TDD-ing Java code
Similar syntax to EasyMock
Cost:
38. Selenium

Selenium is an automated browser web testing Java tool. Most developers use this tool to test frameworks in large-scale web application testing. Web-based administration tasks can also be automated.
Key Features:
Choose between Selenium WebDriver or IDE
Runs in many browsers and operating systems
Can be controlled by many programming languages and testing frameworks
Cost:
39. Spock

Spock is another behavior-driven development (BDD) testing tool which can support JVM language Java and Groovy. It is also an enterprise-ready specification framework.
Key Features:
Enterprise-ready specification framework
Highly expressive specification language
Cost:
40. Google Guice

Google's Guice (pronounced "juice") is a popular dependency injection tool. It is a lightweight framework for Java 6 and above.
Key Features:
Enables you to wire together and test objects with less effort
Can use annotations when binding type is not sufficient
Cost:
Java Web Frameworks
41. AngularJS

AngularJS is a Java web framework with HTML that is great for declaring static documents. It is also fully extensible and can work well with other libraries.
Key Features:
Can extend HTML vocabulary for application
Fully extensible and works well with other libraries
Features can be modified or replaced
Add controls
Create components
Cost:
42. Spring MVC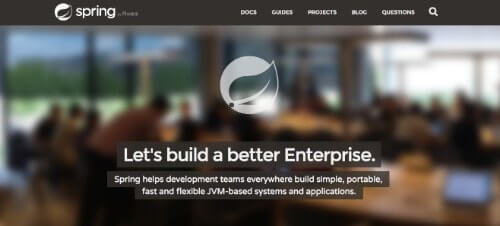 Another top Java web framework, Spring MVC, provides mode-view-controller architecture and ready components. These can be used to develop web applications.
Key Features:
Dispatches requests to handlers
Configurable handle mapping, local, time zone, view resolution, theme resolution, and more
Offers wide range of flexible handling method
Clear separation of roles
Adaptability, non-intrusiveness, and flexibility
Cost:
43. Vaadin

Vaadin is another open-source web framework that works for rich internet applications. It features server-side architecture, which makes the majority of logic to run on the servers.
Key Features:
One language for the whole application
Extensible with Java and HTML5
UI logic is right next to the data
Strong abstraction of web technologies
Cost:
Application Servers and Application Management
44. Apache Tomcat

Apache Tomcat is one of the most used Java application servers out there. It an open-source implementation of the Java Servlet, JavaServe Pages, Java Expression Language, and Java WebSocket technologies.
Key Features:
Powers numerous large-scale
Lightweight app server
Cost:
45. WebLogic

Another popular Java tool by Oracle is the WebLogic Server. It is considered to be the best application server for building and deploying enterprise Java EE applications in the industry.
Key Features:
Helps lower cost of operations
Helps in enhancing scalability
Based on standardized, modular components.
Cost:
46. WebSphere

IBM's WebSphere in an application server that allows you to optimize, create and connect applications on-premise, and on the cloud.
Key Features:
Optimize application infrastructure to reduce cost
Connect existing Java applications to the cloud and unlock new value with API lifecycle management and cloud services
Create and deploy cloud-native and web-based apps
Migration support
TCO Calculator
Analyst Report
Cost:
47. GlassFish

GlashFish is an open-source application server project by Sun Microsystems for the Java EE platform. It is now sponsored by Oracle.
Key Features:
Issue tracker
Documentation
GlassFish Source Code repository
IDEs
Forum and mailing list
Cost:
48. Mesos

Mesos is an open source software solution that sits between the application layer and operating system to make it easier to deploy and manage applications.
Key Features:
Abstracts CPU, memory, storage, and other compute resources away from machines
Linear scalability
High availability
Containers
Two-level scheduling
APIs
Web UI
Cost:
49. JBoss EAP

Red Hat's JBoss EAP (Enterprise Application Platform) is used for hosting apps. It provides an innovative modular, powerful management and automation, cloud-ready architecture and world-class developer productivity.
Key Features:
Innovative/modular
Cloud-ready architecture
Powerful management and automation
High availability clustering
Distributed caching
Messaging and transaction and full web services stack
Cost:
And there you have it! The preceding lists of tools should help get you started on anything related to CI, testing, app management, and web frameworks. Stay tuned for the conclusion to this series, which will cover the variety of artifact management, web extension, and messaging distribution tools as well as the various JVM languages out there for you to consider.
Topics:
java ,java tools ,continuous integraiton ,app server ,java testing
Published at DZone with permission of Angela Stringfellow , DZone MVB. See the original article here.
Opinions expressed by DZone contributors are their own.