The Ultimate DevOps Tools Ecosystem Tutorial, Part VI: Operate
The operating stage ensures maximization of the product's abilities after it's up and running. Includes analyzing the UX, infrastructure, APMs, and Business Intelligence.
Join the DZone community and get the full member experience.
Join For Free
Welcome to Part VI (which is also the final part!) of our Ultimate DevOps Tools Ecosystem Tutorial. In the first five parts, we gave an overview of the DevOps tools ecosystem and elaborated on the first four stages: plan, develop, test, and release. This time we will go over the fifth and final step: operate.
You can view the complete DevOps cycle in this infographic: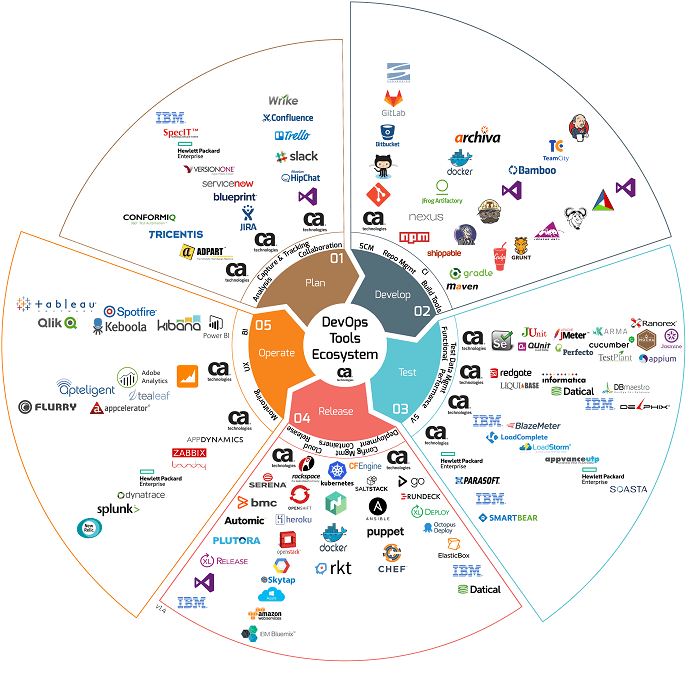 Operating is the stage that ensures maximization of the product's abilities after it is up and running. This includes monitoring the UX, monitoring infrastructure, APMs, aggregators, and analyzing Business Intelligence (BI).
Here are our top tool recommendations for the operating stage.
Application Monitoring (APM): New Relic, CA APM, AppDynamics, and DynaTrace
Application monitoring (APM) monitors the inner parts of the application, including the language's garbage collection performance, stack traces and the time it took to query databases and additional micro-services. This ensures smooth operation and the ability to track usage trends and system health.
Though there are many successful APMs that we recommend, including AppDynamics, DynaTrace, and CA APM and New Relic. In this post, we will focus on New Relic.
New Relic has a very strong user interface and detailed reports, and above all, it is very comfortable to use. New Relic provides plugins to any language and platform, thus automatically scraping metrics without the developer having to do anything. All the developers need to do is add the New Relic agent to the app they're developing, and New Relic will automatically extract platform-specific metrics, whether in Java, Node, PHP, etc.
For example, to load the New Relic agent on NodeJS app, all you need to do (after installing New Relic) is to add this code:
require('newrelic'); 
To the app's bootstrap, while the relevant environment variables:
NEWRELIC_APP_NAME, NEWRELIC_API_KEY 
Are loaded on that app. That's it! New Relic reports will automatically be created and shown to you on the app's APM page on New Relic's website.
Infrastructure Monitoring: Prometheus, Sensu, Zabbix, and sysdig
Infrastructure monitoring provides insights into your underlying infrastructure and monitors server load, CPU, memory and more. It also examines connectivity between services, databases and external systems. If you need to drill down to the root cause, you can also use aggregated logging services such as ELK/Splunk and for visualizing events.
The top tools in the market are Prometheus, Sensu, Zabbix, and sysdig. In this post, we will focus on Prometheus.
Why? Because Prometheus is adapted for the container movement, uses service discovery to discover new applications, i.e users don't need to manually configure new applications for monitoring and supports the pool based model. But above all, it is an open-source tool that is owned by the Cloud Native Computing Foundation, and not by a large company, making it a tool by users, for users.
This was the last blog post of this series, which we hope you will find useful when choosing your work tools.