This Week in Neo4j: FOSDEM, Knowledge Graphs, and an Azure Template
DZone 's Guide to
This Week in Neo4j: FOSDEM, Knowledge Graphs, and an Azure Template
Take a look at what's been happening in the Neo4j world, including an updated Azure template for Neo4j, information of knowledge graphs, and more!
Join the DZone community and get the full member experience.
Join For Free
Welcome to this week in Neo4j where we round up what's been happening in the world of graph databases in the last 7 days.
This week we've got the finalized FOSDEM Graph Processing Room schedule, an updated Azure template, knowledge graphs, and more!
Featured Community Member: Chris Leishman
This week's featured community member is Chris Leishman, Head of Product – PegaSys at ConsenSys.
Chris Leishman – This Week's Featured Community Member
Chris worked for Neo4j from 2012 – 2016 and spent a lot of time working with Neo4j customers, gaining knowledge which he shared in his GraphConnect San Francisco 2015 talk and accompanying blog post.
Chris has also presented at many meetups and led Neo4j training courses in the US, across Europe, and in Australia.
More recently Chris created and maintains the Neo4j C client and libcypher-parser, a parser library and linter for the Cypher query language.
On behalf of the Neo4j community, thanks for all your work Chris!
From GraphConnect: Knowledge Graphs – The Path to Enterprise
At GraphConnect NYC 2017, Michael Moore and AI Omar Azha shared their experience building knowledge graphs.
They explain why graphs are a terrific accelerator for mobilizing data and show how to design an architecture that puts a graph layer over a data warehouse or data lake.
FOSDEM Graph Processing Room Schedule
The schedule for the Graph Processing room at FOSDEM has been finalized and it looks like it's going to be a fun day.
FOSDEM is run over the weekend of the 3rd and 4th February 2018 at the ULB Solbosch Campus in Brussels, Belgium. The Graph Processing Room is on the Saturday. I attended in 2015 and it was great fun seeing all the different things people were doing with graphs. I'd recommend going along if you can.
Neo4j on Azure Template Updated
We've released a new version of the Azure template to support the latest version of Neo4j Enterprise.
This update also address problems users have experienced with the template due to a change in the portal UI. You can find the updated template in the Azure marketplace
Neo4j on Windows, xhprof Analysis, What Is a Graph Database?
From The Knowledge Base
This week from the Neo4j Knowledge Base we have an article showing how to write a Cypher query to generate equivalent output to the Neo4j browser :sysinfo command.
Don't forget that you can see all knowledge base articles by going to neo4j.com/developer/kb. If there's something that you'd like to know but can't figure out, send us an email and we'll help you out.
Next Week
What's happening next week in the world of graph databases?
| Date | Title | Group | Speaker |
| --- | --- | --- | --- |
| January 17th 2017 | | | |
| January 17th 2017 | | | |
Tweet of the Week
My favorite tweet this week was by Garrigos Adrian:
View image on Twitter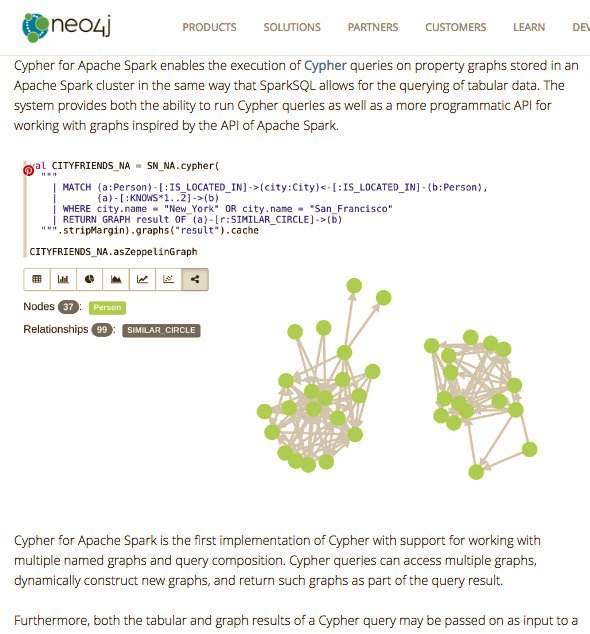 garrigos adrian@4dri4nG4rrigos

#Neo4j#Cypher for Apache #Spark

"Cypher queries in CAPS can access multiple graphs, dynamically construct new graphs, and return such graphs as part of the query result."https://neo4j.com/blog/cypher-for-apache-spark/?utm_content=bufferbe7c5&utm_medium=social&utm_source=twitter.com&utm_campaign=buffer …
Don't forget to RT if you liked it too.
That's all for this week. Have a great weekend!
Topics:
database ,neo4j ,graph databases ,microsoft azure ,knowledge graphs
Published at DZone with permission of Mark Needham , DZone MVB. See the original article here.
Opinions expressed by DZone contributors are their own.
Database Partner Resources