This Week in Neo4j: Graph Visualization, GraphQL, Spatial, Scheduling, Python
DZone 's Guide to
This Week in Neo4j: Graph Visualization, GraphQL, Spatial, Scheduling, Python
Get a review of what's been happening in the world of graph visualization, Neo4j, GraphQL, spatial, scheduling, and Python in the last seven days.
Join the DZone community and get the full member experience.
Join For Free
Welcome to this week in Neo4j, where we round up what's been happening in the world of graph databases in the last seven days. As my colleague Mark Needham is on his well-earned vacation, I'm filling in this week.
Next week we plan to do something different. Stay tuned!
Featured Community Member: Jeffrey Miller
Jeffrey A. Miller works as a Senior Consultant in Columbus, Ohio supporting clients in a wide variety of topics. Jeffrey has delivered presentations (slides) at regional technical conferences and user groups on topics including Neo4j graph technology, knowledge management, and humanitarian healthcare projects.
Jeffrey A. Miller: This Week's Featured Community Member
Jeffrey published a really interesting Graph Gist on the Software Development Process Model. He was recently interviewed at the Cross-Cutting Concerns Podcast on his work with Neo4j.
Jeffrey and his wife, Brandy, are aspiring adoptive parents and have written a fun children's book called "Skeeters" with proceeds supporting adoption.
On behalf of the Neo4j community, thanks for all your work Jeffrey!
Interesting, Neo4j Related Projects
Nigel is teasing us:
A new version of py2neo is coming soon. Designed for Neo4j 3.x, this will remove the previously mandatory HTTP dependency and include a new set of command line tools and other goodies. Expect an alpha release within the next few days.
Graph Visualizations
I had some fun this week with 3d-force-graph and neo4j. It was really easy to combine the 3d graph visualization project based on three.js and available in 2D, 3D, for VR and as React Components with the Neo4j javascript driver. The graphs up to 5,000 relationships load sub-second.
See the results of my experiments in my repository which also links to several live versions of different setups (thanks to rawgit).
My colleague Will got an access key to Graphistry and used this Jupyter Notebook to load the Russian Twitter trolls from Neo4j.
I also came across another Cytoscape plugin for Neo4j, which looks quite useful.
Zhihong SHEN created a Data Visualizer for larger Neo4j graphs using vis.js, you can see an online demo here
Desktop and GraphQL
This weeks update of Neo4j Desktop has seen the addition of the neo4j-graphql extension that our team has been working on for a while.
There will be more detail about it from Will next week but I wanted to share a sneak preview for all of you that want to have some fun with GraphQL and Neo4j over the weekend.
Tweet of the Week
My favorite tweet this week was our own Easter Bunny: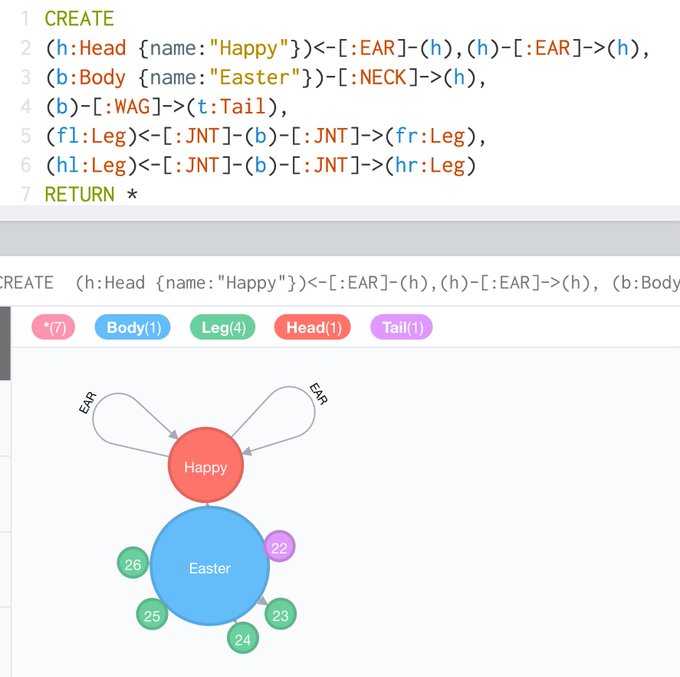 Don't forget to RT if you liked it, too.
Topics:
database ,neo4j ,python ,graph visualization ,graphql
Opinions expressed by DZone contributors are their own.
Database Partner Resources