Thought Diversity Lessons From the Video Game Industry
DZone's Guide to
Thought Diversity Lessons From the Video Game Industry
Join the DZone community and get the full member experience.
Join For Free
Sensu is an open source monitoring event pipeline. Try it today.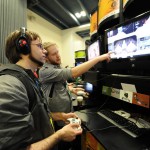 I've written a number of times on the importance teams play in the innovation process, and the key role the structure and makeup of that team is to your chances of success.
A recent study from researchers at Warwick University has explored the issue in the particular environment of the video games industry. What sets successful teams apart from their less successful peers?
The study analyzed the teams behind every single video game invented between 1979 and 2009. That's over 23,000 titles in total, with the analysis exploring things like the career backgrounds of each developer.
The authors then highlighted particularly groundbreaking games, which were selected by virtue of the critical reviews they received. The hope was that particular traits would emerge that were common amongst these innovative teams.
Thought diversity
Thought diversity is a topic that has come up numerous times on this blog, and it's a trait that the paper discovers is key to creative teams in the gaming industry.
"Say you put a team of developers together and you ask them to be inventive, but they've all been exposed to the same things in the past, i.e. they've worked on similar games previously or for the same companies. Well, it's not very likely they'll come up with something new," the authors say.
They go on to say however that diversity can be a mixed blessing, with diverse opinions bringing fresh insights but also greater coordination challenges.
"You obviously need diversity in a team to stimulate creativity. However, if you put together a team where they've all been exposed to very different things, you have the potential to innovate, but there are also challenges for coordination within the group because there is such a range of backgrounds," they say.
It's an opinion shared by a study I wrote about earlier this year, and both papers highlight the importance of managing diversity to ensure that it's channeled effectively.
Central to this process, the authors contends, is having people within the team that have worked with each other previously. They are then capable of validating the 'diverse' opinions, thus ensuring they receive a fair hearing within the team.
Cross industry application
Suffice to say, that kind of insight is something that has distinct applications outside of the video gaming industry.
"We say you need a diverse mix of staff and enough social structure, i.e. enough people who have worked together in the past within that team, to make innovation work – and on top of that you need people in the organisation to say 'don't rush it'," the authors conclude.
Whilst tension and diversity of ideas is great, the coordination aspect of it is crucial if the team is to remain harmonious enough to function effectively.
Topics:
performance ,game dev ,thought diversity
Performance Partner Resources
Performance Partner Resources