Tools to Power Every Phase of Java Development (Part 1)
DZone 's Guide to
Tools to Power Every Phase of Java Development (Part 1)
Everyone could use a list of tools to help you at every stage of development of your Java projects! Let's look at several categories to help you get what you need.
Join the DZone community and get the full member experience.
Join For Free
Many know Java as one of the simplest, but most powerful (not to mention sought-after) programming languages used by web developers. But there are others who see it in the opposite light, saying that Java is a hard and more complex programming language.
In order to execute your Java coding more effectively, there are a handful of Java tools that web developers can use in different phases of programming/development. Below, we've listed 63 of them – the essential tools that every web developer needs in their Java toolkit. They're listed below in no particular order, but we have categorized them to make it easy for you to find the type of Java tool you're looking for.
General Java Development Tools
1. JDK (Java Development Kit)

When it comes to developing Java-based applets and applications, a necessary tool is the JDK. The JDK includes the Java Runtime Environment, the Java compiler, and the Java APIs. This tool is easy to use both for new and experienced programmers.
Key Features:
Java Runtime Environment
Java compiler and Java APIs
Good for beginners and professionals, alike
Cost: FREE
2. Gradle

Gradle is a tool that is a combination of almost everything you could need. It can help in developing anything from mobile apps to microservices and is suitable for companies from small startups to big enterprises.
Key Features:
Build anything
Rich API that can automate everything
Fast
First-class support for your IDE of choice.
Cost:
3. Apache ANT

Apache ANT is an open source tool by the Apache Software Foundation. The tool is very simple, with many features. It is a Java library and command-line tool that aims to drive processes.
Key Features:
Simple
Automate tasks
Java library, command-line tool
Built-in tasks that allow you to compile, assemble, test and run Java applications
Can be used to pilot any type of process
Cost:
4. Cucumber-JVM

Cucumber-JVM is a Cucumber implementation for the most popular JVM languages. It consists of several modules that are downloadable from public maven repo.
Key Features:
It supports different JVM languages
Cost:

JD-GUI is a graphical utility that exhibits Java source codes of ".class" files.
Key Features:
Fast Java decompiler
Intuitive design
Easy navigation
Search function and general options
Ending note
Cost:
6. Hibernate

Hibernate is a popular persistence API/object relational mapping (ORM) Java tool.
Key Features:
Domain model persistence for relational databases
Full-text search for your domain model
Annotation based constraints for your domain model
Domain model persistence for NoSQL datastores
Command line tools and IDE plugins for your Hibernate usages
Cost:
7. Javadoc

Javadoc is an API documentation-generating tool in HTML format that works through doc comments in source code. It is offered by Oracle and is free.
Key Features:
Doclets API
Taglet API
MIF Doclet
DocCheck Doclet
Exclude Doclet
Doclet Toolkit
Cost:
8. MySQL

MySQL is one of the most popular open source databases. It is also supported and trusted by Oracle Corporation.
Key Features:
Cross-platform support
Update-able views
Stored procedures, using a procedural language
Cost:
9. Docker

Docker is a leading software container platform. It is used to eliminate "works on my machine" problems when collaborating on code with other parties.
Key Features:
Package dependencies with apps in Docker containers for portability and predictability
Works with any stack
Better team collaboration
Ready for production
Extensible and flexible
Cost:
Docker Community Edition (CE) – FREE
Docker Enterprise Edition (EE)

Basic – Starting at $750 per node / per year
Standard – Starting at $1500 per node / per year
Advanced – Starting at $2000 per node / per year
10. VMWare

VMWare is a virtualization tool that allows users to partition a single physical server into multiple virtual machines.
Key Features:
vSphere that features VMotion – moved running virtual machines (VMs) from one server to another
vSphere with Operations Management
VMware Integrated OpenStack
Cost:
11. Grails

Grails is previously known as Groovy on Grails. It is a programming framework based on Groovy, for the JVM built on top of Spring Boot.
Key Features:
Smooth Java integration
Domain-specific languages
Plugins
IDE Support
Integrated ORM/NoSQL support
Powerful view technology
Spring-powered dependency injection
Cost:
IDEs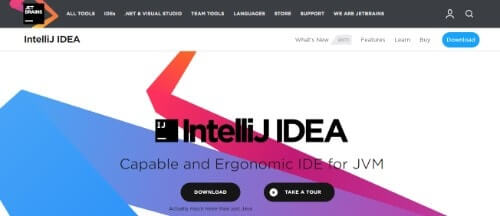 For the Editor or IDE, IntelliJ IDEA was reported by RebelLabs Java Tools and Technologies Landscape as the top IDE in 2016. IntelliJ IDEA has helped many developers come up with innovative Java solutions. It is designed to maximize developer productivity and is a Java tool that makes the experience more enjoyable.
Key Features:
Can help boost productivity with the use of "Smart Code Completion" and "On-the-fly Code Analysis"
Advanced support for web and mobile development
Deep intelligence
Framework-specific assistance
Cost:
FREE trial
New Subscription

IntelliJ IDEA Ultimate

US $ 499.00 /1st year
US $ 399.00 /2nd year
US $ 299.00 /3rd yr onwards

All Products Pack

US $ 649.00 /1st year
US $ 519.00 /2nd year
US $ 389.00 /3rd yr onwards

Special Price for Perpetual License Holders* (20% off)

IntelliJ IDEA Ultimate
All Products Pack

US $ 519.00 /1st year
US $ 389.00 /2nd year
US $ 389.00 /3rd yr onwards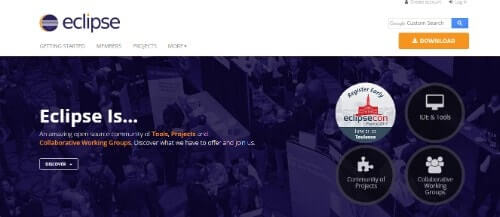 Eclipse is another top IDE tool as reported on the DZone Guide to the Java Ecosystem, 2015 edition. Many developers prefer Eclipse because of the amount of assistance that it can provide when it comes to code completion, refactoring and syntax checking. Overall, Eclipse, is also a great open source community of Tools, Projects, and Collaborative Working Groups.
Key Features:
Free and open source
Code completion assistance
Refactoring and syntax checking assistance
Java Development Tools project (JDT) with plug-ins
Language combination support (C/C++ and PHP IDE)
Cost: FREE

NetBeans is another top-notch IDE tool that is both free and open source. It features converters, editors, and code analyzers. It has a worldwide community of users and developers.
Key Features:
Java, JavaScript, HTML5, PHP, C/C++, and more
Converters
Fast and smart code editing
Code analyzers
Static analysis that can help you write bug-free code
Cost:

Oracle JDeveloper is a free IDE that can help you create Service Oriented Architecture with Java, or Java Enterprise Edition applications.
Key Features:
Complete end-to-end development for Oracle's platform and Oracle's applications
They offer many resources, demos, training, tutorials
Discussion forum
Cost:
Winding Down
That's all for now! We've covered some of the most useful Java tools for development, containerization, and virtualization. But there are plenty of other tools worth looking at. Part 2 of this series will focus on the tools you should consider when it comes to code analysis and coverage testing, profiling, performance, and logging. Stay tuned!
Topics:
java ,java development tools ,ide ,jdk
Published at DZone with permission of Angela Stringfellow , DZone MVB. See the original article here.
Opinions expressed by DZone contributors are their own.