Tools to Power Every Phase of Java Development (Part 2)
DZone's Guide to
Tools to Power Every Phase of Java Development (Part 2)
There's no shortage of Java tools on the market, both free and paid. Here, we break down what you can choose from for code coverage, logging, and APM.
Join the DZone community and get the full member experience.
Join For Free
Welcome back! In case you missed Part 1, we began our journey to better Java development by presenting an overview of the tools every developer should be aware of, with a focus on the more general-purpose tools out there and IDEs. Today, we're going to focus on code analysis, profiling, logging, and performance tools.
To lend a hand, we'll be covering some of the key features of each tool as well as pricing breakdowns to help you make the best possible decisions for your projects. We left off on tool 15, so, we'll pick up from there.
Code Analysis/Coverage, Profiling, Logging, and App Performance Tools
16. Retrace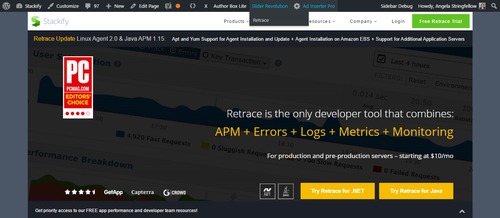 What could be better than a debugging tool that works seamlessly with your existing processes? Enter Retrace, Stackify's APM that combines errors, logs, metrics, and monitoring in a single suite of tools to supercharge your application performance.
Key Features:
Combines logs, errors, and APM
Structured/semantic logging
Advanced searching and filtering capabilities
View and search custom log properties
Automatic color-coding to draw attention to errors and warnings
Tracking and reporting on where your log messages originated in your code
Detailed traces on web requests and transactions
View full application error details
Explore all your logging fields
Log analytics
Real-time log tailing
Use tags (highlighted in your logs)
Supports a variety of application and server logs
Cost:
Starts at $10/month for QA/Pre-Prod Servers
$25 – $50/month for Production Servers
Start a free trial
17. OverOps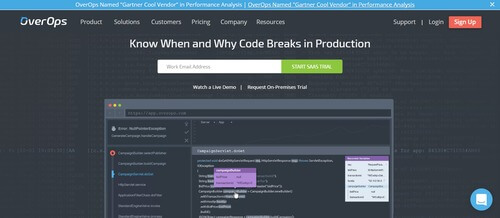 OverOps answers all the important questions that run through your mind when your code breaks (when? why?). It has a lightweight macro-agent that detects when your code breaks, notifies your team in real-time about where the break occurred and what variable state caused it, and more.
Key Features:
Proactively detect when deployments produce errors
Avoid release delays by mitigating production issues
Find root cause in production with full source code and variables
See variables behind any log error
Real-time alerts
Cost:
Lite: Free forever, 1 User / 1 JVM
Pro: $109/month per JVM with annual plan, up to 25 users
Enterprise: Contact for a quote
18. Monit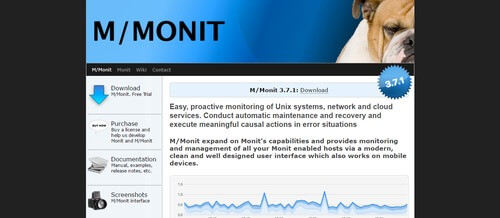 Monit offers easy, proactive monitoring for Unix systems, as well as network and cloud services. Monit makes it simple to conduct automatic maintenance and recovery. Think of Monit like your personal Unix "watchdog."
Key Features:
Conducts automatic maintenance and repairs when errors arise
Monitors process characteristics, so you always know how much memory is being used
Works across your Unix framework
Modern, clean user interface
Cost:
5 Hosts: € 65
10 Hosts: € 129
20 Hosts: € 229
50 Hosts: € 349
100 Hosts: € 499
1,000 Hosts: € 699
19. YourKit

YourKit is one of the most popular Java profiling tools on the market. It is known as having the most innovative and intelligent tools for profiling Java and .NET applications.
Key Features:
Profile any SE or EE application, server, technology and framework
Can be used with multiple platforms
For teams and companies of any size
All-in-one profiler
Developer friendly environment
Cost:
Per-seat license

1 year of basic support

Single license $499 / €459
5-License pack $1,399 / €1,289

1 year of advanced support

Single license $649 / €599
5-License pack $1,819 / €1,679

2 years of advanced support

Single license $999 / €919
5-License pack $2,800 / €2,579

Floating license

1 year of basic support

Single license $2,499 / €2,299
5-License pack $2,999 / €2,759

1 year of advanced support

Single license $3,250 / €2,990
5-License pack $3,899 / €3,589

2 years of advanced support

Single license $5,000 / €4,600
5-License pack $6,000 / €5,520

Enterprise license (contact for a quote)
Academic license

1 year of basic support

Per-seat license $99
Institution-wide license $999

Open source project license (contact for a quote)
20. FindBugs

FindBugs is a static code analysis tool looking for bugs in Java code. It is distributed under the Lesser GNU Public License.
Key Features:
Easy to use
Simple way to look for bugs in Java code
Free software
Cost:
21. Apache Maven

Apache Maven is a software project management and comprehension tool that is best known for dependency management, build actions, debugging and collaboration.
Key Features:
Can manage project's build, reporting, and documentation from central information
Simple project setup
Consistent usage across all projects
Dependency management including automatic updating, dependency closure
Cost:
22. JRat (Java Runtime Analysis Toolkit)

JRat or the Java Runtime Analysis Toolkit is a tool that can measure an application's performance. You can then identify possible problems that can affect application performance with the use of this tool.
Key Features:
Monitors an application's execution
Persistent performance measurements
Data can be viewed and analyzed on JRat Desktop (Swing application)
Cost:
23. VisualVM

VisualVM is Java profiling tool that is designed for both development and production time use. It is lightweight and an all-in-one Java troubleshooting tool.
Key Features:
It monitors and troubleshoots applications running on Java 1.4+
Fits the requirements of application developers, end users, quality engineers, and system administrators
Displays local and remote Java processes
Displays process configuration and environment
It can monitor process performance and memory
Cost:
24. SonarQube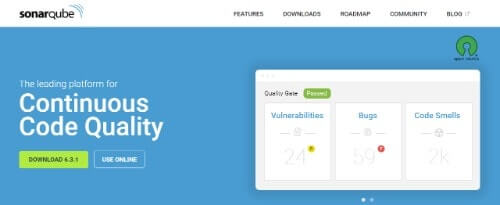 SonarQube is a leading static code analysis tool. It is an entire platform for code quality analysis, syntax checking and code metrics.
Key Features:
Entire platform for code quality analysis, syntax checking and code metrics
Write clean code
DevOps Integration
Centralize Quality
Cost:
25. Clover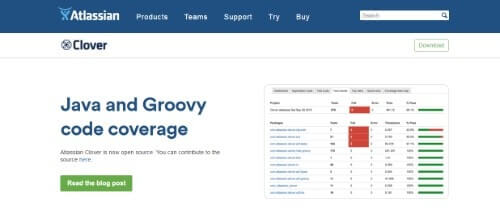 Atlassian's Clover is a tool that provides Java and Groovy code coverage.
Key Features:
Java and Groovy code coverage
Free to open source projects
Source code instrumentation technique that can collect code metrics
Historical reporting
Command-line tool set
Cost:
26. Log4j

Log4j is the leading logging library framework. The new version of the tool offers significant improvements over its predecessor.
Key Features:
API Separation
Improved Performance
Support for multiple APIs
Avoid lock-in
Automatic Reloading of Configurations
Advanced Filtering
Plugin Architecture
Property Support
Cost:
27. Checkstyle

Checkstyle is a leading syntax checking tool. It is a development tool that can help programmers write Java code that follows coding standards.
Key Features:
Highly configurable
Can be made to support any coding standard
Can check many aspects of source code
Can find class design problems or method design problems
Has the ability to check code layout and formatting issues
Cost:
28. WildFly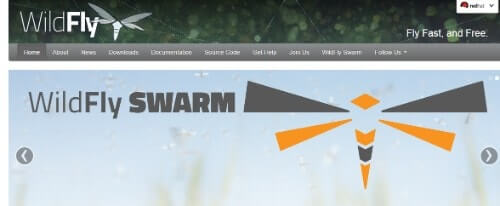 WildFly is an application management framework that is known for being lightweight and flexible. It helps with building applications.
Key Features:
Fast startup
Ultimate web performance and scalability
Memory diet (lightweight)
Customizable runtime
Unified configuration and management
Domain and standalone management
Supports latest standards and technology
Cost:
29. Cobertura

Cobertura is a code coverage utility for Java. This Java tool helps calculate the percentage of code accessed by tests. It is free to use.
Key Features:
Coverage annotations – it allows people to add a Java 6 annotation
Ant Task Reference
Works through command-line or via ant tasks
Cost:
30. JProfiler

JProfiler is a tool for Java profiling, combining CPU, Memory and Thread profiling into one application. It is offered by ej-technologies.
Key Features:
Live profiling of a local session
Live profiling of a remote session
Offline profiling and triggers
Snapshot comparisons
Viewing an HPROF snapshot
Request tracking
Cost:
31. XRebel

XRebel is a tool for Java web application development time profiler. It supports real-time performance insights that can be very helpful for developers looking to find and fix any issues early on.
Key Features:
Real-time feedback
Always on
Made for development
Track down hidden exceptions
Cost:
FREE trial
$365 for annual license
Summary
And that's the lot of them! Hopefully, you found this list of APM, logging, and code analysis/coverage tools helpful in your decision making. Next up, in Part 3, we'll be examining the CI tools out there as well as what you can use for app servers and app management, the web frameworks you can choose from, and what tools will help you test your code. Stay tuned!
Topics:
java ,java tools ,code coverage ,logging ,apm
Published at DZone with permission of Angela Stringfellow , DZone MVB. See the original article here.
Opinions expressed by DZone contributors are their own.