Top 9 Cross-Browser Compatibility Testing Tools in 2018
DZone's Guide to
Top 9 Cross-Browser Compatibility Testing Tools in 2018
Make sure your web app will work for all users by testing cross-browser compatibility with the variety of tools discussed here.
Join the DZone community and get the full member experience.
Join For Free
Sensu is an open source monitoring event pipeline. Try it today.
Cross-browser compatibility testing is a necessity in the face of modern web app development. At first, it would seem very baffling, but it really isn't! You might have encountered an outage where your end users were not able to operate your product using a particular web browser. Flex, JavaScript, Applets, AJAX requests, Flash, and many more client-side components may behave differently on different web browsers. This happens due to rendering engines. The rendering engine is a part of a web browser which is responsible for presenting the content on various screens. This content could be text, images, or any other graphical representation. Every browser manufactured, be it Chrome, Mozilla Firefox, Safari, etc. has its own uniquely designed rendering engine. The process of checking that your web app stays compatible on various browsers is what we call cross-browser compatibility.
You may be wondering, "Why do I need to go for various browsers when I know that the majority lies with Google Chrome?"
Chrome is, without a doubt, is the most widely used web browser.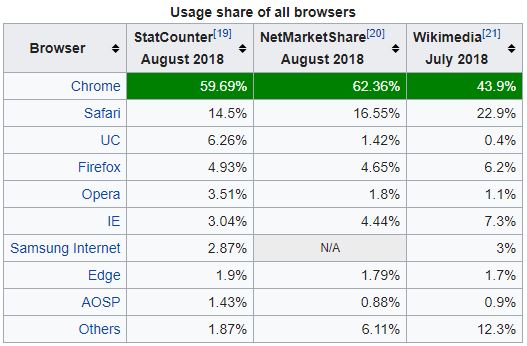 Source: Wikipedia.
As a web app which is open to all the world through the internet, even these tiny percentages could mean thousands or millions of potential leads. Even that 1.9% of net traffic from Edge Browser can help you expand your customer chain.
What you also need to consider is that a rendering engine could vary from one browser version to another. For instance, Chrome 68 may support a website which may not be compatible on Chrome 56.
The challenge here is that it isn't feasible for a company to maintain a library of various devices and browsers with all their versions. The good news is that there are tools available on the market to facilitate cross-browser compatibility checks.
Here is a list representing the 9 most impressive cross-browser compatibility tools in 2018. This list is evaluated on the basis of pricing offered, customer satisfaction with services provided, and overall UI as well as UX.
LambdaTest
Introduced a year ago, LambdaTest has been promising ever since they emerged. It offers the widest range of web browsers with a simplistic UI. The runtime for a VM setup is considerably faster compared to similar service providers. What I like the most about LambdaTest is that they take customer feedback very seriously. I have seen how they have transformed many of their UI components for better customer experience over the past 6 months. Their 24/7 customer support provides a cutting-edge end-user experience.
Pros:
2,000+ mobile and desktop browsers with their versions.

Instant VM setup and one-click bug logging to other bug tracking platforms like Jira, Asana, and many more. Provides an inbuilt image editor to highlight bugs as you mark them.

You can perform real-time testing for free. The minutes are renewed at the end of every month. You can video record all your tests.

You can also perform automated screenshot testing on 25 configurations and responsive testing on 44 devices in one go.

The Visual UI Smart Testing feature allows you to easily find deviations between different images.

Validation of CSS and HTML elements using in-built Dev tools.

Allows you to test you locally stored web pages through an SSH tunnel hosted on their cloud server.

Has a Wordpress plugin and a Chrome Extension for capturing full-page screenshots on the go as you surf the internet.

The most economic pricing as compared to its competitors.
Cons:
APIs unavailability for screenshots.

It is missing automation testing so far.

Image editor is missing in Wordpress plugin and Chrome Extension.
Unlimited:

$15/month billed annually providing 1 concurrent session(5 users).

$25/month providing 2 concurrent sessions for 10 users.

Free Plan:1 concurrent session for 3 users. 60 minutes of real-time testing. 10 screenshot tests/month. 10 responsive tests/month.
Saucelabs
A big household name in the cross-browser compatibility domain, Saucelabs provides cloud-based automated test coverage. Perform your testing on Appium or Selenium on web and mobile apps. Although, their overall testing experience is a bit laggy.
Pros:
Automated testing using Selenium or Appium.

Intuitive UI.

Video record and capture screenshots for all your tests.

800+ desktop browsers with versions.

200+ mobile emulators and simulators.

Offers a Real Device Cloud for testing on thousands of Android and iOS devices.
Cons:
Comparatively expensive.

Doesn't offer a free plan.

No integrations with third-party applications.

No automated screenshot feature.

Higher concurrent sessions have considerably higher pricing.
Live: $19/month billed annually for 1 concurrent session.

Automated: $149/month billed annually for 2 concurrent sessions.

Unlimited: $298/month billed annually for 2 concurrent session

Provides a 14-day free trial.
Browserstack
Browserstack is another big name in the cross-browser testing industry, with a large variety of browsers for you to choose from, claiming to be "the only testing infrastructure you need."

Pros:
Automated testing available for desktop and mobile.

1,200+ browsers and real mobile devices.

Screenshot and responsive testing.

Automated testing on native as well as hybrid applications using Appium, Espresso, and XCUITest automation frameworks.

Automated desktop testing and real mobile device testing using Selenium Grid.
Cons:
Doesn't offer a free plan, and even the free trial gives half the testing time compared to competitors.

Screenshot feature has only outdated browsers.

Higher concurrent sessions have considerably higher pricing.
Live: $29/month billed annually for 1 parallel test (1 user).

$99/month for 2 parallel test (5 users).

Free trial offers 30 minutes for live testing & 100 minutes automated testing. However, the plan needs to be upgraded once the consumption limit is reached.
Cross Browser Testing
The name makes it obvious. Cross Browser Testing was the first vendor in the market for addressing cross-browser compatibility issues. Being the first vendor has it's downsides. Late entries are bound to aim for a better build. This tool offers every feature in comparison with the ones mentioned above. You can perform manual and automaedn testing on VMs running through real physical devices.
Pros:
1,500+ browsers to test on.

Record and Play for codeless automation.

Uses real browsers so you can evade the proximity in terms of results.

Screenshot capture and comparison.

Video recording via the API.
Cons:
Overcomplicated visual interface.

No integrations for live interactive browser testing.

No free plan.
$29/month for 1 parallel live session.

$100/month for 5 parallel live sessions.
Browserling
Browserling provides a very basic UI with simple drop-down selections of browsers and OS. In comparison to other competitors, their speed is pretty slow, but they are updated in terms of the latest browsers. They are working on bringing screen-sharing for browser testing sessions to hasten the problem-solving.
Pros:
Easy to use.

Screenshot testing and responsive testing.

Browser extensions available for Chrome, Firefox, Opera, and Safari.
Cons:
The free trial is limited to 3-minute sessions only.

You can only test in IE 11 on Windows 7 at 1024x768 resolution in the free plan.

Video recording is missing, but they seem to be working on that.

macOS is not available.

Automated testing is not supported.
$19/month for 1 user.

$29/month for 2 users.
BrowseEmAll
BrowseEmAll is an on-premise tool for cross-browser compatibility testing on Windows, macOS, and Linux. You can Record & Play to automate browser testing using Selenium without any code. The platform lacks a good UI experience.
Pros:
Easy to use.

Supports major browsers — IE, Edge, Safari, Mozilla Firefox, Chrome.

Automated testing using Selenium.

Convert the recorded tests to code. Export the code to various programming languages.

Full-page screenshot testing and responsive testing.

Layout comparisons.
Cons:
Needs a more dynamic UI — too basic.

Glitchy testing experience.

Monthly basis plans not available.
Pricing:
$169/annual license - manual testing only.

$199/annual license - manual & automated testing.
TestingBot
Instantly test on any browser through TestingBot's cloud-based Selenium grid. It supports different versions of Windows, macOS, and Linux. You can test on different frameworks like Appium, PHP, Java, Ruby, and Node.js, and can manually debug an automated test with recorded logs.
Pros:
1,500+ real browsers.

Automated testing platform.

Provides a fresh VM every time you launch a test.

Supports parallel testing on 100+ in the browser grid.

Locally-hosted website testing and detailed analytics through advanced reporting performed by APIs.
Cons:
UI needs a better touch.

Automated testing seems to take a very long time.
$20/month for 1 simultaneous test.

$89/month for 4 simultaneous tests.

14 days trial with 100 minutes of testing, 2 concurrent VMs.
MultiBrowser
MultiBrowser was introduced to the market in 2014 and has been progressing since then. It provides real standalone browsers to help you avoid the pain that comes with managing a testing lab. It offers everything in comparison to its competitors.
Pros:
You can add a custom device according to your specifications.
Screenshot and responsive testing.
Built-in video recorder.
You can perform tests on code you've crafted and export them to different languages.
Provides an automated functionality tester to allow you to test a website even without any knowledge of code.
Cons:
Needs to work on its content display.

Sluggish test experience in VMs.

The tool doesn't quite offer the UI with respect to the pricing.
$199 per license for a year.

Free trial for 14 days to evaluate everything they offer.
Browsershots
The Browsershots platform is a treat for people who work as freelancers. An open-source platform where you can test from a variety of browser, the UI is a bit of a disaster, but you can't really complain if it's open-source. They don't offer live VM testing. Also, the time taken for test completion could be fairly more, to compensate that they offer a Priority Processing for $29.95/month.
These are the top 9 Browser Compatibility Testing tools of 2018. I hope this article would help you make the right call in choosing the right option, according to your business needs.
Topics:
cross browser testing ,web testing ,performance ,compatibility testing ,web apps
Opinions expressed by DZone contributors are their own.
Performance Partner Resources
Performance Partner Resources