Transparent Monolith Migration
DZone 's Guide to
Transparent Monolith Migration
These steps can help overcome the challenges of monolith migration to help enterprises deliver software faster than ever.
Join the DZone community and get the full member experience.
Join For Free
Today's competitive enterprise world has offered large businesses a world of opportunities and access to many new markets. However, for some, it has caused turmoil and, sometimes, a battle for relevance. Never before have businesses operated in a more dynamic environment. Investors and other stakeholders are forcing Fintech companies to go to market early and win the deal.
But 70% of data are still in monolithic platforms, and competitive companies are struggling to process massive amounts of data in shrinking batch windows. Enterprises worldwide have a wealth of application logic and capabilities that have formed the backbone of their online transaction processing (OLTP) and batch process workloads for decades.
Monolith Challenges
Business Agility: Significantly enabling business agility.
Cost: Costs stack up as these monolithic systems are hard for employees to use and maintenance costs grow significantly over time.
Outdated Technologies: Systems are built on a monolithic platform and centralized database.
System Resistance: It's hard to enable current business needs and regulatory compliance.
Monolith migration is one of the most complex migrations in the current software industry. It is not just migrating legacy technology to modern technologies. It involves 30 to 40 years of business functions and a large volume of metadata. In today's enterprise industries, there is a large demand for monolith migration, but it should be hassle-free migration.
A recent survey says (from "CSI Industry Thought Leadership (Banking Priorities 2017)") that a significant number of CTOs/CEOs are looking for monolith migration.
To meet the end customer's needs, it is imperative for enterprises to drive change with monolith application modernization. Which will significantly improve higher agility, which is often inhibited by monolithic systems.
In this article, I am giving some high-level migration methodology based on my experience in monolith migration.
All monolithic applications are built it up with three layers, unless they are thoroughly understood, can be like an iceberg. They are becoming more and more difficult to understand. If we are able to understand all 3 layers and it will help to meet the spotless (defect-free) migration.
User Interface (UI) Layer
Business Layer
Data Layer
Monolith Migration Methodology: 8 Simple Steps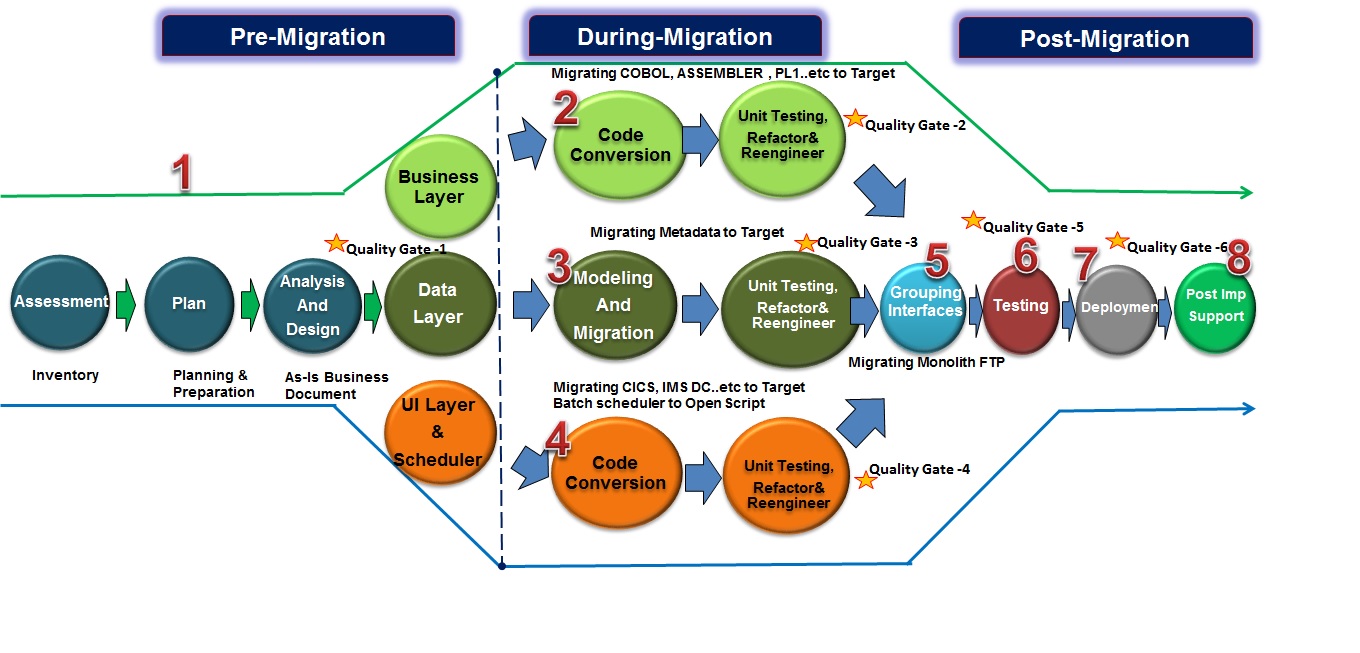 Assessment, Plan and Analysis and Design
Business Layer - Code Conversion -Refactoring
Data Layer - Data Modeling, Migration - Refactoring
UI Layer - Screen Mapping, Field Mapping - Conversion
Grouping Interfaces
Testing
Deployment
Post Implementation Support
Summary
Some service providers are claiming automated tools that are built on automated code conversion for forward-engineering-based legacy revitalization and machine learning-based cloud assessment. Whatever tool we can use (I am not getting into the tools part), in the end, we need a strong migration methodology to meet transparent migration of monolithic systems.
Topics:
microservices ,monolith
Opinions expressed by DZone contributors are their own.
Microservices Partner Resources