Trying to Invent the iPad — Back in 2001
DZone's Guide to
Trying to Invent the iPad — Back in 2001
Join the DZone community and get the full member experience.
Join For Free
One of my clients is headed to CES in a few short days with some Rapture In Venice software in tow (in progress right now!) and it's reminded me of my last experience with CES. It happened back in 2001…
Back then, I worked for a company called Qubit Technology. I'd left InfoBeat the year before to take what I considered to be a "dream job." A lot of us have had these before, but this was different. You see, I was the world's biggest BeOS fanboy and it just so happened that the only company in the world that was going to be writing BeIA code outside of Be headquarters was located in Lakewood, CO. Just minutes from my apartment in Denver. I loved my job, but this was a once-in-a-lifetime opportunity and so I took it.
Qubit's goal was to create the iPad. WHOA, WHAT?! Yes. We were trying to create an iPad in 2001. We didn't have Apple's hardware chops (or software chops as it were), but we were leveraging some Motorola hardware and Be's new BeIA system software to make a wifi web experience for the home. We were competing with Sony at the time. They were known to be creating the eVilla, a not-so-mobile device that was nonetheless positioned at the forefront of the toaster revolution.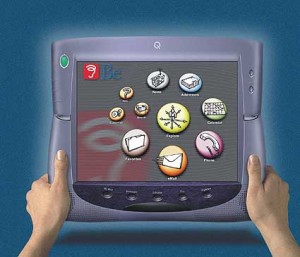 I had so much fun. I ported over the Jabber client I'd written for BeOS to the BeIA platform. To this day I believe I was, and am, the only 3rd-party BeIA developer in the world. BeIA wasn't available to anyone publicly (as opposed to BeOS for the desktop), and Sony had no in-house BeIA developers as far as I knew — they were contracting the work through Be. But, here I was, writing Jabber for BeIA. We integrated it into the architecture and our software stack was coming along. (I'd also ported Galaga and The Brain to BeIA as well.)
Sadly, just weeks before CES, someone at Qubit sounded the panic button and we opted to use QnX for our wireless platform instead. (We had toaster devices competing directly with the eVilla which continued to use BeIA.) LITERALLY, with just two weeks to go, we switched to using a web framework that we'd been building for an ADT Security product. It left me with no time to do any engaging, native development.
So, I kid you not, we went to CES with our tablets using an empty framework and a set of IMAGE FILES to hint at what was "to come." The device did nothing. It displayed JPGs, which our graphics designer made, of what a contact list might look like, or a calendar, or a todo list…that was it.
It's no surprise that Qubit sent about three quarters of the company to CES that year. The developers all went because we were still writing the pretend software when we got there. We had our entire computer systems shipped, too. It was my first time in Las Vegas, but I spent the first day holed up in my hotel room with room service as my lifeline. Not a happy camper I was.
The next night, the night before CES was set to start, the dev team got to go to the tent where we had our booth. Our booth was huuuuuuuuuuge! (This was the boom after all.) I remember we were located between Palm and Transmeta. I remember wondering if Linus Torvalds (of Linux fame) would be there in person with his new company. All the while, I was still working on the software we were set to demo the next day. You know, the glorified image viewer.

We were so, so tired.
Sadly (but expectedly), the story at CES that year didn't end up being about us. However, here's a bit of trivia. We took 2nd place for Most Innovative New Product that year. Yes, the judges (we seemingly paid off) loved our image viewer! And had it not been for one company…ONE COMPANY…we would have won. Can you guess who that was? Which ONE COMPANY edged out our image viewer for Most Innovative New Product.
It was a then unknown company named XM Satellite Radio.
Can you imagine?
Whatever happened to them?

Qubit Technology went out of business, quite literally, on 9/11. That's an interesting story for another day, but I distinctly remember that when I found out that we were going out, and that I had a 7-week severance package for my troubles, I was overjoyed. I was Charlie going to the chocolate factory! By then, all BeIA development had been cut off and I had spent months miserably writing QnX code and hating every last moment of it.
We never did invent the iPad. Apple did 8 years later. But those lasting memories of taking our little dream to CES, however badly executed on, will last forever for me.
To my client, Jason, down there in Tennessee right now — I hope I redeem myself for you in just 3 short days.