Unblock Files In Windows 8 Using PowerShell And Registry
DZone's Guide to
Unblock Files In Windows 8 Using PowerShell And Registry
Join the DZone community and get the full member experience.
Join For Free
Introduction
In case you haven't noticed, the following "Unblock" button is missing from Windows 8 file properties.
This can be a tad annoying when downloading zip files from the internet and answering security prompt after prompt to get the file loaded. So, what did I do? I fixed it by using PowerShell and a quick registry entry.
The Solution
Note: If you don't want to dig into the registry yourself then you can just download the completed .REG file here.
Create a new registry entry in : HKEY_CLASSES_ROOT\*\shell\ and call it powershell, now set the Data to be "Unblock Files".

Underneath the powershell key we just created, add a new key called command and set the data to be C:\\Windows\\system32\\WindowsPowerShell\\v1.0\\powershell.exe Unblock-File -LiteralPath '%L'
Just copy and paste that entire line.

Now if you right click on a file or files, then you will see the option to "Unblock Files"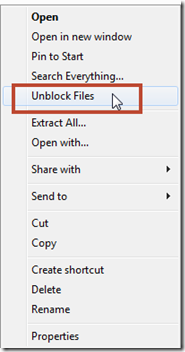 Also as stated earlier, you can download a .REG file from here to avoid performing any of this work. The contents of the registry file are as follows:
Windows Registry Editor Version 5.00

[HKEY_CLASSES_ROOT\*\shell\powershell]
@="Unblock Files"

[HKEY_CLASSES_ROOT\*\shell\powershell\command]
@="C:\\\\Windows\\\\system32\\\\WindowsPowerShell\\\\v1.0\\\\powershell.exe Unblock-File  -LiteralPath '%L'"
Wrap-up
I hope this helped! Thanks for reading.
The "latest and greatest" bits of all Microsoft Products can be found below.
Windows 8 Consumer Preview Download | VS11 Beta Download | Azure SDK | Azure Trial | Windows Phone SDK | WebMatrix
Opinions expressed by DZone contributors are their own.