Using Drones to Monitor for Light Pollution
DZone's Guide to
Using Drones to Monitor for Light Pollution
It's a man-made solution to a man-made problem — drones are being used to make sure "dark sky" zones are kept free of light pollution.
Join the DZone community and get the full member experience.
Join For Free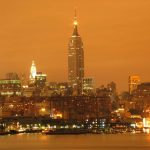 I've written a number of times about the application of drone technologies for monitoring sparse and geographically dispersed environments, whether they be our oceans or glaciers.
Now, a team from Nottingham Trent University has built a drone-based system that can be used to monitor light pollution.
Light pollution has a big impact on the natural world, with the seasonal cycle of trees disrupted and millions of birds killed each year due to disruption to their migratory patterns caused by artificial lighting.
All Too Visible
From a human perspective, it's estimated that a third of the population are prevented from seeing the Milky Way by light pollution in their town or city.
In a bid to combat this, a number of areas around the world have been designated as dark sky areas in an attempt to ensure the night sky can be viewed in its pristine glory. These have made a big impact, but they need 24/7 monitoring to ensure the dark skies are preserved.
Suffice to say, manual monitoring of such large areas is incredibly labor intensive, so the Nottingham Trent team have developed a drone-based system to do the job instead. Each drone is equipped with a Sky Quality Monitoring (SQM) device, which is capable of operating itself and maps the sky without human input.
The system consists of a microcontroller, with the data gathered by the drone captured on an SD card. It's hoped that the drones will be utilized by park rangers, who aim to preserve the beauty of their domains.
"The night sky is a vital part of our heritage, and one we should strive to protect. With a drone-mounted autonomous system, we can quickly gather the evidence we need to show where the problem is worse, and on a more positive note, find out where people can see the best views of the stars," the team say.
Suffice to say, the project is at a very early stage at the moment, but it will be interesting to see where it goes next.
Topics:
pollution ,drone ,light ,monitoring