The wages of sin: Hit that database one more time…
DZone's Guide to
The wages of sin: Hit that database one more time…
Join the DZone community and get the full member experience.
Join For Free
RavenDB vs MongoDB: Which is Better? This White Paper compares the two leading NoSQL Document Databases on 9 features to find out which is the best solution for your next project.
This time, this is a review of the Sharp Commerce application. Again, I have stumbled upon the application by pure chance, and I have very little notion about who wrote it.
You might have wondered why I named this blog series the way I did, I named it because of the method outline below. Please note that I had to invent a new system to visualize the data access behavior on this system: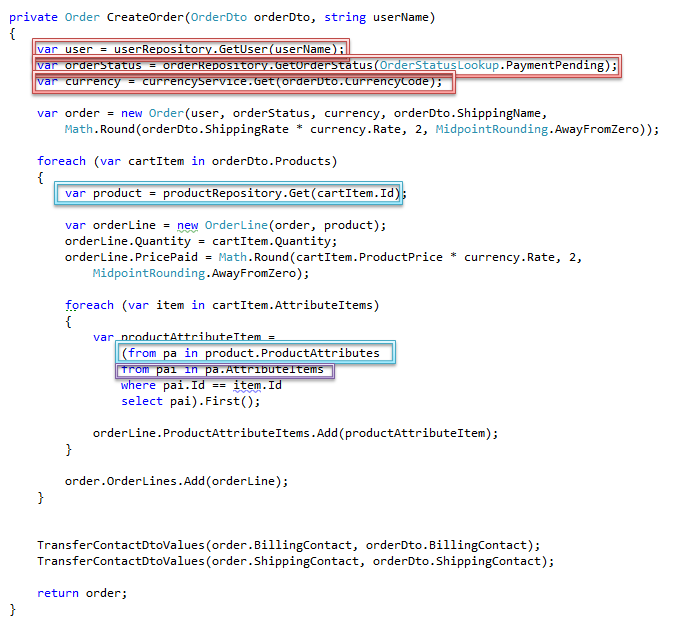 In red, we have queries that are executed once: 3 queries total.
In aqua, we have queries that are executed once for each item in the order: 2 queries per each product in the order.
In purple, we have queries that are executed once for each attribute in each of the products in the order: 1 query per attribute per product in the order.
Now, just to give you some idea, let us say that I order 5 items, and each item have 5 attributes…
We get the following queries:
3 queries – basic method cost
10 queries – 2 queries per each product
25 queries – 1 query for each attribute for each product
Totaling in 38 queries for creating a fairly simple order. After seeing this during the course review of the application, I have used that term for this method, because it is almost too easy to make those sort of mistakes.
Published at DZone with permission of Oren Eini, CEO RavenDB , DZone MVB. See the original article here.
Opinions expressed by DZone contributors are their own.
Database Partner Resources
Database Partner Resources