WAMS: An Overview
DZone 's Guide to
WAMS: An Overview
We take a basic look at the Windows Azure Media Services, and how they let developers integrate various media tools into their applications.
Join the DZone community and get the full member experience.
Join For Free
Overview
Windows Azure Media Services (WAMS) is an OData based RESTful service that exposes objects, i.e. Media Files, Assets, etc., as entities that can be queried as other OData entities. WAMS offers the flexibility, scalability, and reliability of a cloud platform to handle high-quality media experiences for a global audience.
The WAMS Interface encapsulates the key functionalities to support an End-To-End media streaming workflow with automation. It accomplishes the functionalities, by initializing the Channel object and triggering the operation in sequence and acknowledges the operations with the respective State Transitions.
The following Channel operations facilitate the complete live media delivery workflow:
| | | |
| --- | --- | --- |
| Operation | Description | Target State |
| CreateChannelSpec | Assigns the channel specifications and establishes the Channel. | Defined |
| Allocate | Allocates resources for the Channel and establishes the Channel End Points. | Idle |
| Start | Starts the Channel Operations. | Started |
| Reset | Resets the channel metadata. | Idle |
| Stop | Stops Channel operations. | Stopped |
| Shutdown | Shuts down the Channel operation. | Idle |
| DeAllocate | Deallocates and releases all Channel resources. | Defined |
| Archive | Consolidated and live streams and creates the VOD file for future use. | None |
| DeleteChannelSpec | Deletes the Channel and terminates the Channel. | None |
Channel State Transitions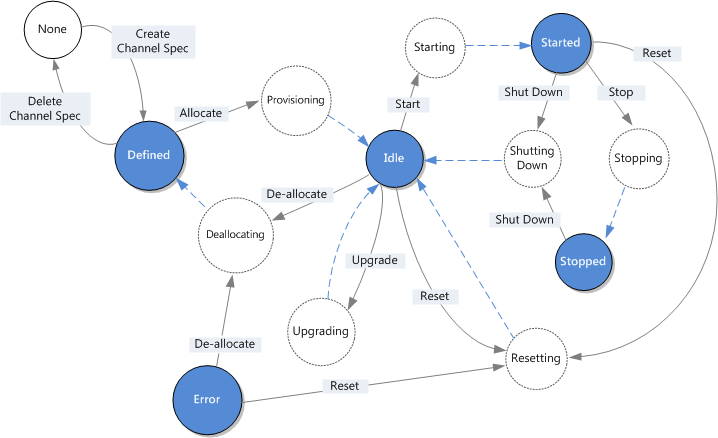 Windows Azure Media Services form an extensible media platform that integrates the best of the Microsoft Media Platform and third-party media components in Windows Azure. Media Services provide a media pipeline in the cloud that enables industry partners to extend or replace component technologies. Media providers can use Media Services to build end-to-end media solutions. The general architecture and common development scenarios for Media Services are detailed below.
The following diagram illustrates the basic Media Services architecture.
A typical video workflow involves uploading raw video to storage, encoding and protecting the content, and then streaming that content to users who can consume it on any number of devices.
Key Components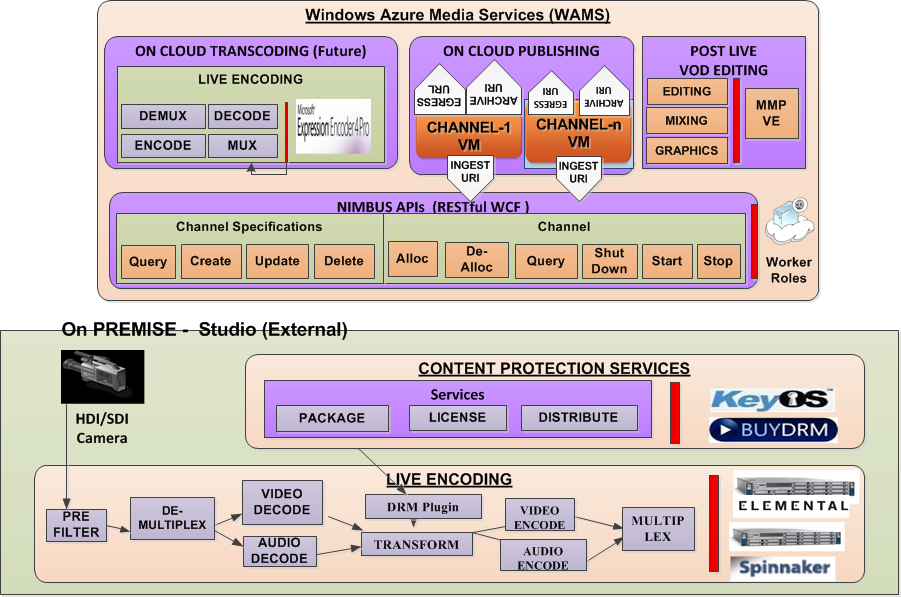 Ingest
Ingest operations bring assets into the system, by uploading and encrypting them before they are placed into Windows Azure Storage. Windows Azure Media Services supports multiple options to upload assets into Media Services:
Using REST APIs, the application/user can upload files to the server over HTTP/S with AES 256 encryption.

Bulk upload an entire media library with thousands of large files. For bulk upload, we can use the Bulk Ingest .NET Library or a partner upload solution such as Aspera which uses UDP for transporting files at very rapid speeds.

If we already have content in Windows Azure blob storage, it also supports blob to blob transfers and storage account to storage account transfers.

It also enables us to upload content through the Windows Azure Portal – which is useful for small jobs or while getting started.
Encode
Encode operations include encoding, transforming, and converting media assets. WAMS supports running encoding tasks in the cloud using the Media Encoder that is included in Media Services.
Protect
Protecting content includes encrypting live streaming or on-demand content for secure transport, storage, and delivery. Media Services provide a DRM technology-agnostic solution for protecting content. Currently, supported DRM technologies are Microsoft PlayReady Protection and MPEG Common Encryption.
Stream
Streaming content involves sending it live or on-demand to clients or enabling retrieval or download of specific media files from the cloud. Media Services provide a format-agnostic solution for streaming content. Media Services provide streaming origin support for Smooth Streaming, Apple HTTP Live Streaming, and MP4 formats. It can also seamlessly deliver streaming content by using Windows Azure CDN or a third-party CDN, which enables the option to scale to millions of users.
With Windows Azure Media Services, we can stream video to HTML5, Flash, Silverlight, Windows 8, iPad, iPhone, Android, Xbox, Windows Phone, and other clients using a wide variety of streaming formats.
Topics:
integration ,windows azure ,integration platforms
Opinions expressed by DZone contributors are their own.
Integration Partner Resources