West Coast vs. East Coast: Which Is a Better Place to Be a Python Developer?
DZone's Guide to
West Coast vs. East Coast: Which Is a Better Place to Be a Python Developer?
According to StackOverflow's 2016 Developer Survey, Python ranks as the sixth most popular programming language in the world. So, where in the US does it pay the most to be a Python dev?
Join the DZone community and get the full member experience.
Join For Free
According to the 2016 Developer Survey by StackOverflow, Python ranks as the sixth most popular programming language in the world for the second year in a row.
There are several reasons explaining why so many developers love Python. One of them is that Python skills are widely used by large companies, according to the Skill Up 2016: Developer Skills Report. Google, Dropbox, Instagram, Quora, Reddit, and other tech giants all use it for a variety of purposes.
This may be partly due to the fact that Python is frequently applied in machine learning. With the rise of data science, the popularity of Python as a scientific language has been at a consistent high.
Another factor making Python so attractive is that it may well be the only programming language you need. You can use it to build websites, analyze data, develop GUI, and "glue" other languages together. In addition to that, according to "A Comparative Study of Programming Languages in Rosetta Code", Python and other scripting languages generate the most concise code, which helps complete everyday tasks a lot faster.
Python is also one of the best-paid development skills. In the USA, the country with the highest software developer salaries in the world, an average Python developer earns $103,492 per year. Ruby engineers are the only ones commanding higher wages.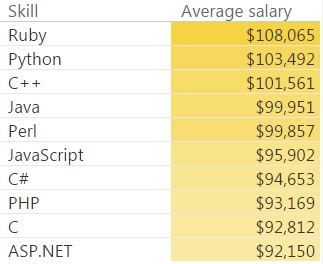 Software Developer Salary by Skill | Gooroo

We decided to collect and analyze the data on Python developer salaries around the US to find out which coast offers better compensation to Python engineers.
Python Developer Salaries in the Largest Tech Cities
We researched the average wages in the most frequently Googled cities for Python developer salaries. These include San Francisco, New York, San Jose, Boston, Austin, Los Angeles, Seattle, Chicago, Washington DC, and Atlanta.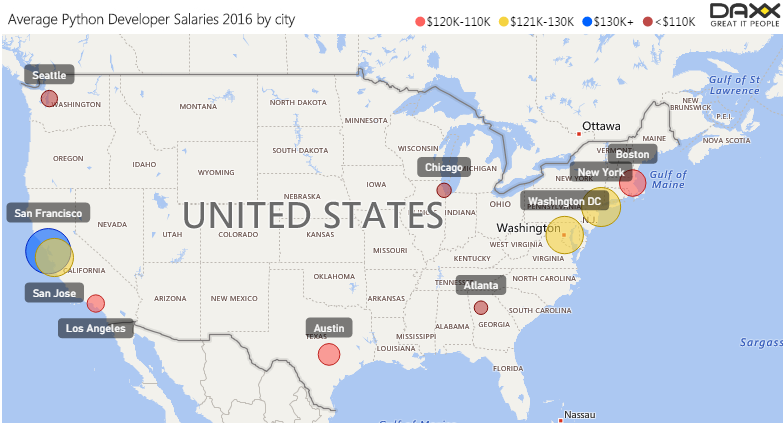 According to Indeed, San Francisco boasts the highest Python developer salaries, with the average income of a Python programmer reaching $135K per year.
The second spot belongs to New York, where the average Python developer salary is almost $129,5K. NYC is followed closely by San Jose, where Python developer wages hover around the $129K mark.
The fourth place is taken by Washington DC, where Python programmers enjoy the compensation of $128K per annum.
Python Developer Salary by City | Indeed

Python programmers in Los Angeles make less than their colleagues from New York — their salaries are a little over $110K per year. Atlanta turned out to have the lowest compensation level — the average Python developer here earns around $106,5K.
Although San Francisco and San Jose occupy the first and the third position in the ranking, the insignificant differences between the salaries of East Coast developers don't allow you to come to an unambiguous conclusion. To get a more complete picture of how much software engineers make on the East and West Coast, we moved on to analyze Python developer salaries in the US states.
Python Developer Salaries in the US States
Having analyzed the data provided by the Indeed salary calculator, we created a ranking of states where Python developers make the most.
The top place belongs to Connecticut, where an average Python programmer makes $142K per year. California and New York follow with $127K and $125K respectively. The fourth position belongs to Massachusetts, where Python developer salaries reach $117K per annum.
Based on the results of our research, the majority of states with the highest Python developer salaries are located on the East Coast of the USA.
Python Developer Salary by State | Indeed

You can view the full list of Python developer salaries in different US states here: https://www.daxx.com/article/python-developer-salary-usa
East Coast or West Coast?
The East Coast may have more states with high Python developer wages, but ultimately, it's not how much you make that matters, it's how much you spend. This means that naming the most favorable location for a Python developer is hard without also taking into account the cost of living in that location, but that's a whole different story.
And, this is where you come in. What do you think? Which coast offers better conditions for Python developers? We'd love to hear your thoughts in the comments.
Topics:
python ,webdev ,career
Opinions expressed by DZone contributors are their own.
Web Dev Partner Resources
Web Dev Partner Resources