What Developers Should Know from Gamescom 2019
DZone 's Guide to
What Developers Should Know from Gamescom 2019
From Nvidia and ray-tracing to Ori and the Blind Forest on Switch, everything you need to know from Gamescom 2019.
Join the DZone community and get the full member experience.
Join For Free
Your one-stop-shop for all things Gamescon 2019
Gamescom 2019 in Cologne, Germany, has come to an end; although it only lasted a week (August 20-24), there were some significant announcements packed into that short time frame. In this article, we will take a look at four of the more prominent reveals and announcements — Nvidia's RTX momentum, Sega and Google Stadia's disappointments, and Nintendo and Microsoft's continued synergy — that set the tone for the gaming world in 2019 and 2020.
Despite its focus video game, Gamescom 2019 included many announcements that will affect the development community into 2020.
You may also like: Game Development: Building Immersive Worlds.
The Ray-Tracing Train Leaves the Station
It is no secret that Nvidia's launch of the RTX graphics card line at Gamescom 2018 was underwhelming and failed to make ray-tracing (RT) mainstream. Over the past year, Nvidia has worked to implement RT support in Unreal and Unity and has worked with jointly with companies such as Microsoft to implement DirectX Ray-Tracing (DXR). Despite this, the technology has still struggled to catch (image from Nvidia blog).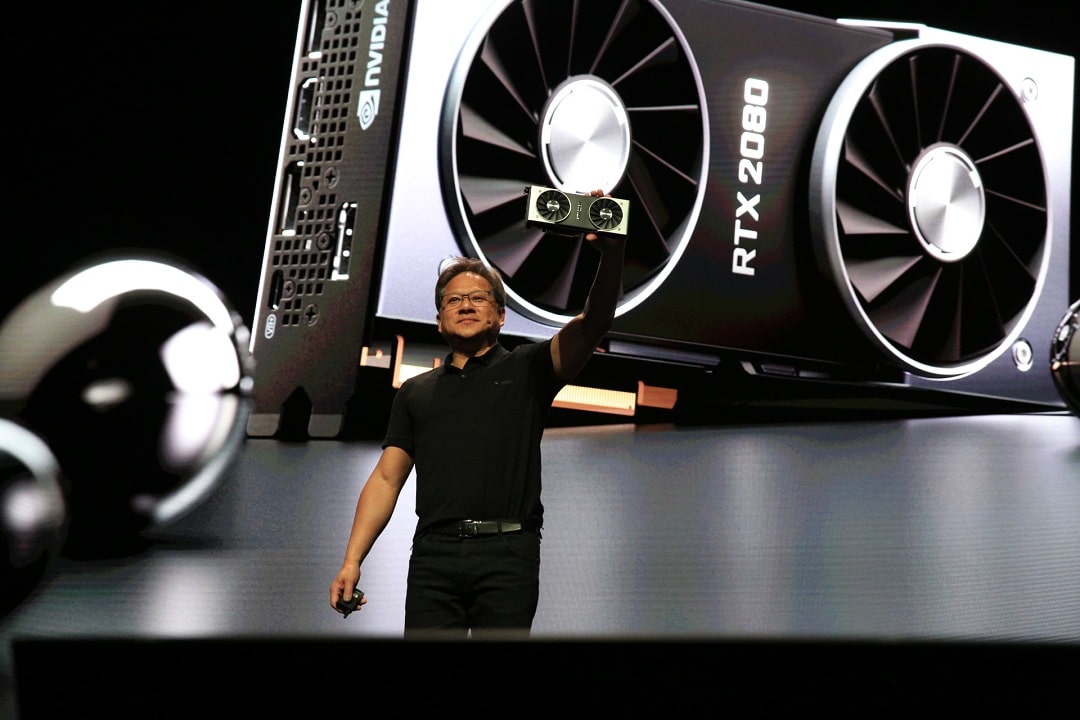 Nvidia's launch of RTX graphic cards continues to struggle
Apart from working with graphics engines and graphics libraries, Nvidia has also been working closely with game developers to include RT support in AAA titles. Until this year's Gamescom, Nvidia only included RT in games such as Shadow of the Tomb Raider, Battlefield V, and Wolfenstein: Youngblood.
Despite the popularity of these titles, RT played more of a supporting role rather than an integral part of the graphical imagery. For example, Wolfenstein: Youngblood used RT to supplement its existing shader-based lighting, which meant the game was nearly indistinguishable with RT enabled or disabled. Worse still, enabling RT caused a noticeable decline in performance in terms of frames per second (fps).
This pattern was repeated for many of the other RT-supported games, which led to an anemic adoption of RTX. This track record took an abrupt turn at this year's Gamescom, where Nvidia revealed that it would be including RTX support in a number of existing games, including:
Surprisingly, the most substantial adoption was Minecraft. Although this 8-bit style game seems like an unlikely candidate for RT support — the difference between RTX enabled and RTX disabled is staggering.
Digital Foundry also took an in-depth look at the game, and the change is truly impressive. It even includes lighting effects that were previously impossible with existing shader-based rendering techniques, such as camera obscura. Nvidia did not announce a release date for the update, but for the time being, Minecraft with RTX will only be available for the Bedrock version of the game on Windows 10. Since the Playstation 5 (PS5) and Xbox Scarlett will both include hardware-accelerated RT, we may be nearing the time when RT becomes the norm, and Nvidia is making headway as the first-to-market leader in this category.
Interested developers can find the RTX documentation at the Nvidia RTX Platform site. AMD has confirmed that RT will be coming in its future cards, but there is still no word on an exact date for RT hardware from the Nvidia rival.
Google Stadia Maintains its Lukewarm Reception
Google's announcement of Stadia on the second day of the Game Developer's Conference (GDC) 2019 was met with similar results as Nvidia's RTX announcement. Unlike Nvidia, though, Google has not done much to push its streaming service along, especially since Microsoft has revealed details about its streaming service, Project xCloud. In spite of this, Google's Gamescom 2019 Stadia Connect on August 19 did not provide much more of an incentive to purchase a subscription.
While the Connect did announce the inclusion of games such as Cyberpunk 2077 and Mortal Kombat 11, these games are or will be available on other platforms. The core of Stadia's problems appears to be its business model: Gamers will pay a subscription fee and will have to purchase games individually. A Stadia subscription may include some games for free, but at least for the moment, most of the AAA titles must be purchased separately. While some are calling Stadia "The Netflix of gaming," the subscription-and-purchase model appears to be much different than the Netflix.
Unlike Google, Microsoft appears to be headed in the correct direction with xCloud. Instead of a streaming-only service, xCloud seems to be tied to Xbox Game Pass, allowing gamers to stream games available to them in their Game Pass subscription. Additionally, Xbox has confirmed that a player's local library on his or her Xbox One can be streamed to the player's devices. These advantages—paired with Microsoft's decades of gaming experience—makes for some stiff competition.
Streaming is likely the way of the future for gaming (albeit probably many years away), but it looks like Google Stadia has misaligned itself with gamer's interests. For the time being, Stadia seems to be a novelty, but hopefully, the competition provided by xCloud will spur Google in the right direction.
Nintendo and Microsoft Continue Their Partnership...for Now
Nintendo and Microsoft have shared a happy partnership over the last year — including the Minecraft Better Together campaign, Microsoft's port of Cuphead and New Super Lucky's Tale, and the addition of Banjo-Kazooie in Super Smash Bros. Ultimate at Electronic Entertainment Expo (E3) 2019 — and their relationship has gained a new addition. During Nintendo's Indie World on August 19, the Japanese giant announced that Ori and the Blind Forest would be coming to Nintendo Switch. This title was previously a Microsoft exclusive but had been rumored for months to be coming to the Switch (image from Ori and the Blind Forest trailer).
Ori and the Blink Forest coming to Nintendo Switch
This reveal capped off the end of a packed Indie World presentation, which included:
If the reception of Cuphead on Nintendo Switch is any indication, Ori and the Blind Forest should find a great deal of success on the hybrid platform — and may even outsell its original launch on the Xbox in March of 2015.
While the relationship between Microsoft and Nintendo seems to be budding, a statement by Microsoft raised some serious concerns over the future of this bond:
The past year has been an exciting time for us as we have more than doubled the internal creative teams making up Xbox Game Studios....As these new studios transitioned in, we were aware of some existing commitments to other platforms and will honor them. However, going forward these new studios will focus on making games for our platforms. We have no plans to further expand our exclusive first party games to other consoles. We continue to believe deeply in cross play and progression of games with the right flexibility for developers to insure a fair and fun experience.
While this does not mean the end of the cross-platform ports, Microsoft's ramp-up for its release of Xbox Scarlett in Holiday 2020 likely means that the Washington giant will focus more on its own launch line-up. Even so, statements by Xbox's Phil Spencer (VP of Gaming at Microsoft) seems to be keeping hope alive that Microsoft and Nintendo will continue to work together for years to come.
Sega Disappoints
Leading into Gamescom 2019, Sega touted that it would announce a new, AAA title, but it appears Sega woefully underdelivered with its reveal of Humankind (image from Polygon).
Humankind by Sega didn't meet expectations
This new title is a turn-based strategy similar to the Total War series or Civilization; but despite its curious appeal, many gamers were hoping for a more substantial announcement (such as a new Sonic game). Even so, Sega partially redeemed itself by showcasing its new Mario & Sonic at the Olympic Games Tokyo 2020, which includes a mode that allows an 8-bit Mario to compete against a 16-bit Sonic.
All-in-all, Sega came up short in its Gamescom 2019 presentation. It is disappointing when any company fails to meet the excitement of a new AAA announcement, but the letdown is made even worse by the vast library—and thus potential—that Sega has.
Conclusion
While conferences like E3 and PAX usually overshadow international events, this year's Gamescom included some major developments (not mention drew an estimated 300,000 or more attendees). Apart from letdowns by Sega and Google, Nvidia struck big, continuing to steer the direction of graphics and Nintendo and Microsoft continued to pave the way towards cooperation rather than blind rivalries. While there were also many games announced and demos presented, there are too many to include in this overview. The interested reader can find more in-depth coverage at the following websites:
Related Articles
Topics:
gaming ,technology ,video games
Opinions expressed by DZone contributors are their own.
Web Dev Partner Resources