What Is Comprehensive Full API Lifecycle Management?
DZone's Guide to
What Is Comprehensive Full API Lifecycle Management?
Read through this interview to see how Comprehensive Full API Lifecycle Management leads to better APIs and better business performance.
Join the DZone community and get the full member experience.
Join For Free
Thanks to Rahim Bhatia, SVP, CA API Management at CA Technologies for speaking to me about the current and future state of APIs during CA World '17.
Q: What is the API strategy organizations need to employ to be successful?
A: Have an end goal in mind of what you are trying to accomplish. Get experience with the full API lifecycle -- design, test, secure and orchestrate with the ability to hit right system consolidating right user with right API via analytics. There is a symbiotic relationship between the API provider and the consumer.
There are numerous opportunities to gain experience with the full API lifecycle: 1) a digital ecosystem for providing a great customer experience (CX); 2) systems never intended to integrate now need to speak to each other and other devices with a variety of endpoint to be addressed; and, 3) modernizing architecture to enable developers to move faster. Access to APIs enables developers to think about higher value experiences for the end user.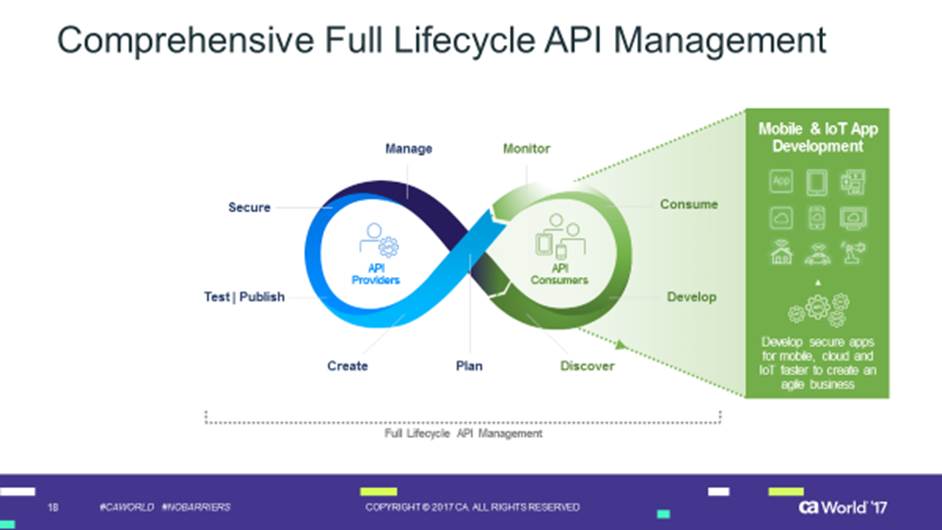 Q: What are some use cases you would like to highlight?
A: The types of use cases APIs address has grown. People are recognizing to increase agility you must create API layer. Build an API platform to anticipate the needs of the customer. IT needs to take a proactive approach to enable a digital business. Customers and organizations are finding digital business respecting the heritage of an organization and incorporating digital in a unique way for the particular organization.
We're also seeing rapid application security with APIs. There is strong security for customers with APIs correlating applications, device identification, identification of the person using the app authenticating that they should have access.
As we see in the Eurosport use case APIs are bringing the best of mobile together enabling viewers to watch what they want to see from any platform and to get perspectives they've never gotten before (i.e. inside the peloton).
APIs are enabling General Motors' OnStar to offer more services while collecting more data.
Q: What are the hurdles you see organizations needing to overcome with regards to APIs?
A: A survey with Coleman Parks of 1,770 senior business and IT executives worldwide showed a strong correlation between driving business results and advanced management of the API lifecycle. Organizations with limited or no management of the API lifecycle achieve about 50% of the business results as organizations with advanced management. CX is lower, there is less third-party developer innovation, and there are fewer digital applications and less automation.
The challenges companies with less management of the full API lifecycle are facing are: 1) skills gaps building and understanding using APIs; and, 2) managing the enterprise data at scale as data expands exponentially.
Q: What's is the future of APIs, where do the opportunities lie?
A: More organizations recognize need to modernize their architecture with smaller initiatives become bigger initiatives. Microservices as an architectural style will continue to become more popular. Organizations will be able to build joint solutions with other portions of the business automate business processes and move faster. And, they'll be able to build better APIs because getting their feedback in shorter periods of time -- sometimes in real-time. The only thing that will slow the growth of API is the skills shortage but platform solutions like CA will help to address this as organizations see the value of enabling a modern arch built on APIs and microservices.
Q: Do you have any concerns with the current state of APIs?
A: As evidenced by the results of the Coleman Parks research, organizations need full API lifecycle capability. Maintain focus on API management and the security features of APIs. There is 10+ year heritage in API gateway – Layer7 acquired by CA five years ago - there is no excuse for a company not having full API lifecycle capability. Organizations, especially for financial services and healthcare, need to follow common criteria certifications
Q: What do developers need to keep in mind when building APIs?
A: Understand API management holistically. Don't be seduced by one tool. Understand the environment in which your API will be performing. Thought process around APIs is changing to a product mindset. Think about how the API will be used. Test against targeted systems. Think about how you will monitor the performance of the API. Remember you are building a product rather than a technology construct.
Topics:
api ,iot adoption ,mobile ,iot ,api management
Opinions expressed by DZone contributors are their own.