What Is Google Data Studio and Is It Right for You?
DZone's Guide to
What Is Google Data Studio and Is It Right for You?
With Google Data Studio, you can put your data into easily understood, visually appealing, and informative charts and graphs.
Join the DZone community and get the full member experience.
Join For Free
Hortonworks Sandbox for HDP and HDF is your chance to get started on learning, developing, testing and trying out new features. Each download comes preconfigured with interactive tutorials, sample data and developments from the Apache community.
Data visualization has always been challenging for digital marketers. Managing huge amounts of data and putting it into charts and dashboards demand some serious labor.
Without the ability to infuse data into succinct dashboards, SMBs can't see a clear picture of how their campaigns are performing.
To make data accessible to everyone in an organization, Google, in the beginning of 2016, came up with a data reporting and visualization software: Google Data Studio. It delivers a remarkable performance. Creating presentable and easy to understand reports for clients has now become a breeze.
Before delving deep into how Google Data Studio can support your marketing efforts, let's take a look at the prime purpose it serves.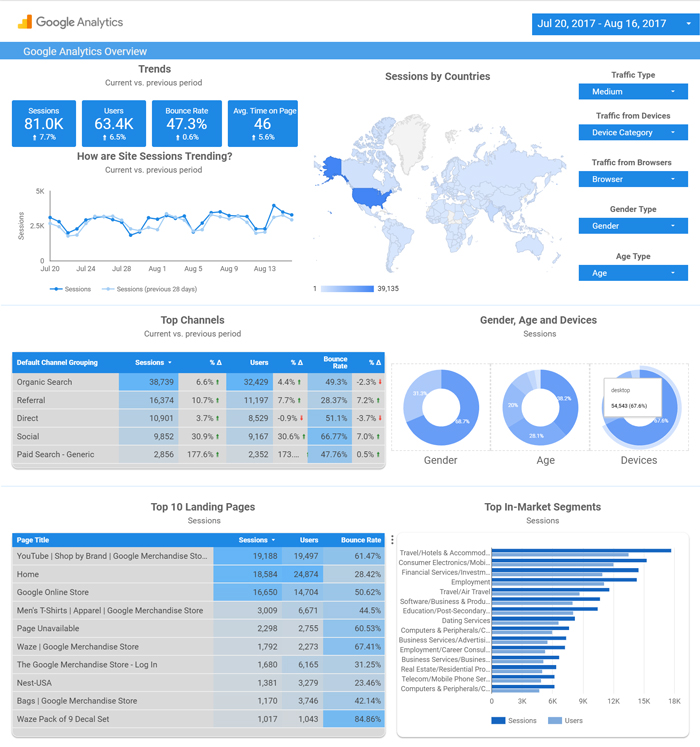 What Is Google Data Studio?
It is a part of the Google Analytics 360 Suite, which is known for analytics, data visualization, site optimization, attribution, tagging, market research, and audience management.
Google Data Studio helps turn marketing data into visually appealing and comprehensible reports.
Does It Synchronize Data From Other Data Sources?
Google Data Studio supports connections with multiple platforms. It extracts data from different data sources and synchronizes it at a single place.
Here is a complete list of connectors that are currently available in Google Data Studio:
File upload
AdWords
Attribution 360
BigQuery
Cloud SQL
DCM
DFP
Google Analytics
Google Sheets
MySQL
PostgreSQL
Search console
YouTube analytics
How Does Google Data Studio Work With Social Channels?
Google Data Studio allows you to import information from social channels such as Facebook, Twitter, and LinkedIn. A special condition is that you need to put the extracted information into a Google Sheet. As long as the information is in a Google Sheet, it can be pulled by Google Data Studio.
If a change is made in the data source, the reports get updated real-time.
How Does Google Data Studio Work With CRM and Marketing Automation Platforms?
Google Data Studio can also be connected with your CRM and marketing automation platform. This can be achieved by connecting the CRM and/or marketing automation platform with one of the databases listed above, and further connecting that database with Google Data Studio.
Is Google Data Studio Right for Me?
Trying to gauge marketing performance from spreadsheets can be tedious.
With Google Data Studio, you can put all those numbers into easy to understand charts and graphs. It turns your data into visually appealing and informative dashboards that help you make better marketing decisions.
All in all, Google Data Studio is a great pick if you wish to report and visualize your data from a single platform. You can share reports with your colleagues and clients and analyze your marketing campaigns with Google Data Studio.
Topics:
big data ,data analytics ,data visualization ,google data studio
Big Data Partner Resources
Big Data Partner Resources