Will 2021 See AI Grow Into The Crypto Landscape?
Artificial intelligence has revolutionised many industries across the technology spectrum, but can it make a dent within the crypto landscape?
Join the DZone community and get the full member experience.
Join For Free
After years of unprecedented growth, both worlds of cryptocurrencies and artificial intelligence appear to become deeper intertwined in 2021 with the emergence of AI-driven crypto exchanges and wallets.
The crypto market place has been known to create unlikely millionaires virtually overnight. With heavy levels of market volatility and huge volumes of data produced with every movement, the utilization of intuitive analytical software can be hugely beneficial for investors and market analysts alike. However, the future roles that AI can play within the world of crypto can extend way beyond smart market analysis.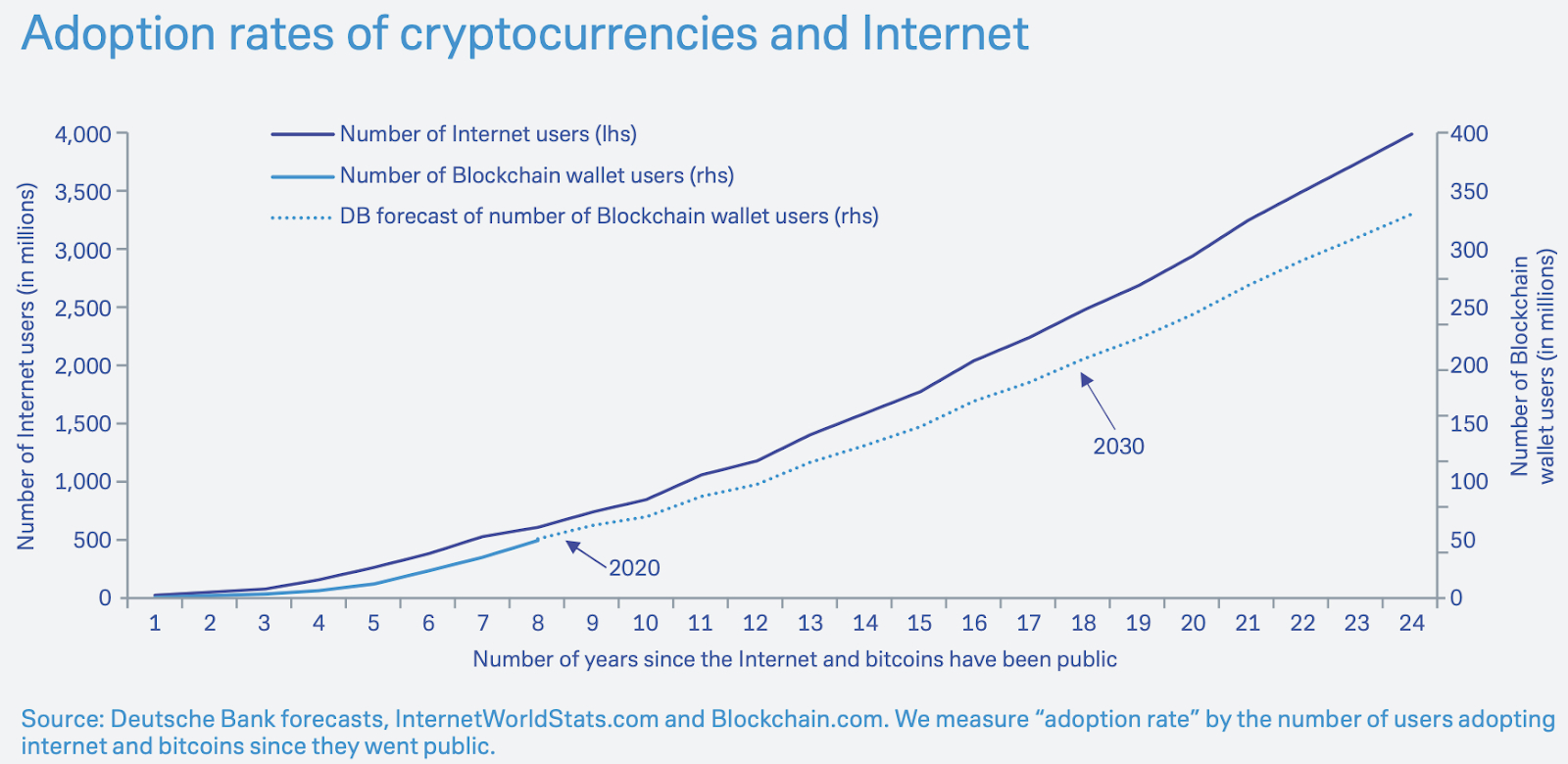 (Image: Techseen)
As the chart above shows, the adoption rates of cryptocurrencies are loosely mimicking that of the internet over time. This makes it ripe for becoming optimized by developing innovations elsewhere across the technology spectrum, and AI is already beginning to make its presence felt within the crypto landscape:
Bringing DeFi and CeFi Together With AI
December 2020 saw the announcement of the latest AI-driven system that's been designed to bridge the gap between centralized and decentralized finance in KeyFi.
KeyFi, significantly, offers a self-sovereign identity solution and a non-custodial, open-source wallet that paves the way to combining both centralized finance and decentralized finance.
Typically, bridging the gap between CeFi, such as fiat currency and financial services, and DeFi, like blockchain-driven tokens and smart contracts, has been made difficult due to various KYC and AML barriers for investors to hurdle. However, KeyFi utilizes the SelfKey credentials system to ensure that users can achieve a consistent management platform for both types of assets.
KeyFi also taps into advanced AI that's capable of analysing rich historical datasets that can help users to understand how their DeFi investments will grow over time.
Turning Crypto Tangible
Ramping up AI's relationship with crypto, Amon recently announced that it's fundraising on BnkToTheFuture for the launch of the Amon Card, a physical payment card that lets users spend their crypto earnings.
The card has been developed using Amon Wallet, which integrates traditional currency with crypto and various other financial products that have been created to support user spending and investing. The wallet offers various solutions that are designed to break down the barriers for crypto, and its features include built-in EUR/GBP and crypto wallets, Amon Earn, an investment product in partnership with the Celsius Network to earn passive interest on assets, and a one-click exchange function.
The arrival of the Amon Debit Card allows users to spend their Euros or Pounds anywhere UnionPay is accepted along with an intuitive Investment Assistant that utilizes artificial intelligence to aid users in making more informed decisions regarding where to invest, and an Ethical Token Utility that's designed to support fundraising for charities via crypto.
With the development of AI-based solutions to run alongside the distribution of physical debit cards, artificial intelligence can help to pave the way for wider crypto adoption through the ability for users to spend their currency more effectively.
All-In-One AI Wallets
The arrival of the Puut Wallet last year gave the world a glimpse of how artificial intelligence and blockchain can combine to create a comprehensive level of control for users looking after their digital assets.
As digital wallets provide a strong level of protection for crypto investors by allowing them to privately encrypt their investments, we can expect specialist cryptocurrency wallets to steadily rise in the near future. The development of new sophisticated exchanges will further aid the growth of investment in the likes of bitcoin and various altcoins.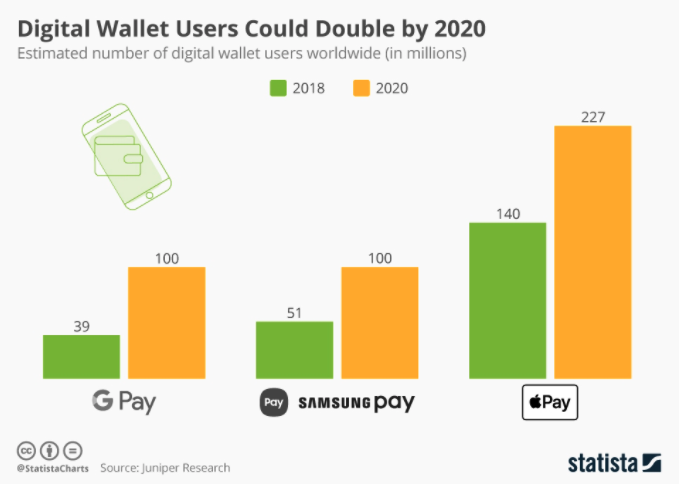 (Graph showing digital wallet users. Image: Statista)
However, a growing number of innovative digital wallets are being created to help users take advantage of untapped market potential. In the case of Puut Wallet, the developers claim that they can offer users a 'financial experience, unlike any other, using a combination of blockchain, biometrics, and artificial intelligence (AI).'
Interestingly, while Puut Wallet looks to AI to make their blockchain platforms altogether smarter and more productive, the company also claims that it can help businesses to foster greater levels of brand loyalty among customers, providing merchants and banks with a set of machine learning and proprietary AI tools that can make it possible to achieve additional loyalty penetration year-on-year:
At Puut Wallet, we believe that customers who spend a long time on a brand's website without ultimately completing a purchase should still be rewarded for their efforts – this is why we have introduced an emoji-based reward system as an alternative to loyalty points.
Conclusion
The evidence shows that throughout the coming months and years, AI may play a key role in not only providing actionable insights for cryptocurrency investors, but the technology could prove to be a driving force in developing actionable marketing strategies among businesses ready to embrace the advanced technology.
In what promises to be a transformative year for crypto, artificial intelligence may catapult it towards the mainstream sooner than we're expecting.
Topics:
blockchain,
artificial intelligence,
tech,
cryptocurrencies
Opinions expressed by DZone contributors are their own.