Jenkins is an open-source automation tool with a powerful plugin architecture that helps development teams automate their software lifecycle. Jenkins is used to drive many industry-leading companies' continuous integration and continuous delivery pipelines.
Jenkins Workflow is a first-class feature for managing complex, multi-step pipelines. This open-source plugin for Jenkins brings the power of the Jenkins domain and plugin ecosystem into a scriptable Domain-Specific Language (DSL). Best of all, like Jenkins core, Workflow is extensible by third-party developers, supporting custom extensions to the Workflow DSL and various options for plugin integration.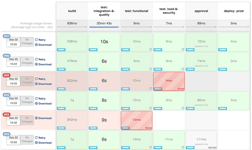 Workflow Stage View UI
This Refcard provides an overview and introduction to Jenkins Workflow, as well as a full Workflow syntax reference. It also provides a real-world delivery pipeline example, building on the more basic Workflow snippets from earlier examples.