Section 1
About This Agile Adoption Refcard
Faster, better, cheaper. That's what we must do to survive. The Time to Market Refcard (a companion in this series) addresses faster, the Quality Refcard addresses better, and this Refcard addresses cheaper. This is about building the system for less.
Some of the costs of software development are associated with man hours needed to build the system, others with cost of maintenance over time, and yet others include hardware as well as software platform costs. Practices that educe any or all of these costs without sacrificing quality reduce the overall cost of the system.
Then there is the Pareto principle – a.k.a. the 80/20 rule. This rule suggests that roughly 20% of the software system is used 80% of the time. This is also backed up by research that is even more dramatic [figure with usage]. Practices that help the team build only what is needed in a prioritized manner reduce the cost and still deliver the most important business value to the customer (the part she uses).
Figure 1 Practices that help reduce the cost of building software.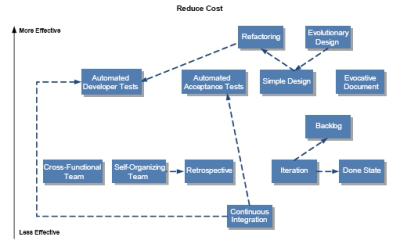 You will be able to use this Refcard to get 50,000 ft view of what will be involved to reduce the cost of developing your systems.