Section 1
Introduction
Spring Security, formerly Acegi, has a reputation for being a challenging framework. While that reputation isn't altogether undeserved, in fairness it owes largely to the difficulty of the subject matter itself. But those willing to invest the effort will discover a powerful tool.
This Refcard covers the key features of expression-based authorization with Spring Security 3, and aims to be a handy reference for novices and experienced users alike.
Here's a dependency diagram that doubles as our road map: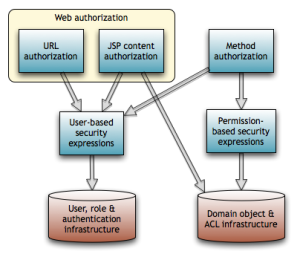 We'll begin with authentication and work our way up. Then we'll repeat the process starting from domain objects.